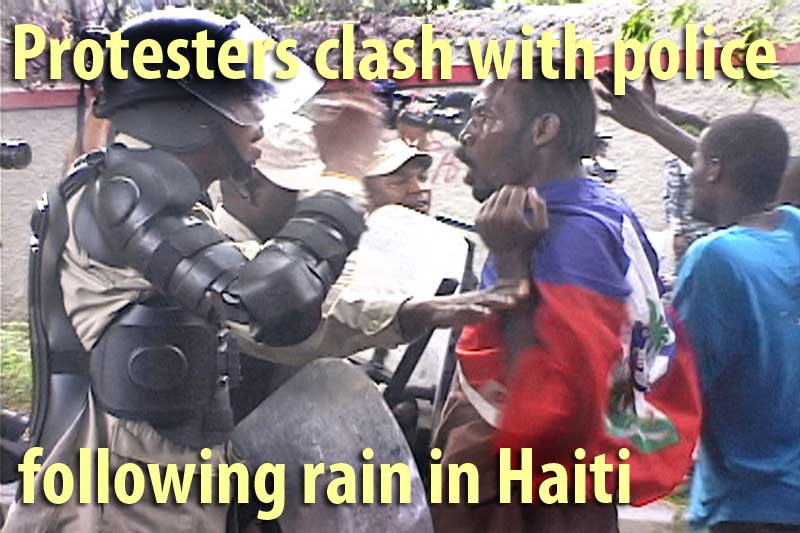 Protesters clash
with police
following rain in Haiti
by Kevin Pina
Haiti Information Project
February 11, 2010
Port au Prince, Haiti — About one inch of rain fell on the capital of Port au Prince early this morning sparking angry protests that tied up traffic near the airport for nearly four hours.
At 4:30 am as the rain began to fall a collective wail could be heard rising from the makeshift camps of those left homeless due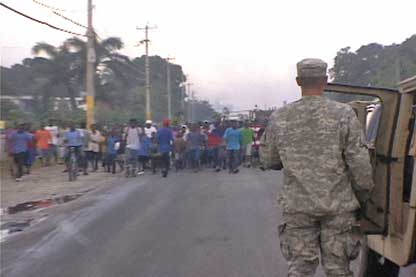 to a massive earthquake that rocked Haiti on January 12. Cries of helplessness and misery quickly turned into shouts of anger and invectives against Haitian president Rene Preval as thousands then took to the streets in several spontaneous street demonstrations.
Throughout one of the largest marches that headed towards the United Nations headquarters located near the airport protesters also sang, "If Aristide was here he would be soaked along with us."
...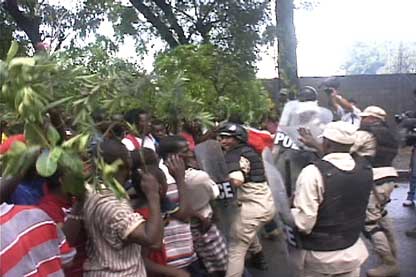 "We can't take this anymore!," shouted the protestors as the march snaked thru traffic towards the Touissaint Louverture Airport currently under the control of the US military. As the march approached UN headquarters where relief efforts are currently being organized a line of shield and club wielding Haitian riot police barred their progress. The police held the march back as a short scuffle broke out with angry protesters demanding tents, food, water and the return of former president Aristide to help in relief efforts. Two protesters received minor scrapes and injuries as the police pushed a few of them towards a deep canal lining the road where they fell in. There were no reports of injuries to the police as the march turned back and protesters began blocking the main road to the airport with large rocks and debris.