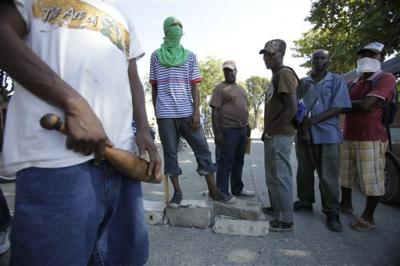 Outside Haiti capital,
much despair and little aid
By JONATHAN M. KATZ Associated Press Writer
LEOGANE, Haiti—As aid masses in Haiti's devastated capital, time is running out in rural areas where the damage is no less severe. In Leogane, frustrated men gathered Saturday with machetes and clubs, ready to fight for a town they said the world has forgotten.
All along the cracked highway heading west from Port-au-Prince along the bay, people begged for help. "SOS," declared a sign near Leogane. "We don't understand why everything is going to Port-au-Prince, because Leogane was broken too."
That is putting it lightly.

Leogane's city center is a rubble pile spiderwebbed with fallen power lines, coastal Haiti re-landscaped as a post-apocalyptic film set. Two mass graves line the road to the capital, a few yellowed bodies thrown in to start a third. ...
Blocks away a group of men gathered to defend a health clinic-turned-shelter against all comers: The local government, which wants to dig another mass grave there, criminals loosed from the capital's broken penitentiary, and looters as hungry as they are.

They said they do not want violence, but carried machetes, typical of this sugar-growing town, and clutched wooden pins and poles.

"There is no one in the police station. We haven't seen aid," said 28-year-old Philip Pierre, who manages a yogurt plant. "We are ready to die fighting if they don't listen to us."
Photo: Men, holding wood and metal objects, protest at the entrance of the town of Leogane, Saturday, Jan. 16, 2010. They are protesting that Leogane has not received any aid in the aftermath of the powerful earthquake that hit Haiti on Tuesday. (AP Photo/Lynne Sladky)