Yves Engler
"'Captive Canada' is an important contribution to understanding Canadian mythology.

"Richard Sanders has again shined a light on a dark side of Canadian political life that few are willing to investigate.

"Bravo."

Yves Engler has been dubbed "Canada's version of Noam Chomsky" (Georgia Straight), "one of the most important voices on the Canadian Left today" (Briarpatch), "in the mould of I.F.Stone" (Globe and Mail), "part of that rare but growing group of social critics unafraid to confront Canada's self-satisfied myths" (Quill & Quire), "ever-insightful" (rabble.ca), "Chomsky-styled iconoclast" (Counterpunch) and a "Leftist gadfly" (Ottawa Citizen). Yves has published eight books, including: Canada in Africa: 300 Years of Aid & Exploitation (2015), Canada & Israel: Building Apartheid (2010) and The Black Book of Canadian Foreign Policy (2009).
---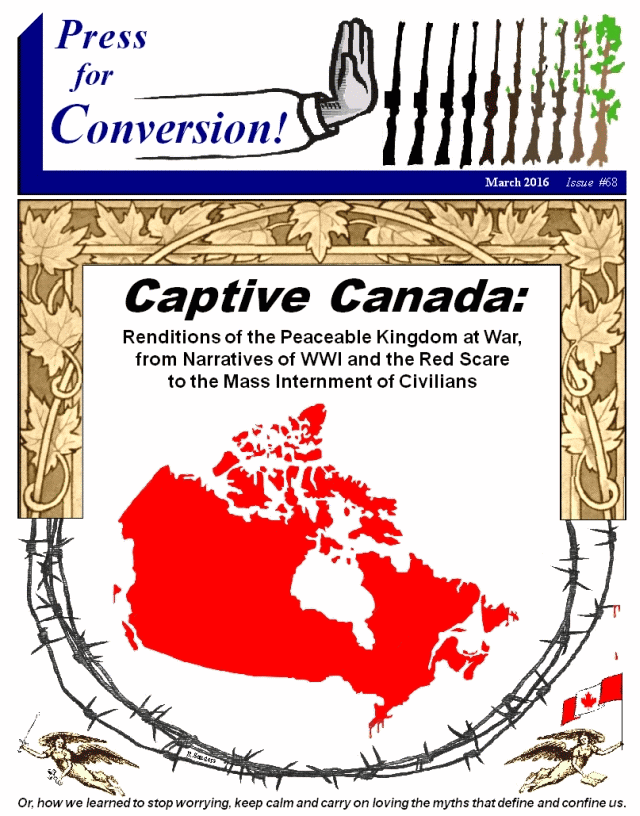 The above quotation is from a collection of subscriber's comments about issue #68 of Press for Conversion!
(the magazine of the Coalition to Oppose the Arms Trade.

This issue is called
Captive Canada:
Renditions of the Peaceable Kingdom at War,
from Narratives of WWI and the Red Scare
to the Mass Internment of Civilians

Click here for a COUPON
to Subscribe, Renew, Donate or Order Copies.