Chief Architect of U.S.-Nazi business and spy networks
spy at the U.S. embassy in Bern, Switzerland, collecting political data for the State Department on Germany and the Austro-Hungarian empire (1916-1918)

member, U.S. staff, Versailles Peace Conference (1918-1922)

head, State Department's Near East Affairs division (1922-27)

worked with brother John Foster Dulles, as lawyer and international finance specialist for Sullivan & Cromwell, a Wall Street law firm in New York (1927-1941). While there, he worked with top Nazi industrialists and played a pivotal role in promoting U.S.-Nazi corporate relations. Allen worked with Prescott Bush (grandfather of Pres. G.W.Bush) and George H.Walker (Prescott's father-in-law) who ran Union Banking Corp. for the Nazis. Allen was legal counsel for Standard Oil and the Nazi's I.G. Farben, co-owned by the Rockefellers. (Other U.S. millionaires allied to the Nazis were: William R.Hearst Sr., Andrew Mellon, Irenee du Pont, Henry Ford and J.P.Morgan. Morgan, du Pont and others were even involved in a Fascist plot to overthrow the U.S. government in 1934.)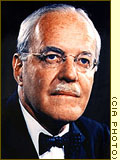 President Roosevelt, realizing Dulles was a traitor, had his New York "Office of Coordinator of Information" wiretapped (1941-42). Some Dulles-linked firms, like Bush's Union Banking Corp., were seized under the Trading with the Enemy Act (1942)

Berne station chief, Office of Strategic Services (1942-1945). Roosevelt's plan to charge Dulles with treason failed when Dulles was warned and covered his tracks (1944). Roosevelt's plan died with him (1945).

as OSS station chief in Berlin, Dulles negotiated the agreement with General Reinhold Gehlen to establish a Nazi spy network within the OSS (1945).

Dulles helped in the development of the CIA (1947), became its deputy director (1951) and its director (1953-1961). He oversaw numerous covert operations, such as election rigging in Italy (1948), coups in Iran (1953) and Guatemala (1954) and many other notorious operations described in this issue.

When Union Banking Corp. was liquidated, P.Bush and G.H.Walk-er received $1.5 million (1951)

was fired by Kennedy after the failed invasion of Cuba (1961)

as a member of the Warren Commission, he promoted the theory that a "lone gunman" assassinated J.F.Kennedy (1963).

Sources: members.nbci.com/1spy; www.cnn.com/SPECIALS/cold.war/kbank/profiles/allen.dulles/; baltech.org/lederman/spray; www.newscoast.com/headlinesstory2.cfm?ID=35115