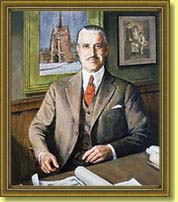 Howard Heinz (1877-1941)
By Richard Sanders, Editor, Press for Conversion!
Heinz is known to have donated at least $2,500 to American Liberty League and $5,876 to one of its fascist front groups, the Crusaders.
Howard Heinz was the son of Bavaria immigrant, John Henry Heinz, who founded the Heinz company in 1869. After attending the small, private Shady Side Academy, Howard entered Yale University in 1900. He joined Delta Kappa Epsilon, an exclusive fraternity whose members have included Presidents George Bush, Jr. and Sr., Vice-President Dan Quayle, banker J.P. Morgan, newspaper magnate William R. Hearst, chewing-gum millionaire William Wrigley and motel man, Howard Johnson. When Heinz left Yale, he worked his way up through the family business from advertising and sales to president. He led the company for 22 years (1919-1941).
His directorships included Pennsylvania Railroad, the Mellon Bank, the Carnegie Institute and the National Industrial Conference Board (NICB). Founded in 1916, the NICB is the oldest of the "policy discussion groups" for big business leaders and is similar to the Council on Foreign Relations. William Dumhoff described these
"policy-planning and consensus-seeking organizations of the power elite…. [as] training grounds in which new leaders for government service are informally selected…. During the 1930's and 1940's [the NICB] drifted to an extreme right-wing stance" (The Powers that Be,1978). In 1942, it "began mapping plans…[to make America] the dominant force in Asia and exploit the colonies of former Dutch and French imperialists, from Indonesia to Indo-China, with all their cheap labor, oil, rubber and other valuable resources."
When Howard died in 1941, his son H.J. Heinz II, took over the company and some of his father's political concerns. H.J. Heinz II was on the "all-star board of directors" of the National Committee for a Free Europe (NCFE), which formed in 1948 as Radio Free Europe and Radio Liberty. U.S. intelligence funded this propaganda to support "the anti-Communist work of numerous [Eastern European] emigré organizations," using captured Nazi funds left over from the CIA's campaign to stop a communist victory in Italy's 1948 elections. The NCFE board provided a "thinly veiled 'private-sector'…cover to explain where all the money was coming from" (Christopher Simpson, Blowback: America's Recruitment of Nazis, 1988).
Howard Heinz left much of his wealth to the Howard Heinz Endowment. The "Chairman" of this $1.6 billion foundation is Teresa Heinz. She inherited $500 million when her first husband, Republican Senator John Heinz III, died in a 1991 plane crash. Her new husband, Senator John Forbes Kerry, is the Democratic candidate for president. (Kerry, a Vietnam War veteran, is a Yale grad who was inducted into its Skull and Bones secret society in 1965, just two years before George W. Bush.) Teresa Heinz and Kerry both belonged to the Council on Foreign Relations. She is a former co-chair of Congressional Wives for Soviet Jewry and board member of the Carnegie Corp., the Brookings Institution and vice-chair of the Environmental Defense Fund (EDF). The EDF is derided for "corporate environmentalism" by activists who dislike its
"long history of compromising on issues…. back-door meetings with polluters…. [its funding] from some of the most anti-environmental corporations [and] foundations like Pew and Heinz, which are notorious for attaching dubious strings to the money they give out,... strings which usually push [it] into a position of playing footsie with the corporations that grassroots activists are fighting."
H.J. Heinz company describes itself as a "$2.5 billion global icon" and "the most global, U.S.-based food company, with…powerful brands holding number-one and number-two market positions in more than 50 countries" (Enviro-sellouts).
Some Sources:
The Heinz Endowments
http://www.heinz.org
Relishing the Past
http://www.prnewswire.com/cnoc/hnzrelish.html
Diane Roberts, Tuscaloosa, "From the Frat House to the White House," The New York Times, Dec. 1, 2001.
http://www.dke.org/times121.html
William Dumhoff, The Powers that Be,1978
http://www.thirdworldtraveler.com/Ruling_Elites/Policy_Formation_TPTB.html
Christopher Simpson, Blowback: America's recruitment of Nazis (1988).
http://www.thirdworldtraveler.com/Fascism/BareFists_B_CS.html
Dana Hull, "Wives of presidential candidates take varying approaches to campaign life," Knight Ridder, Jan. 7, 2004.
http://209.157.64.200/focus/f-news/1053572/posts
"Presidential candidate's wife, heir of Heinz fortune to share philanthropic experiences," Iowa State Daily, October 29, 2003.
http://www.iowastatedaily.com/vnews/display.v/ART/2003/10/29/3f9f3fe0d642a
Corporate Environmentalism: Enviro-sellouts
http://www.corporations.org/edf-nrdc
Source: Press for Conversion! magazine, Issue # 53, "Facing the Corporate Roots of American Fascism," March 2004. Published by the Coalition to Oppose the Arms Trade.
Order a Copy: Order a hard copy of this 54-page issue of Press for Conversion! on the fascist plot to overthrow President F.D.Roosevelt and the corporate leaders who planned and financed this failed coup.