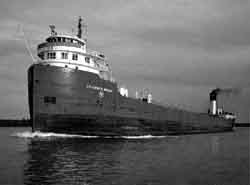 Nathan Lewis Miller (1858-1953)
By Richard Sanders, Editor, Press for Conversion!
Miller was a member of the Initiating Executive Committee of the American Liberty League.
Miller's career in corporate law and his ascent through Republican ranks to the governorship of New York in 1921, was due largely to his relationship with Andrew Carnegie and the U.S. Steel Corp. Miller's friend H. Graham Morison, a WWII Marine captain who worked in top positions for the Attorney General (1945-1952), explains that from Miller's beginnings
"as a country lawyer in upstate New York, he was employed by Andrew Carnegie to effect the mergers that created U.S. Steel Corp. and was vice president and General Counsel of U.S. Steel continuously, except during the term he served as Chief Justice of the Supreme Court of the State of New York [1903-1913] and later when he was Governor of New York [1921-1922]" (Oral History Interview, Truman Library, 1972).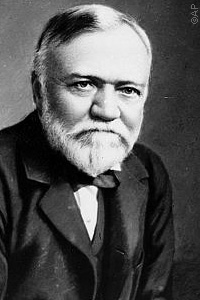 Miller helped Carnegie get out of the steel business. Carnegie Steel had been plagued by labour unrest, like the Pennsylvania strike in 1892 when a gun battle between Pinkerton agents and workers left 16 dead. Then, 10,000 state militia were mobilized to help smash the strike. At a 1900 meeting of steel industrialists and bankers in New York, Carnegie's representative Charles Schwab (of Bethlehem Steel, who later founded the Navy League to promote U.S. entry into WWI) suggested a steel merger. This caught J.P. Morgan's attention. He needed rails for his Pennsylvania Railway and wanted a steel monopoly to eliminate his competition. Morgan bought Carnegie Steel for $420 million and merged it with his Federal Steel Corp. to make U.S. Steel. Carnegie became the world's richest man. Mor-gan sold stocks and bonds in U.S. Steel worth $1.4 billion, although its value was $700 million. Miller was on Morgan's preferred-client list, enabling him to do insider trading, which was still legal in those days. In 1910, President Taft launched an unsuccessful antitrust suit against U.S. Steel.
WWI was good for U.S. Steel. In 1916, it made $348 million in profit. By 1919, when 350,000 steelworkers were on strike, U.S. Steel bought full-page ads accusing union organizers of being Bolsheviks, Reds and Huns. When the strike ended, 20 workers had been killed and labour had won nothing. This ad campaign ushered in a public relations effort accusing unions of trying to overthrow the government. By 1919, the "Palmer Raids," in which thousands of activists were arrested and exiled, made MacCarthyism's witch-hunts look exceedingly soft on communism.
While serving as U.S. Steel's vice-president and legal counsel, Miller was an active Republican. In 1921, he defeated Democratic incumbent Al Smith, and became New York's governor. As governor, Smith addressed the League of Women Voters' annual convention saying they were "dangerous" and "a menace to American institutions." By then, women could vote and so Smith returned as governor in 1922. Miller returned to law and U.S. Steel. By the 1930s, U.S. Steel and other U.S. steel firms, were supplying Hitler's assault on communism. They even refused to fill U.S. government contracts during WWII because their priority was to meet Nazi demands. The U.S. Steel Co. was aligned with Krupp and Schmidt, two top Nazi companies.
In 1938, Miller was still leading the New York corporate law firm, Miller, Owen, Otis & Bailey. That year, Carnegie's Pittsburgh Steamship Co. named a ship after their lawyer. They called the 611 foot ore-bearer the "Governor Miller." It was one of the four largest ships plying the Great Lakes. (Carnegie had started buying ships back in 1899 to move iron ore to Carnegie Steel foundries. By 1901, they had 112 ships. U.S. Steel now owns the fleet which, in 1981, was renamed the USS Great Lakes Fleet.)
By 1941, Miller was U.S. Steel's General Counsel. In 1944, he and two other lawyers advised the Council on Foreign Relations' Informal Agenda Group on its plans to create the UN. Nathan Miller, John W. Davis (the J.P. Morgan attorney, and Singer heir who tried to recruit Butler into the fascist plot to oust FDR) and Charles Hughes (a retired Supreme Court judge), approved the CFR's UN plan which immediately became U.S. policy.
In 1952, Miller and Davis teamed up again, this time when President Truman thought a nation-wide steel-workers strike might jeopardize the war against communism in Korea. Truman used emergency war powers to seize the mills of the America's largest steel firms. Miller and Davis on the case supporting U.S. Steel. (Davis argued the cause in the Supreme Court on behalf of all the Steel companies.)
References:
Oral History Interview with H. Graham Morison, Aug. 1, 1972 by Jerry N. Hess
http://www.trumanlibrary.org/oralhist/morison1.htm
Geisst, Charles R., Deals of the Century: Wall Street, Mergers, and the Making of Modern America, 2003
http://media.wiley.com/product_data/excerpt/74/04712639/0471263974.pdf
Helen Caldicott, "If You Love This Planet," 1992.
http://www.thirdworldtraveler.com/Helen_Caldicott/Manufacture_Consent_IYLTP.html
Carrie Chapman Catt, "A Teapot in a Tempest," The Woman Citizen, Feb. 5, 1921.
http://womhist.binghamton.edu/nysuff/doc11.htm
"SS Great Lakes Fleet," Minnesota's World Port, Summer 1999.
http://www.duluthport.com/99summer/ussgreatlakesfleet.html
Laurence H. Shoup & William Minter, "Shaping a New World Order," from Trilateralism, 1980.
http://www.thirdworldtraveler.com/Trilateralism/NewWorldOrder_Trilat.html
Youngstown Sheet & Tube Co. V Sawyer (1952)
faculty.law.lsu.edu/jbaker/lesson%209/sheetvsawyer.htm
Source: Press for Conversion! magazine, Issue # 53, "Facing the Corporate Roots of American Fascism," March 2004. Published by the Coalition to Oppose the Arms Trade.
Order a Copy: Order a hard copy of this 54-page issue of Press for Conversion! on the fascist plot to overthrow President F.D.Roosevelt and the corporate leaders who planned and financed this failed coup.