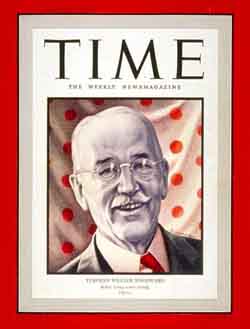 William Woodward Sr. (1876-1953)
By Richard Sanders, Editor, Press for Conversion!
Woodward is known to have donated at least $14,000 to the American Liberty League.
William Woodward was a lawyer, one of America's most powerful bankers and a breeder of prize race horses. He rubbed shoulders with many in his class who also dabbled in fascist causes.
Soon after graduating from Harvard Law School in 1901, he was secretary to Joseph Choate, the U.S. ambassador to Britain. While there, William frequented the race track with another famous horse breeder, Edward VII and entered the new King's "inner circle." The King was related to most other European royals including Emperor Wilhelm II (Germany), Tsar Nicholas II (Russia), King Alphonso XIII (Spain), Duke Karl Eduard (Saxe-Coburg-Gotha), King Haakon VII (Norway); King George I (Greece), King Frederick VIII (Denmark), King Albert I (Belgium), Manuel II (Portugal), King Ferdinand (Bulgaria), Queen Wil-helmina (Netherlands) and Prince Ernst August (Brunswick-Lüneburg).
In 1903, when Woodward returned to New York, his uncle, James Woodward, the president of the Rockefeller-controlled, Hanover National Bank since 1876, recruited William as its vice president. He later served as its president, 1910-1929. When the bank merged with another firm to become Central Hanover Bank & Trust, William was its chairman. (It is now part of the J.P. Morgan Chase bank empire.)
In the Federal Reserve Act of 1913, the government turned over financial controls, such as the printing of money, to private bankers. The Federal Reserve Bank of New York wasn't quite as central as J.P. Morgan had wanted, but it did come to dominate the whole U.S. banking system. In 1917, there were three "Class A" directors of "The Fed" and William Woodward was one of them.
Woodward was then also a director of American International Corp. (AIC). Among other top financiers on the AIC board were Pierre du Pont and Percy Rockefeller, son of John D. Rockefeller (who in 1918 was the world's wealthiest man with $1.2 billion, i.e., about $14 billion today). The AIC's publicly-stated goal was to develop "the resources of foreign countries." It did this, for example, by purchased stocks in International Mercantile Marine (1915) and the United Fruit Co. (1916) which had motivated the U.S. government to invade Nicaragua, Panama and the Dominican Republic. The AIC also channeled funds to Alexander Kerensky, who briefly controlled Russia's parliament during the 1917 revolution. When Lenin's Bolsheviks wrested power from Kerensky, the AIC funded them too. How could this be? Prior to the Russian revolution, America's wealthiest financiers had huge investments around the world, including resource-rich Tsarist Russia. For example, they owned massive oil reserves on the Caspian Sea. When revolution was on the horizon, and they saw that it was unavoidable, they did what they could to protect their interests. That included trying to buy or bribe the Bolsheviks.
The AIC's later "development" projects included the Brown Brothers Harriman investment firm through which Averill Harriman, President George Walker Bush's grandfather (Prescott Bush) and great-grandfather (George Herbert Walker) financed Hitler's rise to power, profited from slave labour at Auschwitz and laundered Nazi loot after WWII. The AIC bought the Hamburg-Amerika Line, whose ships helped German spy networks in America, smuggled in agents of the Nazi munitions cartel, I.G. Farben, as well as Nazi propaganda and money that was used to influence the public and bribe U.S. politicians.
William Woodward's son William Jr., a Navy ensign, survived a WWII torpedo attack and returned home in 1943. Following in his father's footsteps, he became a banker, a horse breeder and a playboy. He married his father's mistress, a model named Angeline Crowell (a.k.a. Ann Eden, "the most beautiful woman in radio"), but their marriage was a rocky one. Billy is said to have beaten her and she was snubbed by his family as a "gold digger" who was beneath their class. Ann had only one high-society friend who accepted her – Wallis Simpson, the Duchess of Windsor and wife of Britain's fascist Duke, who had briefly been King Edward VIII. Things ended very badly for Billy. One night after a booze-filled party over at the Simpsons', Ann shot Billy dead; apparently thinking he was a burglar. She was eventually cleared by a grand jury. As far as I know, Ann was the only American named in these biographies to ever face any serious criminal charges.
References:
Mrs. Bancroft's Racing Stable, Damascus
http://www.exclusivelyequine.com/isroot/eenew/SiteImages/PDFs/Excerpt_Damascus.pdf
JPMorganChase
http://www.jpmorganchase.com
Woodward, William
http://www.britannica.com/eb/article?eu=79512&tocid=0&query=yearling&ct=
Mark Gribben, The Woodwards: Tragedy in High Society, Celebrity Crimes
http://www.crimelibrary.com/notorious_murders/celebrity/woodwards
The Founding of the Fed
http://www.ny.frb.org/aboutthefed/history_article.html
Antony C. Sutton, Wall Street and the Bolshevik Revolution
Google cache of http://yamaguchy.netfirms.com/sutton/wall_bolsi/ws_bolsi_08.html.
Source: Press for Conversion! magazine, Issue # 53, "Facing the Corporate Roots of American Fascism," March 2004. Published by the Coalition to Oppose the Arms Trade.
Order a Copy: Order a hard copy of this 54-page issue of Press for Conversion! on the fascist plot to overthrow President F.D.Roosevelt and the corporate leaders who planned and financed this failed coup.