AeriVironment (AV)

What "Brave" New "Future" is this? "The Future is Unmanned"!
What exactly does AV mean by this statement? That in the future, there will be no humans left? Or, perhaps more optimistically, that the war machines will have killed off only the men?
AV is of course referring to the use of unmanned vehicles in war. The company is an expert on these devices. It describes itself as:
"a world leader in the design and manufacture of Unmanned Aircraft Systems (UAS). Since the introduction of Pointer in 1986, considered by many to be the first true small UAS for military use, AV's Unmanned Aircraft Systems have supported U.S. and allied Armed Forces with reconnaissance data...."
http://www.avinc.com/UAS.asp
The Pentagonís 2009 Budget Request Summary Justification for "Major Weapons Systems," lists five Unmanned Aerial Systems. One of these, the Raven, is made by AeroVironment. Yes the little Raven is considered by the Pentagon to be part of its much sought after "major weapons systems" for 2009.
<![if !vml]>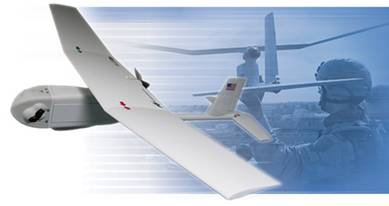 <![endif]>The Raven
"The Raven B system, an enhanced version of the battle proven Raven A system, is a lightweight solution designed for rapid deployment and high mobility for both military and commercial applications, requiring low-altitude surveillance and reconnaissance intelligence.
"The most advanced small Unmanned Aircraft System (SUAS) deployed with the U.S. Armed Forces, the Raven can be operated manually or programmed for autonomous operation, utililizing the system's advanced avionics and precise GPS navigation.
"With a wingspan of 4.5 feet and a weight of 4.2 pounds, the hand-launched Raven provides aerial observation, day or night, at line-of-sight ranges up to 10 kilometers. The Raven delivers real-time color or infrared imagery to the ground control and remote viewing stations."
http://www.avinc.com/uas_product_details.asp?Prodid=1
Other US military UAS by AV
The Raven is one of six hand-launched UAS produced by AV. Besides the Raven, three other AV products are in service with the US military:
<![if !vml]>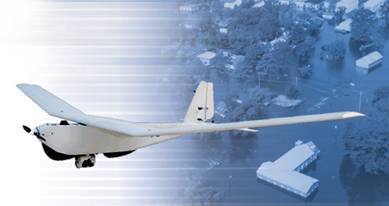 <![endif]>Puma

<![if !vml]>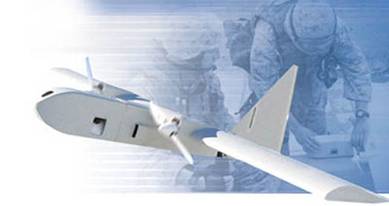 <![endif]>Dragon Eye

<![if !vml]>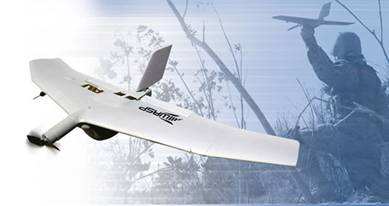 <![endif]>Wasp
Here is a list of web pages within the AV website that deal with its military-related products.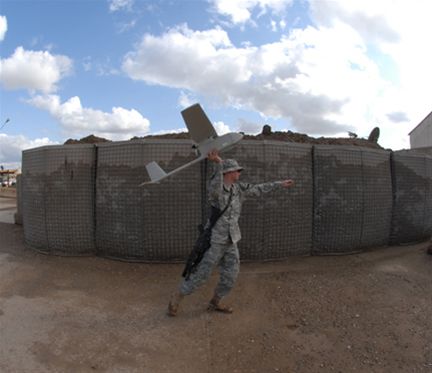 Boys with their toys in Iraq
The photo at left shows the launch of a Raven in Iraq.

Please sign online PETITION now to "Stop Ottawa's Arms Shows."
(Print version: Here is a printable version of the petition that you can use to get additional signatures.)
Email: Tell the Mayor, City Councillors and Staff what you think!

Related articles:
"What do they actually mean by "Defence," "Security" and "Public Safety"?
---
This webpage was produced by the
Coalition to Oppose the Arms Trade (COAT)
as part of the COAT campaign to oppose
"Secure Canada 2008" (Sept.30-Oct.1, 2008)