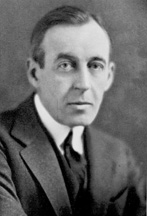 David Aiken Reed (1880-1953)
By Richard Sanders, Editor, Press for Conversion!
Reed was a member of the American Liberty League's Advisory Council.
Republican David Reed amply demonstrated his racist and fascist world views during his years in the Senate (1922-1935). In a July 1, 1932, Senate speech, Reed said: "I do not often envy other countries and their governments, but I say that if this country ever needed a Mussolini, it needs one now." As Reed spoke, 20,000 protesting WWI veterans and their families, black and white, were living in Hooverville near the White House. The first Hooverville baby had been born that month. On July 28, the homes of these "Bonus Army" families were burnt to the ground by U.S. Army forces.
In 1896, he finished classes at the exclusive Shady Side Academy (as did H.J. Heinz in 1900). Reed graduated from Princeton (1900), and the University of Pittsburgh Law School (1903) and worked as a lawyer (1903-1917). In WWI, he was an Artillery Major. After the war, he held top positions on the Allied Economic Commission and the Inter-Allied
Armistice Commission (which enforced the terms of Germany's surrender, disarmament and demobilization).
He returned to Pittsburgh law practice in 1919, working for Reed Smith, Shaw and McClay. Now called Reed Smith, after co-founder James Reed, this firm had represented Carnegie, Frick, Mellon, Heinz, Westinghouse and other wealthy family companies since 1877. In 1901, it represented Andrew Carnegie in forming U.S. Steel, the "world's first billion dollar corporation," and J.H. Reed became one of its directors. In 1913, Reed Smith helped Andrew Mellon form the Mellon Institute of Industrial Research. It later merged with the Carnegie Institute of Technology to became one of Reed Smith's enduring clients, Carnegie Mellon University. Reed Smith had an income of about one million in 1922. By 2001, this had grown to $270 million. Now one of the world's top 20 law firms, ten percent of its clients have been there since 1877.
David Reed left Reed Smith to became a Senator in 1922. He chaired the Committee on Military Affairs and was a member of committees on Finance, Foreign Affairs and Immigration. He also sat on the Republican National Committee. His biggest contribution was the 1924 Johnson-Reed "Immigration Restriction Act." It established the "national origins quota system" which governed U.S. immigration policy for the 30 years. This racist law was a victory for the Ku Klux Klan's nativist philosophy. The then-powerful KKK had millions of members. In 1925, 40,000 fully-robed Klansmen marched in Washington. The Klan liked Reed's racist law because it targeted all the nationalities that they deemed dangerous. Only "Nordic" Europeans were desirable. Reed's role in entrenching such a bigoted law did not deter Princeton University from honouring him. Indeed, it was likely his law that led Princeton to award him with an Honorary Law degree in 1925. In 1930, Reed was the U.S. delegate to the London Naval Conference, which established a treaty between Japan, Britain and the U.S. regarding the size of their naval forces. Reed is also known to have been a prominant Freemason.
References:
Bruce Clayton, "Books: The Story of American Freedom by Eric Foner," Pittsburgh Post-Gazatte, Nov. 8, 1998.
http://www.post-gazette.com/books/reviews/19981108review135.asp
Dr. John McClymer, "The 1920s through the Prism of the KKK."
http://www.assumption.edu/ahc/1920s/Eugenics/Klan.html
Immigration Act of May 26, 1924
http://www.ailc.com/shared/aboutus/statistics/legishist/470.htm
David Aiken Reed Scrapbooks
http://infoshare1.princeton.edu/libraries/firestone/rbsc/finding_aids/reed.html
Bethany Li, "Gerety signs controversial statement," Amhearst Student, Sept. 10, 2002.
http://halogen.note.amherst.edu/~astudent/2002-2003/issue06/news/04.html
Source: Press for Conversion! magazine, Issue # 53, "Facing the Corporate Roots of American Fascism," March 2004. Published by the Coalition to Oppose the Arms Trade.
Order a Copy: Order a hard copy of this 54-page issue of Press for Conversion! on the fascist plot to overthrow President F.D.Roosevelt and the corporate leaders who planned and financed this failed coup.