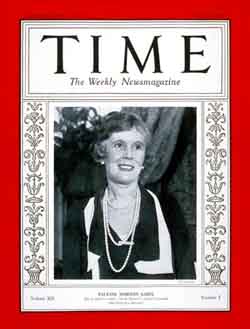 Pauline Sabin (1887-1955)
By Richard Sanders, Editor, Press for Conversion!
Sabin was the only woman on the American Liberty League's executive committee.
Pauline Sabin grew up in a wealthy, political family. Her grandfather, J. Sterling Morton, had been a Democratic Senator, Nebraska's governor and U.S. Secretary of Agriculture (1893 -1897). Her father, Paul Morton, a Republican, was a railroad executive, U.S. Secretary of the Navy (1904-1905) and the Equitable Life Assurance Society's president. In 1934, Pauline inherited millions from uncle Joy Morton, the founder of Morton Salt.
She was deeply involved in Republican Party politics, serving on the Suffolk County, NY, Republican Committee (1919) and the party's executive committee for that state (1920). She co-founded the Women's National Republican Club and was its president (1921-1926). In 1924, she was the first woman on the Republican National Committee. That year, and in 1928, she was a delegate to the Republican National Convention. During the presidential campaigns of both Coolidge and Hoover, she headed up women's activities in the east. However, in 1929, she resigned from Republican Party when Hoover changed course and supported prohibition.
Sabin is best known for founding the Women's Organization for National Prohibition Reform (WONPR), often called "The Sabin Women." This group, which burst onto the scene in 1929, was started by affluent wives of bankers and industrialists who dominated the all-male Association Against the Prohibition Amendment (AAPA). Pauline's husband, Charles Sabin, a prominent Democrat and president of J.P. Morgan's Guaranty Trust Co., had been active with the AAPA since the early 1920s and was its treasurer. The media gave good coverage to Sabin and her clique of fashionable, high-society ladies. By 1931, the WONPR was the country's biggest, female repeal organization, with some 1.5 million members. WONPR's success was based on the "hijacking of traditional female concerns about the home and family," says Kenneth Rose, author of American Women and the Repeal of Prohibition (1996).
In 1933, her husband died just before prohibition was repealed. Sabin and numerous top AAPA organizers then became active in the American Liberty League and she served on its executive committee. She also co-chaired Fiorello La Guardia's successful campaign for New York mayor. In 1936, she worked on Alfred Landon's successful campaign for Governor of New York. That year, she married Dwight Davis, a former Secretary of War (1925-1929) and U.S. governor general of the Philippines (1929-1932). She lived long enough to see her son, James Hopkins, become Assistant Secretary of the Navy for Air (1952-1956).
References:
David E. Kyvig, Dictionary American Biography, Supp. Five.
http://www.pdxnorml.org/980308.html
Carl Miller, "We Bot Beer Back!," All About Beer, Jan. 2001.
http://www.allaboutbeer.com/features/216gotbeer.html
Paula Baker, "Review: American Women and the Repeal of Prohibition by Kenneth D. Rose," The Independent Review, Fall 1998.
http://www.independent.org/tii/content/pubs/review/books/tir32_rose.html

Source: Press for Conversion! magazine, Issue # 53, "Facing the Corporate Roots of American Fascism," March 2004. Published by the Coalition to Oppose the Arms Trade.
Order a Copy: Order a hard copy of this 54-page issue of Press for Conversion! on the fascist plot to overthrow President F.D.Roosevelt and the corporate leaders who planned and financed this failed coup.