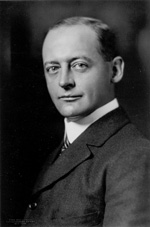 James Wolcott Wadsworth,Jr. (1877-1952)
By Richard Sanders, Editor, Press for Conversion!
Wadsworth was a member, Initiating Executive Committee of the American Liberty League.
James Wadsworth, Jr., was, at heart, a gentleman farmer. During his political career, spanning both world wars and almost half a century, he advocated increased military power and denounced women's right to vote. A strong gold standard supporter, he helped found the American Liberty League.
Son of a famous civil war general, wealthy New York landowner, lawyer, politician and banker, James Jr. was destined for power. He graduated from Yale in 1898 and served in the Spanish-American War's Puerto Rican campaign (1898). After the war, he retreated into farm life until 1905. Wadsworth was not your average farmer, but a member of the secret, fraternal club Order of the Patrons of Husbandry, whose lodges were called granges. Grangers were "gentlemen, merchants and landowners." He reemerged from farm life in 1905, was elected to New York's state assembly and was its Speaker, 1906-1910. He retreated again into farm life, this time managing a Texas cattle ranch (1911-1915). A diehard Republican, Wadsworth was a New York delegate to seven of its National Conventions, 1908-1940. He was a failed candidate for New York's Lieutenant Governor, 1912, but in 1915 he became a Senator.
In A People's History of the United States, 1980, Howard Zinn describes Wadsworth's role in military affairs during the years before WWI:
"Socialism was growing. The [Industrial Workers of the World] IWW [a radical, anarchist union] seemed to be everywhere. Class conflict was intense. In...1916, during a Preparedness Day parade in San Francisco, a bomb exploded, killing nine people. Two local radicals…were arrested and spent twenty years in prison. Shortly after that, Senator James Wadsworth…suggested compulsory military training for all males to avert the danger that 'these people of ours shall be divided into classes.' Rather: 'We must let our young men know that they owe some responsibility to this country.'"
Wadsworth later chaired the Senate Committee on Military Affairs (1919-1927). Following WWI, when the Senate debated changes to military structure, the National Defense Act (1920) was passed, based on Wadsworth's bill.
In 1924, Wadsworth's daughter married W.S. Symington, an industrialist who, in 1947, became President Truman's first Secretary of the Air Force. The significance of nuclear bombers, made Symington, by military reckoning, "the third most powerful man in government, after the President and Secretary of Defense" (Walter Boyne, "Stuart Symington," Air Force, Feb. 1999).
Wadsworth's failed campaign for re-election in 1926, was probably due to his strident opposition to women's suffrage. His wife, Alice Hay Wadsworth, founded the National Association Opposed to Woman Suffrage (NAOWS) in 1911 and was its president, 1917-1920. (Her father was President Lincoln's secretary, a diplomat in four European countries and President Hayes' First Assistant Secretary of State, 1879-1881.)
Although both Alice and James fought hard to prevent women's franchise, U.S. women did finally receive the vote in 1919. Suffragists successfully organized against Senator Wadsworth's re-election in 1926 and he again retreated into farm life. He returned with a vengeance to sit as U.S. Representative from New York, from 1933 to 1951. During that period he:
* Was an officer of the Carnegie Corporation (1936)
* Sponsored the Selective Service Act (1940) drafting all men (21-34), the first peace-time draft in U.S. history.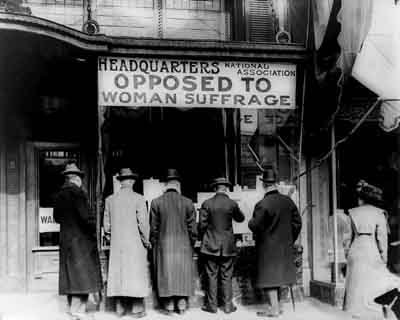 Women Voters Defeated Senator Wadsworth in 1926
Wadsworth's wife, Alice Hay Wadsworth, founded the National Association Opposed to Woman Suffrage in 1911. In the 1926 Senatorial campaign, the League of Women Voters unofficially opposed Wadsworth. Women voters mobilized to prevent his re-election. Interviewed in the New York Times, activist Mary Garrett Hay said that it was women who had defeated Wadsworth. Although she herself was a Republican, Hay voted for Wagner, the Democratic candidate. She praised his victory, saying:
"Judge Robert F. Wagner is a fine man and will make an excellent representative in the Senate.... Wadsworth never did anything for man, woman, [or] child while holding public office. As a matter of fact, he always voted against progressive laws." (Nov. 9, 1926)
Senator Wagner wrote the 1935 Wagner Act. This progressive "New Deal" legislation allowed workers to organize unions. Much to Wall Street's chagrin, workers in the auto and steel industries soon had their first unions.

* Introduced a Senate resolution (1949) for the Association to Unite the Democracies (then called Federal Union). It urged a national convention to consider a federal union with Canada and Western Europe. This set the stage for NATO and, later, greatly influenced it. The idea was supported by, among others: Will Clayton, Nelson Rockefeller, Richard Nixon, Eugene McCarthy, Averill Harriman, Henry Kissinger, George Marshall and Lester B. Pearson.

* Was appointed by President Truman to chair the National Security Training Commission, 1951-1952.
References:
Wayne Mahood, General Wadsworth: The Life and Times of Brevet Maj. Gen. James S. Wadsworth, 2003.
http://www.hamilton.edu/news/books/default.html?type=alumni&RowToStartAt=6
Minnesota Railroads, 1849-75
http://search.ancestry.com/db-lhbum0866h/P144.aspx
"The National Defense Act of 1920: An Essay on Sources," Oct. 1990.
http://www.ibiblio.org/pub/academic/history/marshall/military/mil_hist_inst/m/milpoly2.asc
Alice Wadsworth of the National Assoc. Opposed to Woman Suffrage to Charles E. Fuller, Dec. 11, 1917.
http://www.binghamton.edu/womhist/nysuff/doc1.htm
Biographical Cyclopaedia of American Women
http://search.ancestry.com/db-bcaw/P14.aspx
Earl Rickard, "The Peacetime Draft Comes to America," U.S. History 1929-1945, Jun. 1, 2002.
http://www.suite101.com/article.cfm/us_history_1929_1945/92320
Atlantic Union Bill
Google cache: http://www.unionnow.org/isaonline/ar43.htm
A Brief History of AUD
http://www.iaud.org/history.html
Source: Press for Conversion! magazine, Issue # 53, "Facing the Corporate Roots of American Fascism," March 2004. Published by the Coalition to Oppose the Arms Trade.
Order a Copy: Order a hard copy of this 54-page issue of Press for Conversion! on the fascist plot to overthrow President F.D.Roosevelt and the corporate leaders who planned and financed this failed coup.