CIDA's Key Role in Haiti's 2004 Coup d'État:
Funding Regime Change, Dictatorship and Human Rights Atrocities,
one Haitian "NGO" at a Time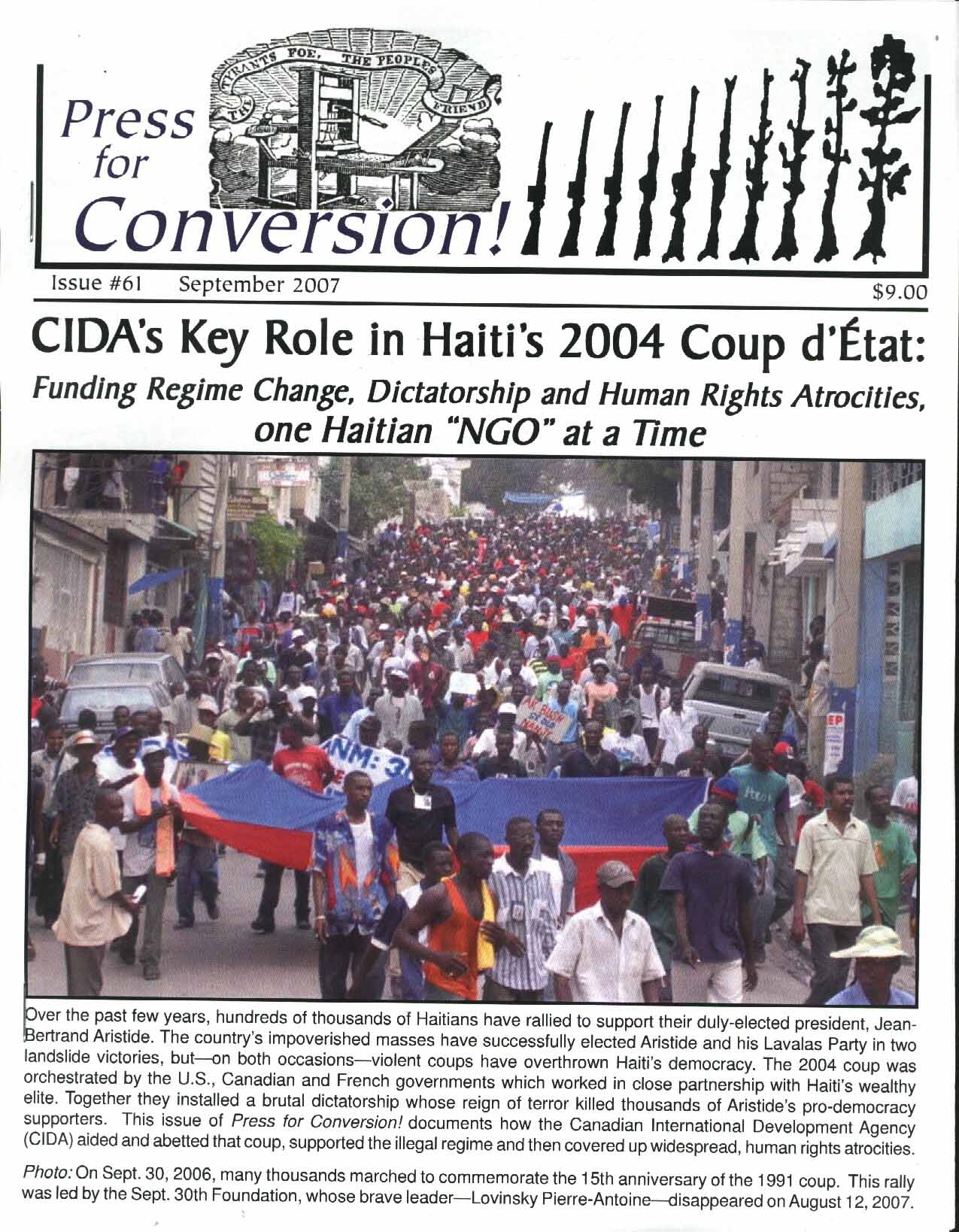 Summary: The Canadian International Development Agency (CIDA) helped overthrow the democratically-elected Haitian government of President Jean Bertrand Aristide in 2004. In the years prior to this regime change—led by the U.S., Canada and France—although Aristide and his Lavalas government were extremely popular among the country's poor citizens, CIDA drastically cut bilateral aid to Haiti. CIDA simultaneously poured millions of dollars into extremely partisan Haitian organizations that represented the selfish interests of Haiti's corporate elite. These groups helped destabilize Haiti's legitimate government and called for its overthrow. (The most prominent pro-coup recipients of CIDA largesse, were NCHR, G-184, PAPDA, CARLI, CONAP and ENFOFANM.)

Then, following the Canada-backed coup, CIDA and its proxy groups in Haiti backed the brutal dictatorship that oversaw the illegal imprisonment and mass murder of thousands of Haitians whose crime was simply to support the constitutional government that they had duly elected. CIDA also funded the illegal coup regime's "Justice" ministry. It was responsible for overseeing Haiti's police, prisons and courts, which led the witch hunt and persecution of pro-democracy advocates.

CIDA's phony "human groups" not only covered up the coup-installed regime's brutal atrocities, they also fabricated evidence to frame the leaders of Lavalas party. By kidnapping and exiling President Aristide, and by illegally imprisoning Prime Minister Neptune, various cabinet ministers, MPs, mayors and other key organizers and activists, the coup regime and its international backers made it impossible for Lavalas to compete in the rigged, CIDA-funded elections of 2007.
For more details on the Canadian government's role in the 2004 coup, see issue # 60 of Press for Conversion! (March 2007).
---
Press for Conversion! September 2007 (Issue #61)
Published by the Coalition to Oppose the Arms Trade (COAT)
Click here for a (large) pdf file of the whole magazine.
Or, click the links below to access all the articles in either htm or pdf formats.
Front Cover
Acknowledgements and Prologue
National Coalition for Haitian Rights—Haiti (NCHR)
htm
pdf
The Canadian-backed Coup Regime's Reign of Terror:
How CIDA-funded NCHR Promoted and then Covered up Atrocities
htm
• Lovinsky Pierre-Antoine has Disappeared!
htm
• Stop Canada's Persecution of former-Lavalas MP, Jean Candio
• Human Rights Office Ransacked after Exposing NCHR-Haiti
htm
pdf
NCHR-Haiti Reviews Coup Regime's "First 45 Days":
"Blame-the-Victims" Approach Betrays Democracy and Human Rights
htm
• POHDH: Another recipient of CIDA largesse
htm
pdf
Faking Genocide in Haiti:
Canada's Role in the Persecution of Prime Minister Yvon Neptune
htm
pdf
CIDA Bankrolled Coup's Deputy Minister of "Justice":
Shills and Scam Artists in the Deadly Con Game of Haiti's 2004 Coup
pdf
An Interview with Mario Joseph
The Group of 184 (G184)
htm
pdf

The G184: Exposing the Haitian Elite's Enthusiasm for Violence

• The G184 melts into the ether
• Table: CIDA-Funded G-184 Member Groups
• Table: Projects Funded by CIDA and Run by G-184 Member Groups
• CSIG Members: At the Core of the G184

htm
pdf
The G184's Powerbrokers — Apaid and Boulos:
Owners of the Fourth Estate; Leaders of the Fifth Column
Other Haitian "NGOs"
| | | |
| --- | --- | --- |
| htm | pdf | PAPDA: CIDA's "Alternative Development" includes Coups and Repression |
| htm | pdf | CARLI: Using Radio Waves to Fuel Haiti's Climate of Fear and Terror |
| htm | pdf | CONAP and ENFOFANM: CIDA funds the "REAL Women" of Haiti |
| | | |
| --- | --- | --- |
| htm | pdf | Afterword: Chimère, The "N" word of Haiti |
| | | |
| --- | --- | --- |
| | pdf | Back Cover: Get Involved! |
Click here to order this issue of Press for Conversion!
Learn about other issues of Press for Conversion!
For instance, issue #60 is called:
"A Very Canadian Coup d'état in Haiti:
The Top 10 Ways that Canada's Government Helped the 2004 Coup and its Reign of Terror."