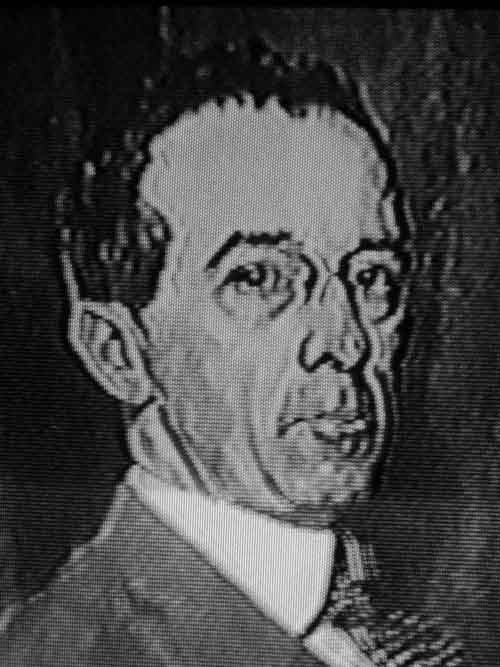 Robert S. Clark (1877-1956)
By Richard Sanders, Editor, Press for Conversion!
Robert S. Clark was a major financier of the American Liberty League, the Committee for a Sound Dollar and Sound Currency and Jerry MacGuire, was one of wealthiest and most eccentric of Wall Street's bankers and stockbrokers. After graduating in engineering from Yale (1899), he fought in the Spanish-American War, in particular the campaign that captured the Philippines for the American empire. Clark served under General Smedley Butler when the Marines' invaded China to crush the Boxer Rebellion, lay siege to Peking (Beijing) and capture Tientsin (1900-1901). (The U.S. Marines invaded China to put down the Boxer's populist rebellion against the foreign control of China.)
MacGuire told Bulter that his backers would give the General a bank account and showed him cheques from John Mills, Grayson Murphy and Robert S. Clark.
Clark and his attorney, Albert Grant Christmas, gave tens of thousands of dollars to Gerald MacGuire for use by the Committee for a Sound Dollar and Sound Currency which was the front organization originally used to approach and recruit General Butler.
When MacGuire told Butler that Clark was one of the financiers behind the plot, Butler remembered Clark from the Boxer campaign in China. Butler described Clark as the "millionaire lieutenant" and as "sort of batty, sort of queer, did all sorts of extravagant things."
After the war, but while still in the military, Clark worked in Washington for two years, then returned to Peking. In 1905, he began preparations for an expedition to remote northern China, apparently for zoological and ethnological research (1908-1909). (His 1912 book, Through Shên-kan: Account of the Clark Expedition, 1908-1909, now sells for over US$1000.)
Clark's fortune came from grandfather Edward Clark, a New York lawyer who co-founded Singer Sewing Machine with its "inventor," I.M. Singer, in 1851. Legal problems plagued them. Elias Howe sued them for infringing on his patent and, in 1854, he won royalties. By 1855, Singer was the world's largest company of its kind having created great demand for female sweatshop workers. By the 1870s, Singer had factories in Britain, Germany and Russia.
In 1911, the huge Singer factory in Scotland faced 11,000 orderly workers in the "first significant strike ever waged against a multinational corporation" (The People, May 2001). By that time, Singer and other U.S. companies like Rockefeller's Standard Oil and American Tobacco, were embedded in what is now Turkey. Historian Simon Payaslian has documented how, in order to protect American investments, the U.S. government turned a blind eye to the Ottoman genocide of Armenians in 1915. The U.S. could not protect Singer's Russian factory from nationalization after the 1917 revolution. Singer fared well in Germany, where it was among the top 25 U.S. investors, in the late 1920s. In 1930, the agent in Saudi Arabia for Singer, Standard Oil NY and Ford Motor, was British fascist, Harry St. John Philby (whose son, Kim, became an infamous Soviet spy). Harry, who supplied weapons and money for Arabia's fight against Ottoman rule in WWI, was the go-between for King Ibn Saud and U.S. oil companies.
During WWII, Singer's U.S. factories made bomb sights, M1911 handguns and M-1 self-loading rifles. Singer's Germany factory made machine guns for the Nazis. After chasing the German army back across Europe, the Soviets captured Singer's Nazi weapons factory and confiscated it. Charles Kindleberger, the U.S. State Department official in charge of German Economic Affairs (1945-48) said the U.S. did "not think that was an appropriate war trophy." He worked for the Office of Strategic Services (the CIA's precursor) and Army Intelligence (1942-45).
Sewing machines began going out of fashion in the 1950s. By the 1970s, Singer focused on serving the U.S. military. Germany's Pfaff company now owns the Singer brand. Sewing machines with the Singer brand name are now made for Pfaff in Asia.
Clark is now remembered as an art collector who created a foundation bearing his name. It has $85 million in assets and funds arts and family planning programs.
References:
Sterling Clark: Clark Art Institute
http://www.clarkart.edu/the_clark_story/content.cfm?ID=144&nav=4
Robert Sterling Clark Foundation
http://fdncenter.org/grantmaker/rsclark/index.html
Robert Sterling Clark
http://www.infoplease.com/ipa/A0771870.html
Elias Howe
http://www.infoplease.com/ce6/people/A0824348.html
Looking the other way
http://www2.clarku.edu/research/access/history/payaslian/payaslianD.shtml
History of the Company
http://www.geocities.com/Heartland/Plains/3081/singer.html
James Warnet, Colt Model 1911 Caliber .45 ACP
http://www.wwiitech.net/main/usa/weapons/coltmodel1911
Innovative Chapter Added To 150-Year History, St. Louis Senior
http://www.todaysseniors.com/memories/innovative.shtml
Service Pistols
http://usgi1911.tripod.com/history
Oral History Interview with Charles P. Kindleberger, Jul. 16, 1973, by Richard D. McKinzie
http://www.trumanlibrary.org/oralhist/kindbrgr.htm
Timothy Mitchell, "McJihad: Islam in the U.S. Global Order," The Politics of Knowledge: Area Studies and the Disciplines, 2003.
http://repositories.cdlib.org/uciaspubs/editedvolumes/3/3
Service Pistols
http://www.hagley.lib.de.us/2207.htm
American Women's History Timeline
http://www.canow.org/timeline.html
Source: Press for Conversion! magazine, Issue # 53, "Facing the Corporate Roots of American Fascism," March 2004. Published by the Coalition to Oppose the Arms Trade.
Order a Copy: Order a hard copy of this 54-page issue of Press for Conversion! on the fascist plot to overthrow President F.D.Roosevelt and the corporate leaders who planned and financed this failed coup.