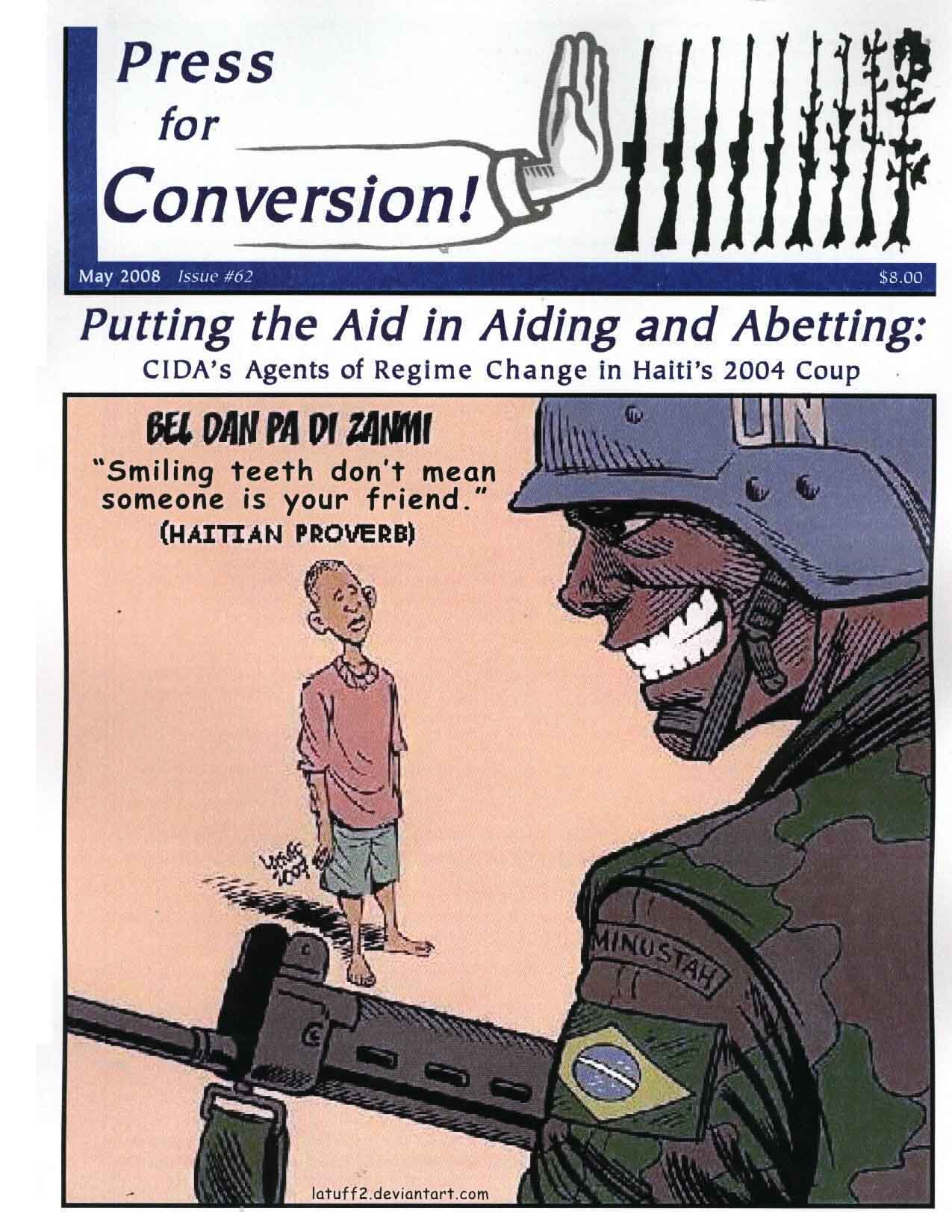 Putting the Aid in Aiding and Abetting:
CIDA's Agents of Regime Change in Haiti's 2004 Coup

Press for Conversion! Issue #62 (May 2008)

Hot off the Press!
The latest 54-page issue of Press for Conversion! magazine is now available!

Click here for the Table of Contents where you can link to all of the articles online.

This issue contains a wealth of new material detailing how the Canadian International Development Agency (CIDA) contracted a variety of organizations in Canada to aid and abet its policy of regime change in Haiti. Although these largely Quebec-based organizations are part of movements dedicated to peace, development, human rights, "Third World" development and "democracy promotion," they played essential roles in destabilizing President Aristide's elected government. Some of these Canadian organizations funneled CIDA grants to their "partner" groups in Haiti to conduct virulently partisan, anti-Aristide campaigns. Other CIDA-funded groups in Canada contributed to the cause by lending legitimacy to the brutal dictatorship that was illegally installed in 2004. As enthusiastic cheerleaders for Canada's role in the 2004 coup, CIDA's agents of regime change also helped with propaganda efforts to cover up the worst of the human rights abuses overseen by the coup-backed regime.

If you are not already a subscriber, please order a copy for yourself and some extra ones for distribution to others.
This issue of Press for Conversion! examines ten CIDA-funded, quasi-government agencies and exposes details about their shameful roles in the process of Haiti's 2004 regime change:
Alternatives
Canadian Foundation for the Americas
Centre for International Studies and Cooperation
Couchiching Institute on Public Affairs
Development and Peace
Freedom Network
International Legal Resources Centre
Québec Association of International Cooperation Organizations
Rights and Democracy
Roundtable on Haiti
This issue represents considerable new research into the role of CIDA-funded groups in Canada. In fact, ninety percent of the articles in this issue have never previously been published.
The magazine is exhaustively footnoted with a total of more than 450 detailed references.

Material in this issue was written by Nikolas Barry-Shaw, Yves Engler, Anthony Fenton, Peter Hallward, Isabel K. Macdonald, Richard Sanders, Kevin Skerrett and Kabir Joshi-Vijayan.

Scattered throughout this issue are two dozen insightful Haitian Kreyol proverbs that are illustrated with striking graphic images.

Previous Issues
Two previous issue of Press for Conversion! have also dealt with Canada's destructive role in Haiti's recent history:

Issue # 60
A Very Canadian Coup d'État in Haiti:
The Top 10 Ways that Canada's Government helped the 2004 Coup and its Reign of Terror

Issue # 61
CIDA's Key Role in Haiti's 2004 Coup d'État:
Funding Regime Change, Dictatorship and Human Rights Atrocities, one Haitian 'NGO' at a Time

These two valuable educational resources are available online and in hard copy format. Please order copies of these back issues for distribution to those who should know about the nefarious role played by the Canadian government in Haiti.

Stay Tuned. There's more to come!
The next issue of Press for Conversion! (#63) will also focus on Haiti and is already more than half done. It will examine the top ten myths that have been spread about President Aristide, his Lavalas government and its supporters. These myths were used in the war of dis-information that mobilized domestic and international opposition to Haiti's legitimate government. The myths were also used to manufacture support for the dictatorship that was installed following the 2004 coup. The role of the Canadian government and numerous CIDA-funded organizations in perpetuating and in some cases even concocting these key underlying myths will be exposed.

Order Press for Conversion!
To subscribe or renew, simply send a cheque payable to "COAT" for $25 ($20 for students/unemployed):

Coalition to Oppose the Arms Trade (COAT)
191 James St.
Ottawa ON K1R 5M6

That will get you three hefty issues of Press for Conversion! (Please specify which issue you want your subscription to start with.)

Prices:
1 copy ($8) 5 copies ($25) 10 copies ($40) 25 copies ($75) 50 copies ($140)

Here's an online coupon that you can use when mailing your order for back issues, extra copies, and to subscribe, renew or donate.

A link is available there for making a secure online payment to COAT using Paypal.

Spread the Word:
Your support is essential for this research to continue.
Thanks for anything you can do to help this work and to spread the word, on and offline!

Here is a FLIER that you can print and distribute. It details back issues of Press for Conversion!, including the three issues now available on Canada's role in Haiti's 2004 coup.

Please link to the COAT website. Thanks!


The URL for this message is:
http://coat.ncf.ca/our_magazine/links/62/62.htm