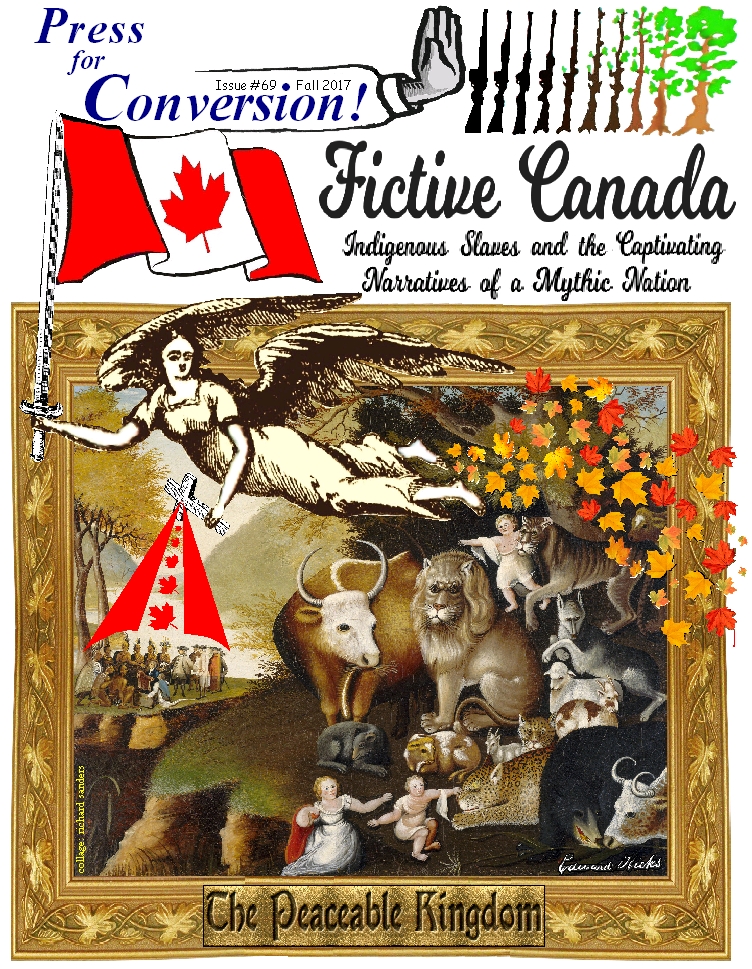 Fictive Canada:
Indigenous Slaves and the Captivating Narratives
of a Mythic Nation
Issue #69, Press for Conversion! (Fall 2017)

A 52-page, full-colour issue of COAT's magazine
Coalition to Oppose the Arms Trade

Please subscribe, buy a copy or make a donation to COAT
(click here for a coupon), or use the paypal link on our webpage.

To subscribe within Canada: 3 issues ($25),
Buy one copy ($8); or get 5 for $30; 10 for $45; 20 for $80; 50 for $175

If quoting this material, please cite the source and webpage. Thanks.
Click here for info about symbolism of the front cover collage
and Edward Hick's painting, "The Peaceable Kingdom."
Table of Contents

1- True Crime Stories and the
Politics of Literary Escapism:
Canada as a Fiction in the Imperial Genre
2- John Cabot & Britain's Fictitious Claim on Canada:
Finding our National Origins in a Royal Licence to Conquer
> Why "The Dominion of Canada"?
3- Canada's Extraordinary Redactions:
Held Captive by Nation-Building Myths
about Jacques Cartier
4- Textbook Cases of Canadian Racism:
Canadian History Books as Captivating Works of Fiction
5- From Popes and Pirates to Politicians and Pioneers:
Papal Bulls, Political Bull, Legal Fictions
and other Con Games
> The Canadian Legal Fiction of Original Crown Occupancy
> A Legal Fiction is...
> The Indian Act as Hoax and Legal Fiction
> First Peoples, First Slaves, First Cover Up
6- Breaking the Bonds of Ignorance and Denial:
Slavery, Genocide, Historical Fiction
and other Canadian Values
> Oh say can you see? Blindsport for Peaceable Racism
> Who were the Slave Owners of New France?
> Tied by Faith, Bound by Law, and Reliant on 'The Word'
> Native Captivity and Slave Labour
in Canadian Prisons Today
7- Native Captivity and Slave Labour
in Canadian Prisons Today
8- Child Slavery in Canada's
Residential-School Prisons
> Jean L'Heureux:
Con Man, Sex Predator, Agent of Church and State
> Kidnapping Indigenous Children during the
"Fall Round Up"
Why "The Dominion of Canada"?
By Tonya Gonnella Frichner
The Old World idea of property was well expressed by the Latin word dominium: from dominus, and the Sanskrit domanus (he who subdues). Dominus carries the same principal meaning (one who has subdued), and is extended naturally to signify 'master, possessor, lord, proprietor, owner.'
Dominium takes from dominus the sense of 'absolute ownership' with a special legal meaning of "property, right of ownership" (Lewis and Short, A Latin Dictionary, 1969).
Dominatio extends the word into "rule, dominium," and ... "with an odious secondary meaning, unrestricted power, absolute dominium, lordship, tyranny, despotism." Political power grown from property — dominium — was, in effect, domination. (William Brandon, New Worlds for Old, 1986, p.121.).
State claims and assertions of 'dominion' and 'sovereignty over' indigenous peoples and their lands, territories and resources trace to these dire meanings, handed down from the days of the Roman Empire, and to a history of dehumanization of indigenous peoples. This is at the root of indigenous peoples' human rights issues today.
Source: Excerpt, "Impact on Indigenous Peoples of the International Legal construct known as the Doctrine of Discovery, which has served as the Foundation of the Violation of their Human Rights," UN Permanent Forum on Indigenous Issues, February 3, 2010.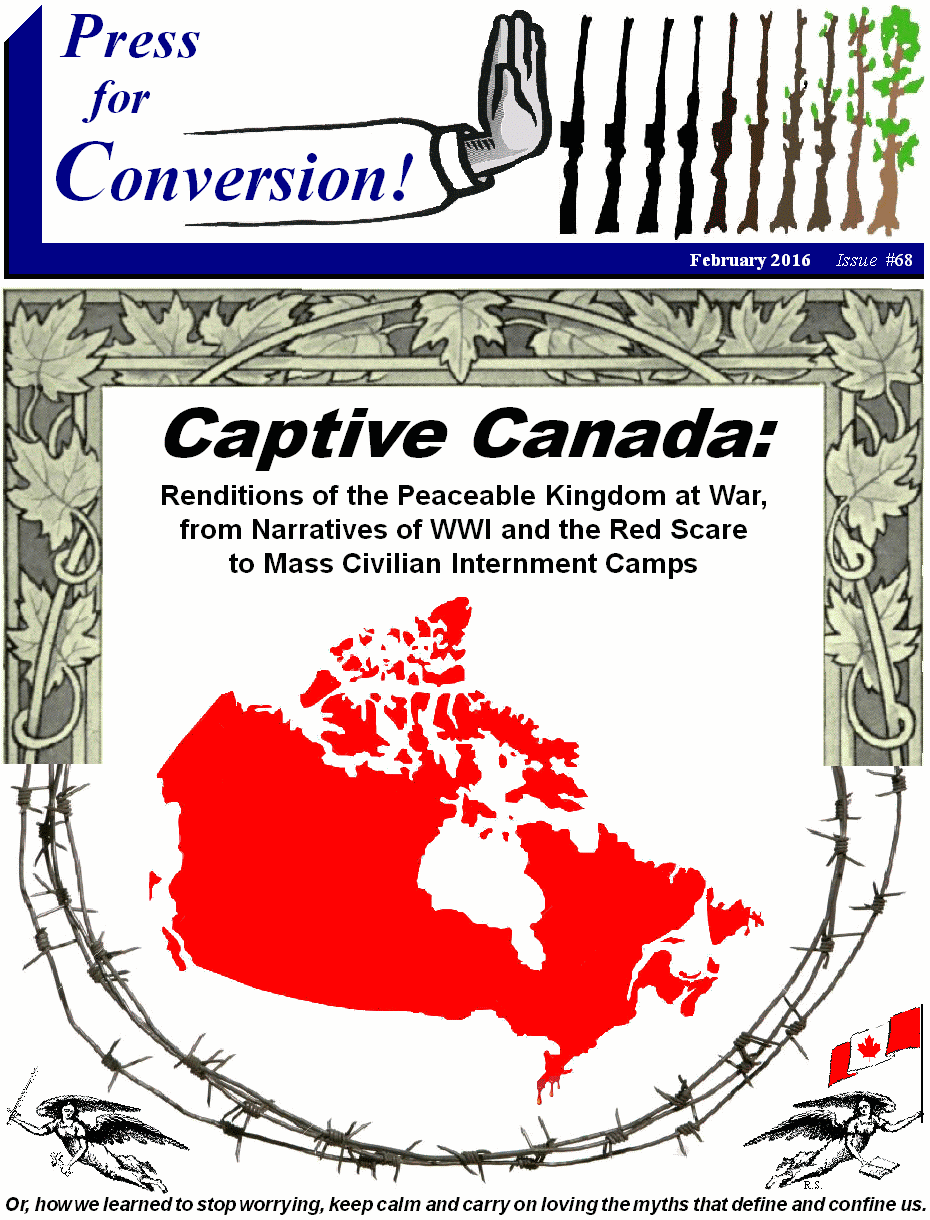 You may also be interested in this back Issue of Press for Conversion!
Captive Canada:
Renditions of the Peaceable Kingdom at War,
from Narratives of WWI and the Red Scare
to the Mass Internment of Civilians
(Or, how we learned to stop worrying, keep calm and
carry on loving the myths that define and confine us.)
This issue (#68) deals with (a) the WWI-era mass internment of Ukrainian Canadians (1914-1920), (b) this community's split between leftists and ultra right nationalists and (c) the mainstream racism and xenophobia of so-called progressive "Social Gospellers" (such as the CCF's Rev.J.S. Woodsworth) who were so captivated by their religious and political beliefs that they helped administer the genocidal Indian residential school program and turned a blind eye to government repression and internment during the mass psychosis of the 20th-century's "Red Scare." (Click here to read this issue online.)
Read the introductory article here: "The Canada Syndrome, a Captivating Mass Psychosis"