The article below is from the front page of the Local section of the Ottawa Citizen (June 1, 1989). That was a week after Coalition to Oppose the Arms Trade's very successful peace march which wound its way through downtown Ottawa streets to the site of Canada's largest, weapons-export trade show. Thousands of people walked the three kilometers from Confederation Park to Lansdowne Park where the ARMX weapons exhibition was being held. Roy, Sylvia, Richard (COAT's founder and coordinator), were central to organising this large COAT event, and many others over the decades. The antiARMX rally was part of a much broader COAT campaign which led the Ottawa City Council to pass a bylaw banning all future arms trade shows, including ARMX, from being held on municipal property. That bylaw, passed six weeks before COAT's huge May protest, remained in place for 20 years until it was overturned by a regressive City Council that was determined to allow CANSEC to be held at the City of Ottawa's Lansdowne Park facilities. CANSEC has now taken ARMX's place as Canada's largest arms export event. COAT was very active in initiating and organising protests against several annual CANSEC weapons shows held at Lansdowne Park, twenty years after ARMX '89. (Read more about Roy and Sylvia's involvement in COAT on the "Peace" page of this website.)

The banner says "Wage Nonviolence: Resist State Terrorism." See below for a photo of it at ARMX '89. (See more COAT banners here.)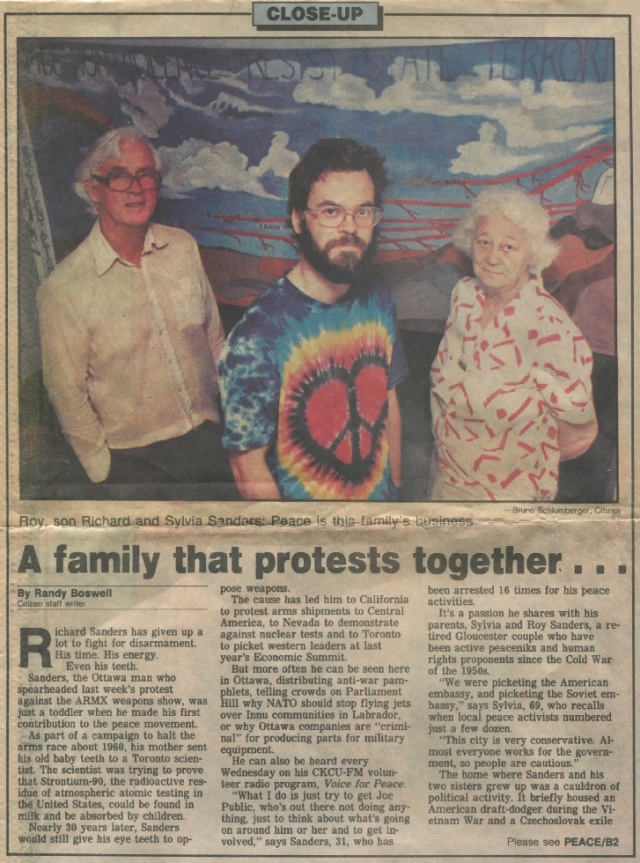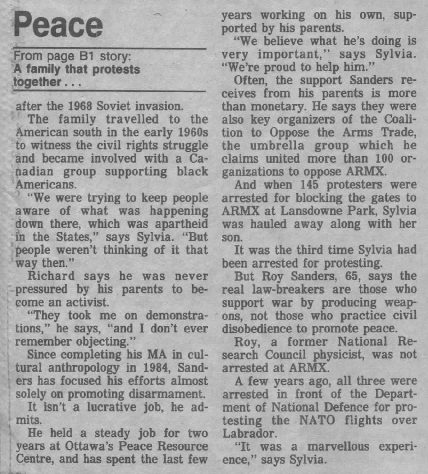 This article makes some factual mistakes. For instance, the Sanders family did not travel to the American south in order "to witness the civil rights struggle." There were travels there but not for this purpose. (See the "Travels" section.) In reality, Roy and Sylvia were very active in the civil rights solidarity movement that existed in Ottawa during the 1960s. Their work in Ottawa raised public awareness about America's system of racist apartheid. Their purpose was to build Canadian support for the nonviolent, civil rights struggle that was going on in US at that time.
This article was written a few months before COAT began to publish its magazine, Press for Conversion! This publishing venture has been a big part of what has kept Richard busy for almost 30 years. Although it is a "steady job" supported by peace activists across Canada, it has never been "lucrative." The very real and hard work of the anti-war movement never is. Neither will it ever end....
---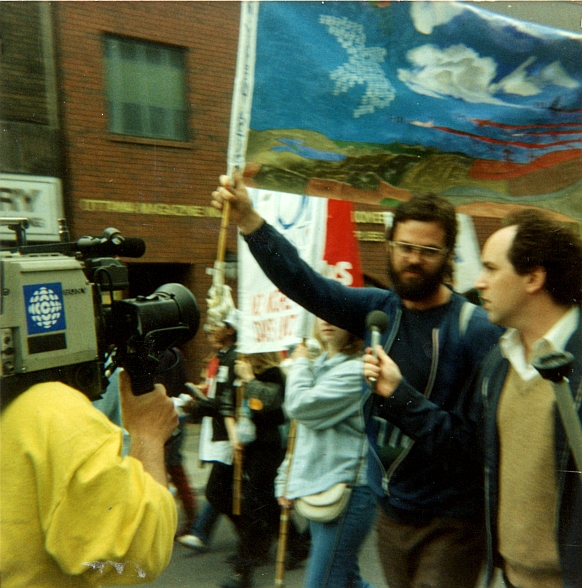 This photo shows Richard being interviewed for CBC TV during COAT's May 1989 peace march through Ottawa to the ARMX weapons bazaar. The white banner in the background says "COAT" "DisARMX" and "No more shopping days til peace." The banner Richard is holding (seen in the Citizen article above), depicts a cruise missile and various low-flying warplanes leaving bloodtrails across the sky. This banner, painted by Richard, reflects opposition to US/NATO test flights that were allowed by the Canadian government over unceded Indigenous lands.
This was an issue that moved Roy, Sylvia and Richard to take part in civil disobedience actions. Along with more than 50 others, these three Sanders were arrested for sitting down and blocking the street in front of the War Department. It was the day after Remembrance Day and Roy and Sylvia were wearing their WWII medals. (Read about Roy's war years.)
Sylvia and Richard were also arrested at ARMX although all charges were dropped against the 150 who blocked the gates of this weapons export event. This deprived resisters of their "day in court" to condemn the Government of Canada for the crimes against peace and crimes against humanity caused by their allowing (indeed promoting) the sale of Canadian weapons systems to many the world's most violent, undemocratic governments. (See the section on the "Alliance for Nonviolent Action" in the "Peace" page of this website.)