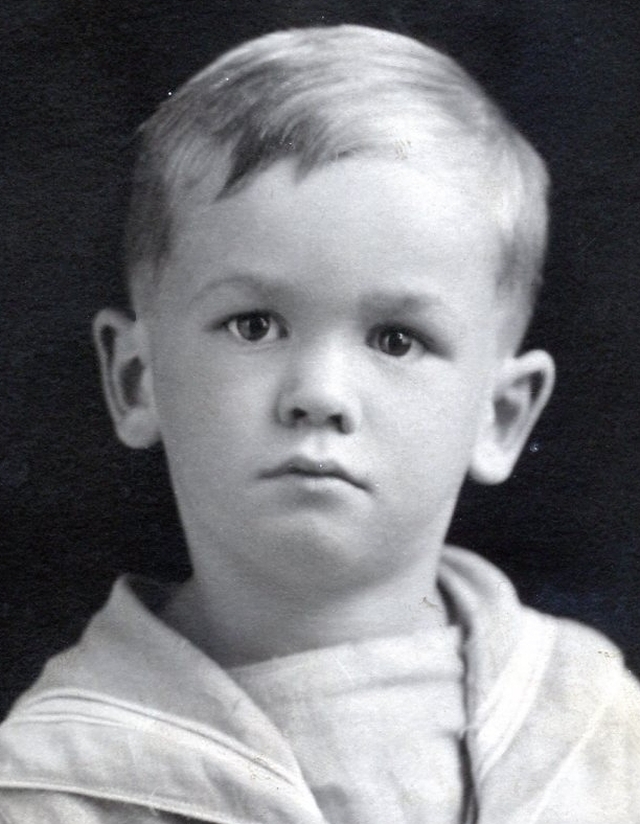 Corey Leroy "Roy" Sanders was born in Hillier Ontario and, as a toddler, moved to another small farm in Prince Edward County, just outside Bloomfield, where they sold their vegetables. Growing up in this small, tight-knit community in The County, Roy acquired a wide array of practical skills which he applied throughout his long and eventful life. Tragedy struck Roy's already poor farming family when his young father died of Parkinson's disease in 1939. This event, just a few days after Roy's 15th birthday, intensified his family's hardships during the Great Depression. (Read Roy's powerful and shocking memories of this period in his life: "Feelings on Growing up in the Thirties.")
The profound childhood experiences described by Roy in these powerful memories deeply affected him throughout his life. Roy always worked very hard, he was frugal, prudent and practical, and he showed great talent for creative ingenuity and pragmatic inventiveness. He also had great empathy for others, especially those less fortunate than himself, and he passionately believed in the need for people to work together, to cooperate and to share their common resources for the betterment of all.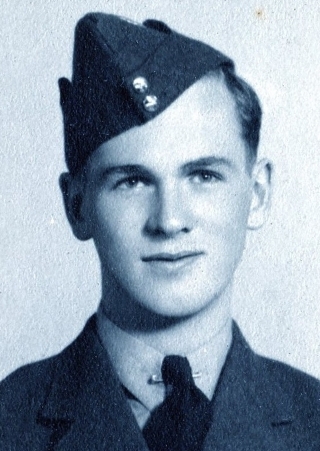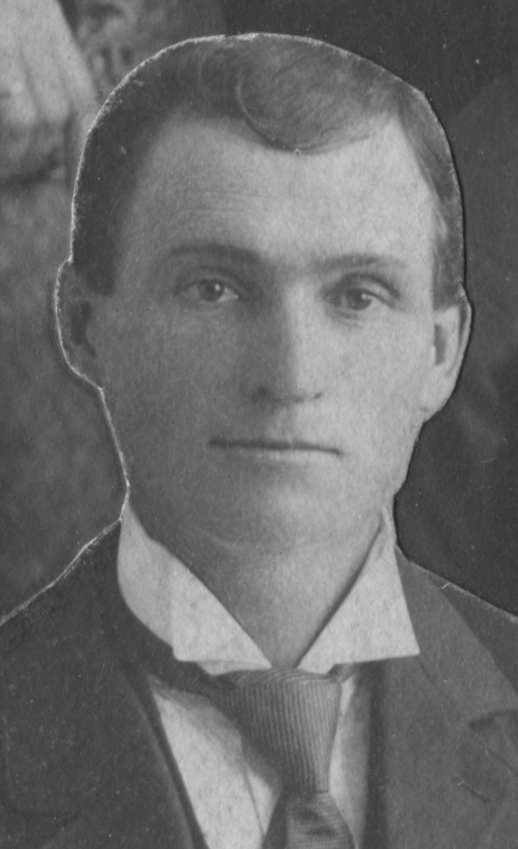 The War Years
In 1942, at the age 18, Roy was moved to sign up for military service. His paternal grandfather, Albert Franklin Sanders (see right), told Roy that he would be the first in his family line to join any armed force. However, Grandpa Sanders understood Roy's desire to contribute to the fight against Nazism and fascism. Decades earlier, Roy's grandfather had built several houses, and then sold them to buy farms in Hillier for Roy's Dad, Arthur, and his brother Warden. Albert made this sacrifice so that his sons would not be conscripted in WWI. (Besides being a carpenter, Albert was a great fiddler who led his children in a successful band called the "Smokeville Five" which played at barn dances throughout The County.)

Because Roy had excelled in school and had an aptitude for math and science, he was channelled into the then just-emerging, top-secret field of RADAR. In 1943, after training as an Air Force RADAR technician, Roy and a small team were sent to western India where they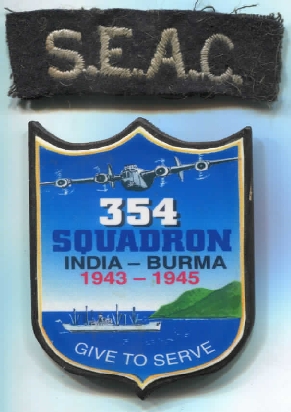 spent two years maintaining RADAR equipment aboard Liberator bomber aircraft. These aircraft, with 354 Squadron of South East Asia Command (SEAC), did reconnaissance patrols over the Bay of Bengal watching for Japanese ships and submarines going to and from occupied Burma. Roy was initially posted to Cuttack, in Orissa, where he was known as "Sandy." In late 1944 and early 1945, he and fellow ground crew technicians were deployed to Minneriya in Ceylon. One of his stories from India was that he built a radio which he and the crew used to listen to an announcement that the US had exploded an atomic bomb on Japan. Read much more here about Roy's two years with the 354th Squadron in India.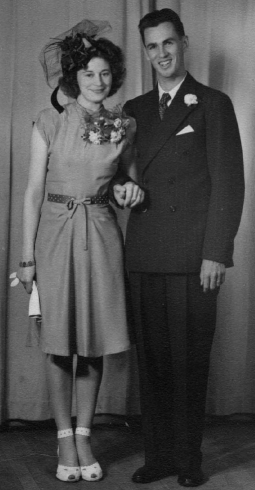 On his way home to Canada after the war, Roy stopped in Britain where he met his warbride-to-be, Sylvia Whittlesey, of Birmingham. They met at a "tea dance" in Bournemouth in November 1945. After dating five times, Roy return to Canada aboard a troopship the following month. After exchanged letters for a few months Roy mailed Sylvia a ring in the spring of 1946. Unless she accepted it as an engagement ring, she would have to pay customs! Sylvia decided to give Roy a chance and made plans for a six-month trial visit to Canada. She arrived on July 18th in a converted, 18-passenger Lancaster bomber.
Soon after her arrival, they decided to speed up their plans and were married on July 27, 1946. When it came to the part of the wedding ceremony when the United Church Minister asked Sylvia to vow that she would always "honour and obey" Roy, she said yes she would honour him, but no, she would not "obey" him. The proceedings stopped while they discussed this unusual situation (brought on by a woman named for suffragette Sylvia Pankhurst). Because Roy was happy to go along with Sylvia's feminism, the wedding proceeded. This was an auspicious beginning to a long and eventful partnership which lasted until Sylvia's death 61 years later.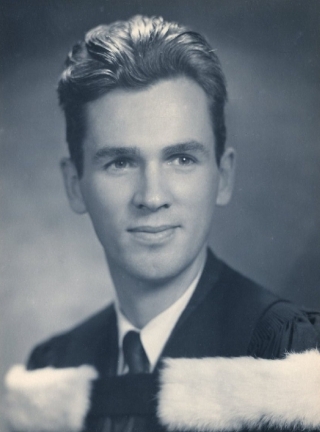 (Read the letter of invitation to their 50th wedding anniversary in 1996, which summarising some highlights of their life together.)

The World of Physics
After taking advantage of a government program for returning veterans, Roy finished two years of high school in six months. This was necessary so that he could start studying math and physics at the University of Toronto in September. After receiving his BA in 1950 (see graduation photo, right), Roy was thinking he'd get a job in astrophysics at an observatory. However, this plan was set aside when he landed a job as a "Junior Research Officer I" with the Canadian government's National Research Council (NRC) in Ottawa. This was the beginning of his career in applied physics (optics) which ended with his retirement in 1979 when he was Senior Research Officer.
In early 1953, Roy, Sylvia and their first daughter, Heather, moved to Britain where he began studies at the University of London's Imperial College of Science. (Read Heather's personal description of those years.) While maintaining his work position at NRC, Roy completed his Ph.D. in the university's Department of Technical Optics (Colour). After receiving his doctorate in late 1955, Roy returned to work at NRC and remained there until his retirement in 1979.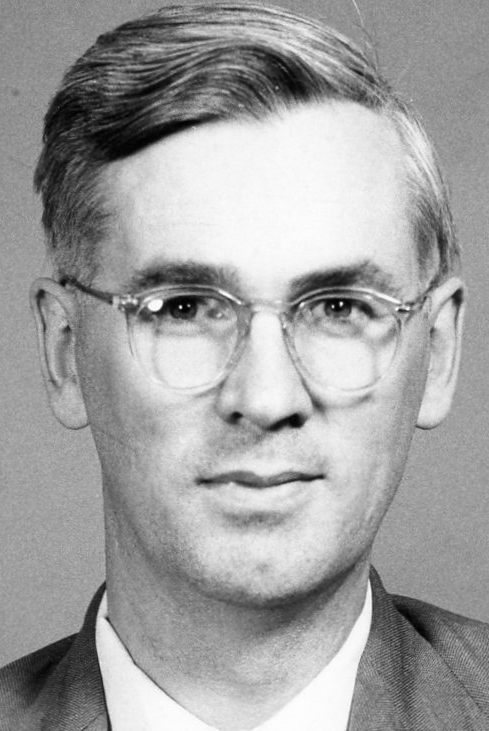 Roy's career in NRC's Applied Physics division involved understanding many technical aspects of optics, from photometry, color rendering, the Primary Standard of Light and the relationship between lightness and luminance. His work there also meant mastering the use of complex instruments, like lasers and spectroradiometers. He even designed and built spectroradiometers for NRC's use. These devices were used in Roy's labs to measure the spectral power distribution of light sources. While to the layperson this may all sound rather abstract and theoretical, his NRC career was actually focused on the practical application of optical physics to solve very down-to-earth problems. For example, his work involved such matters as determining the best colour to be used for turning signals used by cars around the world, photometric and colorimetric measurements to improve flashing lights on emergency vehicles, the refininement of fluorescent lamps, calibrating and standardising the colour used by TV-studio monitors, and establishing the exact shade of red for use in Canada's maple-leaf flag. Read more about Roy's work as a physicist and see a list of papers that he wrote for international scientific journals. Learn more about his work life from the memories of fellow NRC employees: Alan Robertson, Clarence Dodd, Graham Fielder and Gary Schofield.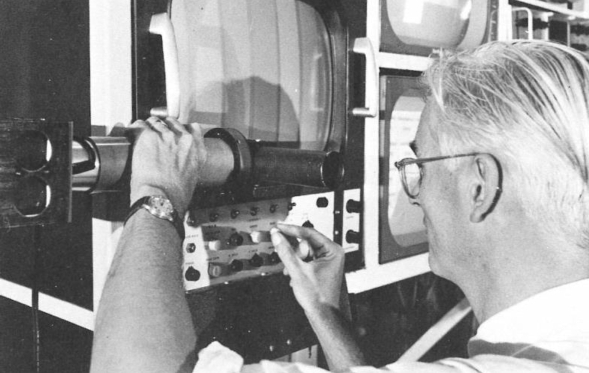 Roy represented Canada within scientific organisations such as the International Bureau of Weights and Measures (BIPM) and the International Commission on Illumination (CIE). Throughout the 1960s and 1970s he served in various leadership positions on working groups, technical committees and subcommittees of these organisations. Perhaps most notably, his responsibilities included chairing the BIPM's Working Group on the Primary Standard of Light (1962-1971) and chairing the CIE's Photometry and Radiometry Committee (1971-1979). He was also active within the Canadian National Committee of the CIE from 1961 to 1979, serving as its secretary (1961-1963), its president (1963-1967) and its vice president (1972-1975). See a more complete list of the positions Roy held at NRC and within these international organisations.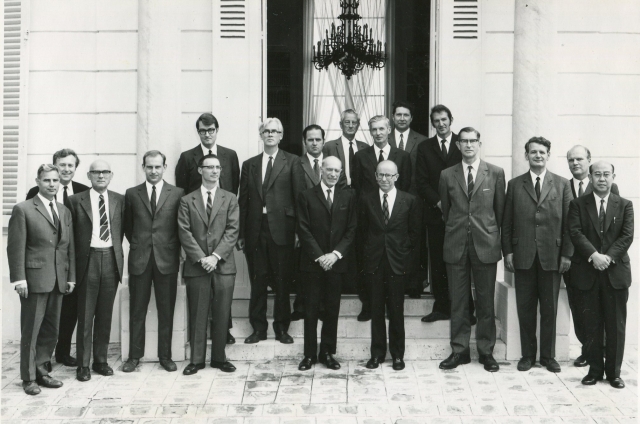 Travel: For Work and Pleasure
Because of his work, Roy traveled to conferences in Canada, the US and Europe. Through these meetings with fellow scientists, he made lasting connections and friendships. (In this photo of the BIPM's Photometry Committee in Paris, 1971, Roy is 7th from the left.)
During Roy's travel to work conferences, he was sometimes able to combine work with pleasure. For instance, whenever Sylvia accompanied him on these trips, they made sure to include not only the usual sightseeing tours, but more extended and unusual holiday travels as well. Roy and Sylvia's curiosity about other cultures, history, nature and genealogy, and their desire to promote peace and understanding between East and West, North and South, fed their life-long enthusiasm for exploring the world.
Roy and Sylvia passed on this "travel bug" to their children. Besides car-camping trips across Canada (one to BC and another to Nova Scotia), there were other family trips to explore the eastern US. In the 1970s, Wendy travelled with them to BC and Florida, while Richard joined them on a journey through Guatemala and into Honduras. That trip involved Roy driving a jeep 1500 kms through jungles and mountains to see the ruins of ancient Mayan cities.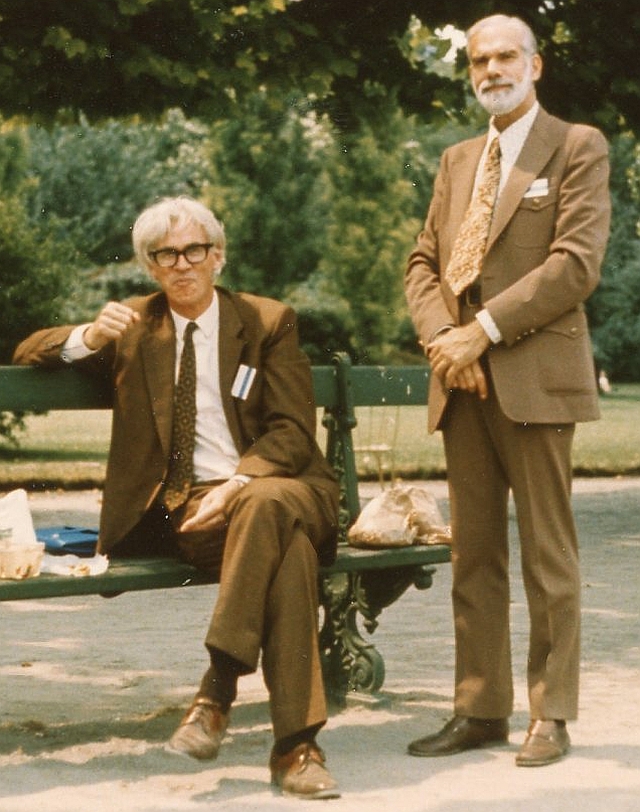 Thanks to his career in physics, Roy and Sylvia had the opportunity to glimpse into the lives and cultures of people in both western and eastern Europe. Their journeys to the east included visits to Czechoslovakia, Hungary and the USSR in the 1960s and 1970s. During one such work-related trip, in 1971, Roy was accompanied by Sylvia and their younger children, Wendy and Richard, to Budapest. Then, while Roy went off to work meetings in France, they flew to Dubrovnik in Yugoslavia and traveled overland to meet up with him in Barcelona. Learn more about these and many other journeys and adventures with Roy and Sylvia.
Despite the extreme, political and military paranoia that characterised the Cold War, Roy was open to mixing business and pleasure with scientists on both sides of the "Iron Curtain." The warmth of these friendships, east and west, can be seen in letters he received from colleagues in the US and the USSR. These work friends included Luke Thorington and Dr. Vera Kartachevskaia.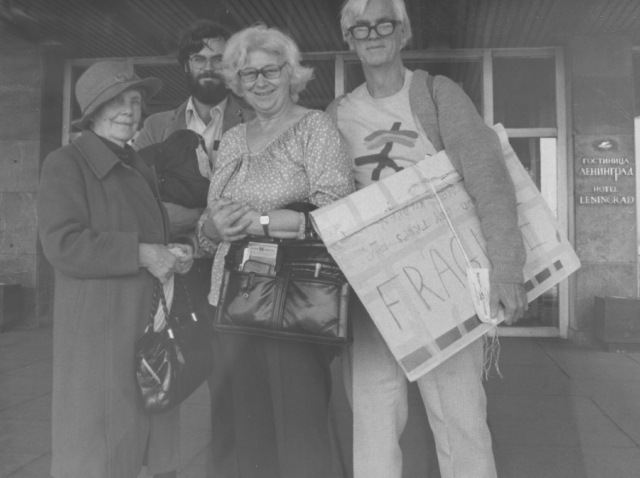 Luke, who was the leading engineer at Duro-Test Corp. (America's largest light manufacturer), brought his son John to the Sanders' cottage in the early 1970s. (See photo of Roy and Luke, at break during a European conference, above left.) Mme. V.E. Kartachevskaia was a leading Soviet physicist who, for decades, headed the Photometry Lab at the Mendeleev Institute of Métrology. When Roy and Sylvia visited Leningrad in the 1960s for a physics conference, Mme. V.E. Kartachevskaia took them around to see many sites in her city and they kept in touch for decades. In 1985, when Roy, Sylvia and Richard went on an "Adventure Peace Tour to the USSR," they visited her in Leningrad. (See image, right.) Click here to read some of their letters to Roy, which mixed business with pleasure.
Struggles for Peace
Starting in the late 1950s, Roy and Sylvia worked together on peace, justice and human rights campaigns through a variety of progressive non-governmental organisations. While during the decades of his NRC career, Sylvia often took the lead on these initiatives, Roy was always supportive and involved. Their early participation in peace and social justice efforts coincided with their involvement in Ottawa's First Unitarian Congregation in 1953. Friendships with Unitarian activists remained an important part of their lives for many decades and, in the 1990s, they were involved in forming the Unitarian Universalist Fellowship of Ottawa. Throughout the 1960s and 1970s, they were engaged in a wide range of peace and human rights issues. For example they helped organise Ottawa solidarity events for the US civil rights movement and brought American activists to speak in Ottawa. They also supported the anti-apartheid movement that opposed the systemic racism and state violence in South Africa. During the Cold War, they raised public awareness about the atmospheric testing of nuclear bombs and the health and environmental effects of radioactive fallout that was drifting across North America from the hundreds of explosions that the US had set off in Nevada. They also protested the US war in southeast Asia, and highlighted the complicity of the Canadian government and corporations in the Vietnam War. They opposed Nobel-Peace Laureate Prime Minister Pearson's Liberal government when it allowed Bomarc missiles, armed with US nuclear warheads, to be based in Quebec and BC.
For decades, they were active in the NDP, although this often meant trying to move the party to the left and to embrace stronger ant-war policies. Through the Waffle movement in the early 1970s, Sylvia especially tried to move the party towards socialist perspectives, and Roy was on board. As part of his involvement in these struggles, Roy used a wide variety of tools, and was not afraid to get his hands dirty! He operated Gestetners to run off copies and silk-screen contraptions to produce coloured signs. Being a relentless letter writer he quickly adapted from old typewriters to newfangled DOS home computers in the very early 1980s.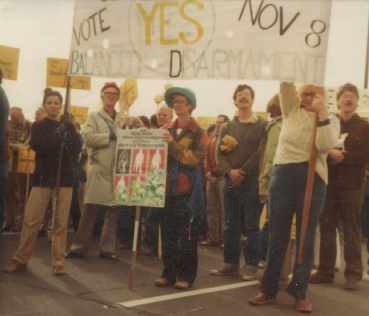 After his retirement, Roy was able to focus more attention on peace and disarmament issues and fully joined Sylvia in her tireless efforts. In the late 1970s and early 1980s, the couple were central to many peace movement activities in Ottawa. This included working through the National Capital branch of Operation Dismantle and helping to create and sustain the Gloucester Peace Group. (See Roy and Sylvia in image at left.)
During the 1980s, Roy was also involved in supporting several other peace groups, including the Ottawa chapter of Veterans Against Nuclear War, and national organisation based in Toronto called Science for Peace. Along with other friends and activists in Ottawa's peace community whom he had known for decades be was involved in starting a group called Educating for Peace and he worked on various projects and activities with the city's Peace Resource Centre.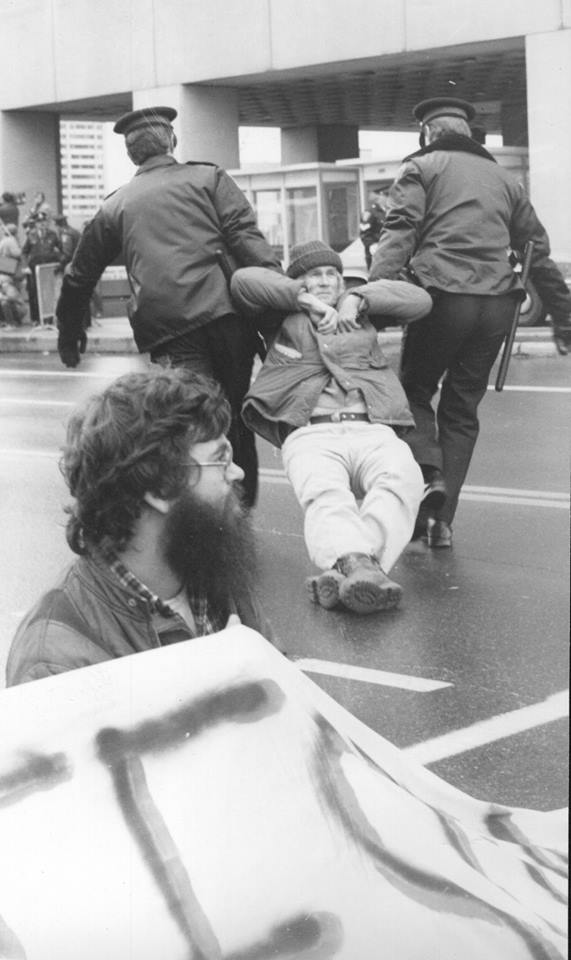 When their son Richard, who shared their deep commitment to the peace movement, took up this struggle fulltime in 1984, they supported his efforts and, throughout the late 1980s, joined him in organising civil disobedience campaigns for the Alliance for Nonviolent Action (ANVA). They were all arrested at a few ANVA actions opposing Canadian complicity in NATO's low-level test flights, the Star-Wars weapons program, and the international arms trade. On one occasion, all three were arrested together when joining 50 others from across Ontario and Quebec for a "sit in" in front of Canada's War Department in downtown Ottawa. (See image at right, and read a funny story about it on the "Peace" page.)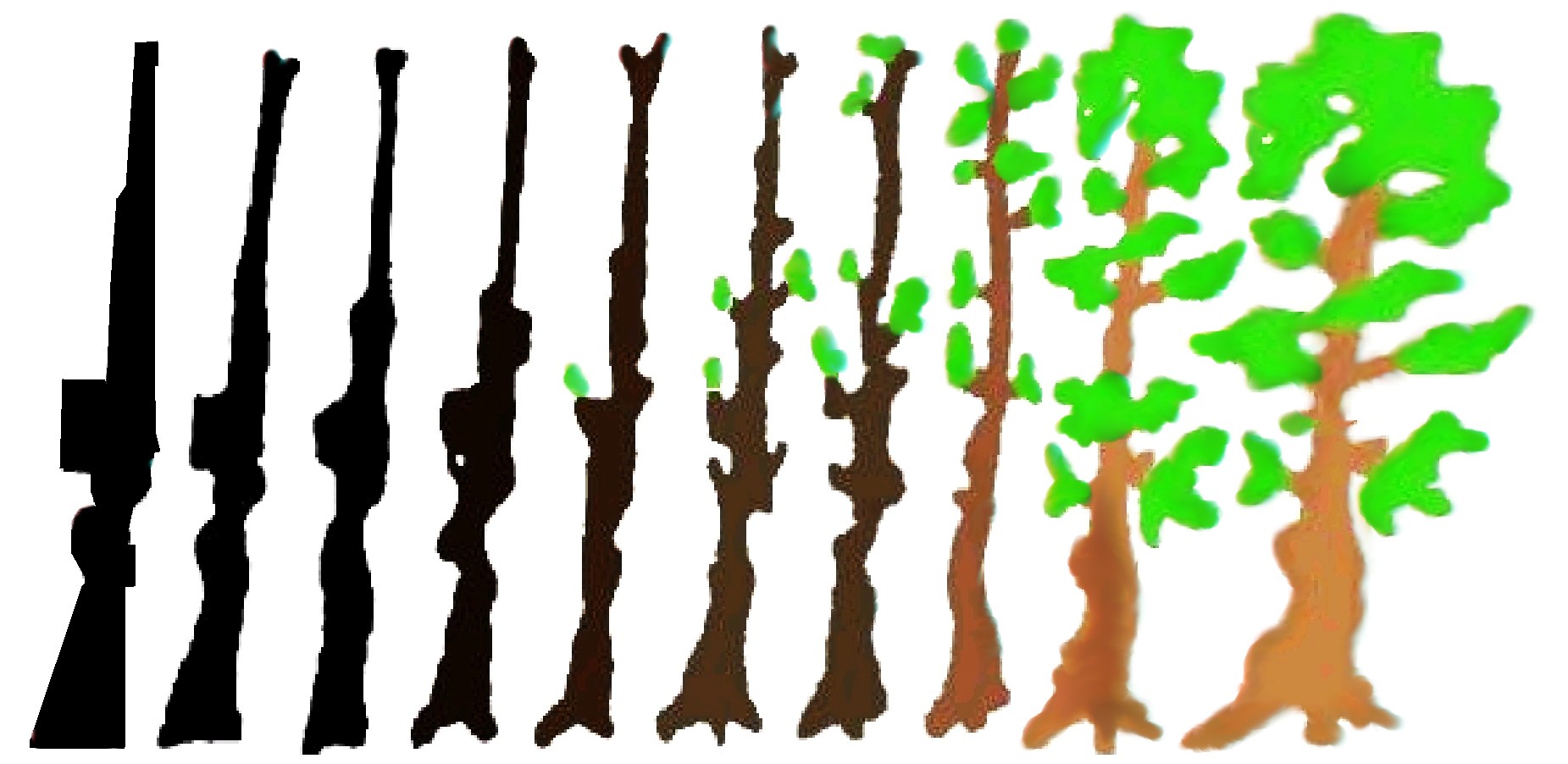 When Richard started the Coalition to Oppose the Arms Trade (COAT) in late 1988, Roy and Sylvia were very much involved. For the next 15 years, until Sylvia's stroke, they were both key COAT supporters, organisers and volunteers. As part of COAT's steering committee, they helped to plan and carry out numerous large events in Ottawa, from protests against various wars, to candlelight vigils outside weapons events and information tables at Ottawa's militarised air shows, to promoting our peace and conversion conferences, war-toy recycling depots, and social events to build Ottawa's activist community. They were also involved in helping COAT's national campaigns and its publication, Press for Conversion! In 1996, to honour their special role in the organisation, and to commemorate their many decades of work in the peace movement in general, COAT organising a large "Potluck Dinner Party" to celebrate their 50th wedding anniversary.

Click here to learn more about Roy's six decades of peace activism here.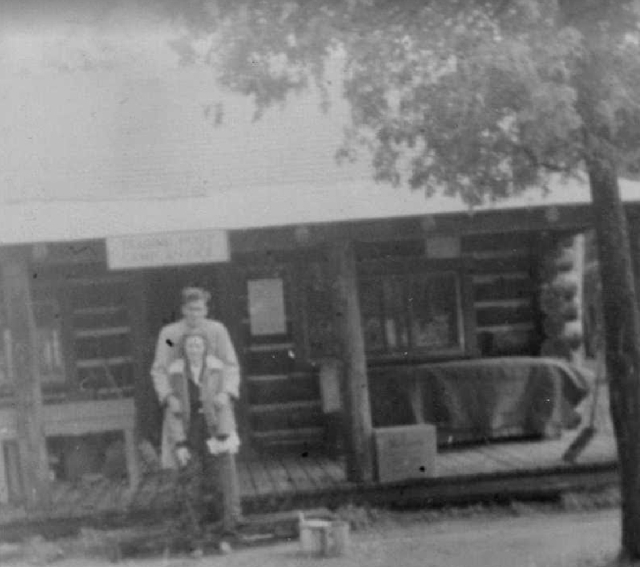 Cottage Life
But Roy and Sylvia's lives were not consumed by the peace movement, or by other urban work endeavours. They showed a keen interest in experiencing the wilderness, during camping trips, and time in forest cabins near lakes. The first known example of "cottage life" was in 1947 when they visited Roy's war buddy, Omer Stringer, at his camp (Tamakwa) in Algonquin Park. It was Roy and Sylvia's honeymoon! (See photo, right.)
As life-long do-it-yourselfers, Roy and Sylvia worked as a design-build team on three major projects. Besides designing and helping build their passive solar home in 1960, they also planned and constructed two cottages. For more than 50 years they found great respite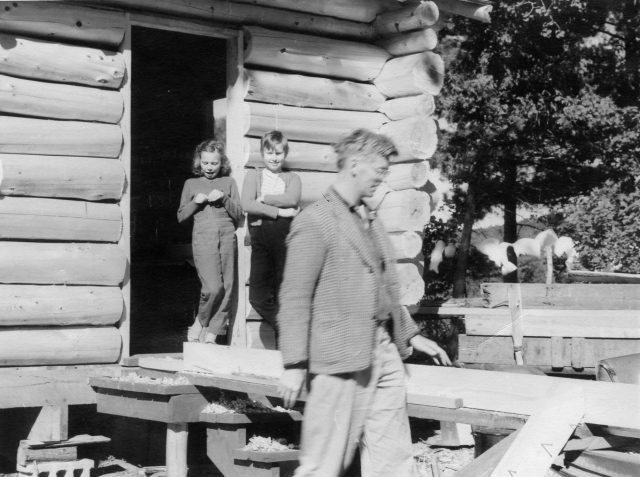 on Lac Pemichangan north of Ottawa and spent decades working to improve their piece of off-the-grid paradise. The adventure began with the building of a log cottage on Shouldice Bay in 1957. (See photo, left.)
Another project began in 1971 when they saved a 150-year old farm house that was doomed to be turned into docks. They had the building disassembled, log by log, and then moved by horse and sleigh three kilometres across Pemichangan's winter ice to a new home on Baie Noire. It was reassembled there in the spring. (See image below.) Learn more about this second cottage from the memories of John Hefler, Kay Hefler, Hilary Horan and Barbara Lunney.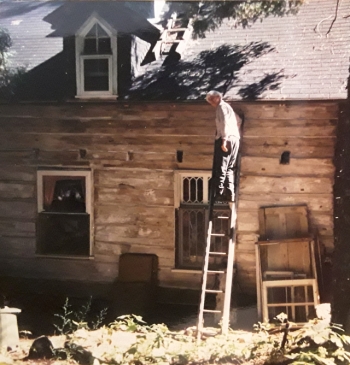 Besides providing a respite from the city, and the stresses of work there -- both in the field of physics and peace activism -- cottage life also allowed them opportunities to enjoy sharing time with family and friends. For Roy it was also an opportunity to return to his country roots and to express his pioneer creativity. Cottage life was a time when he could use all manner of tools from antique wooden planes, pulleys, hand augers, axes and adzes to modern gadgets like chain saws and solar panels. (Read Richard's "The Tools my Dad used.")
Roy and Sylvia loved swimming, sailing, fishing, climbing the hills around the lake, exploring its many hidden bays by boat, hearing the loons, viewing and experiencing wildlife closeup, and retelling true stories like the time a big black bear knocked open their door and invited itself in for a taste of Sylvia's tasty stew. Sylvia and Roy, alone at their cottage home, were enjoying a pleasant afternoon nap when the bear arrived for a late lunch. Hearing the crashing of their door being knocked open and the pressure cooker hitting the floor, Sylvia went into the kitchen and was surprised to find a bear. The bear, surprised to hear Sylvia making her own loud noises, finally turned and lumbered off outside. Roy then came lumbering in to say: "What's all the commotion about?"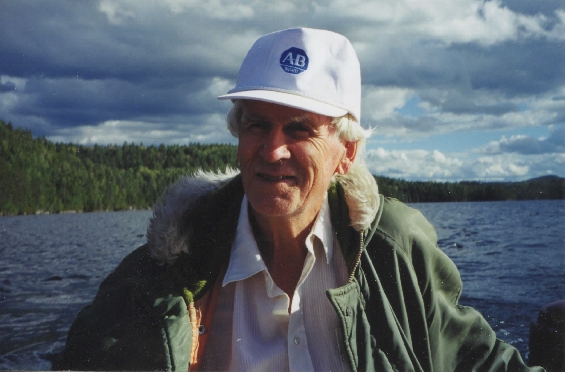 The glory days of their cottage life came to an abrupt end years later when Sylvia, following a hip replacement in 2002, suffered a heart attack and stroke. Although she never lost her great humour, wit and caring personality, Sylvia was paralysed on one side and bedridden. For the next five years, Roy was her primary care giver, helping see to her daily needs at their cottage-like home. Throughout those very trying and difficult years, friends and family rallied round, and Roy and Sylvia endured. They even continued to host some lively musical parties. When Sylvia died in 2007 it was the end of an era, especially for Roy. Coping alone at home eventually became too much and he moved into a City of Ottawa seniors residence.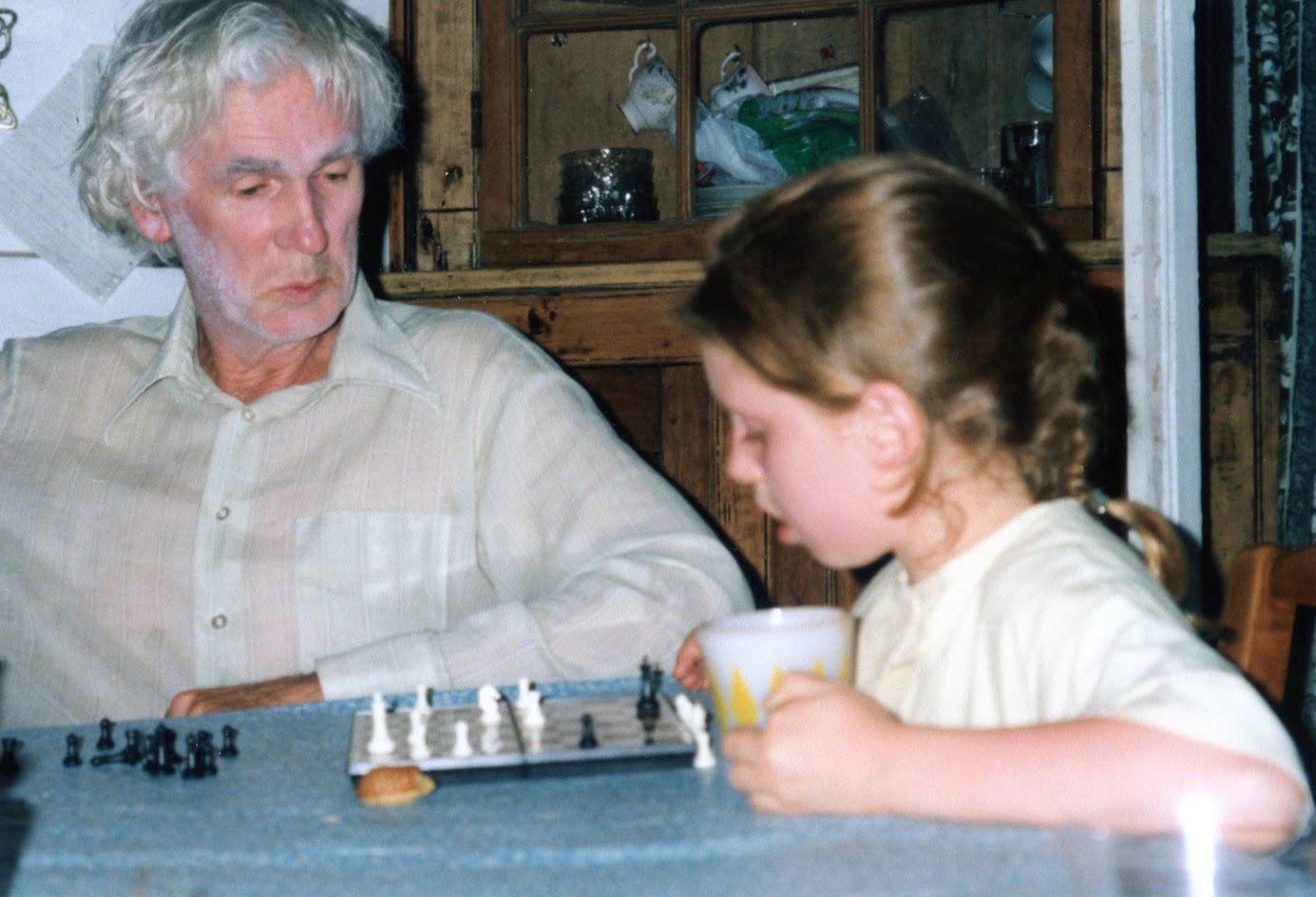 Even Later in Life: Still Growing and Playing
Throughout his long life, Roy's personality was typified by an extremely calm, quiet and gentle manner. He had a soft spoken, gentle, slow and highly-reasoned approach to the world. This trait served him very well in many problem solving endeavours, from his work in physics and the peace movement, building and fixing things at home and the cottage, and caring for Sylvia during her last years.
It was also a useful strategy in many games and sports. Roy also had a highly-competitive streak and struggled to win at whatever games he played. This was well known to everyone with whom he played chess, cribbage, rummy and bridge, the latter of which he played into his 80s. But it was certain physical sports which he loved the most.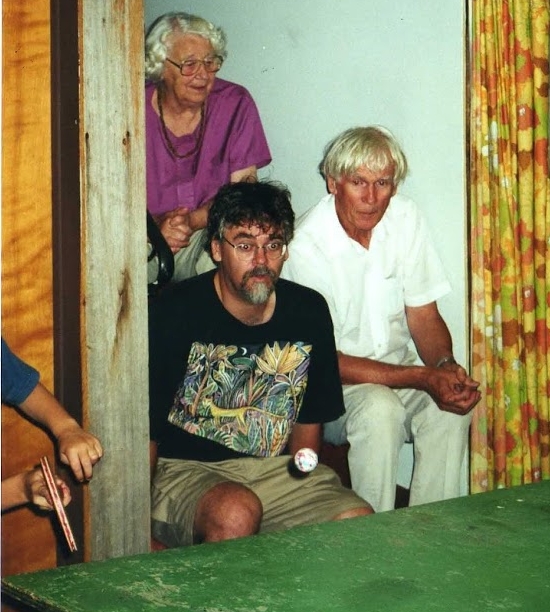 These involved using rackets to hit small spherical objects over nets. His strategy in these games involved movements that were at times slow and highly calculated, to strikes of lightning speed that could surprise and hopefully intimidate his fiercest opponents.
Over many decades, table tennis was the game he played with the greatest skill, vigour and speed. Having learned it as a youth in The County, he later brought the game to work where he played regularly at lunch with NRC colleagues. Besides playing in Ottawa tournaments, where he won 2nd prize in 1973, Roy enjoyed the sport regularly at home. (See Sylvia, Roy and Richard watching a game in the basement.) Later in life, he took up tennis and had great fun playing the sport with friends and family, into his late 70s. During his 90s, some of his most enjoyable moments at the Garry Armstrong care facility, came when batting a beach ball back and forth with Heather, Wendy, Richard, his wife Susan and Roy's grandchildren Arthur and Erica.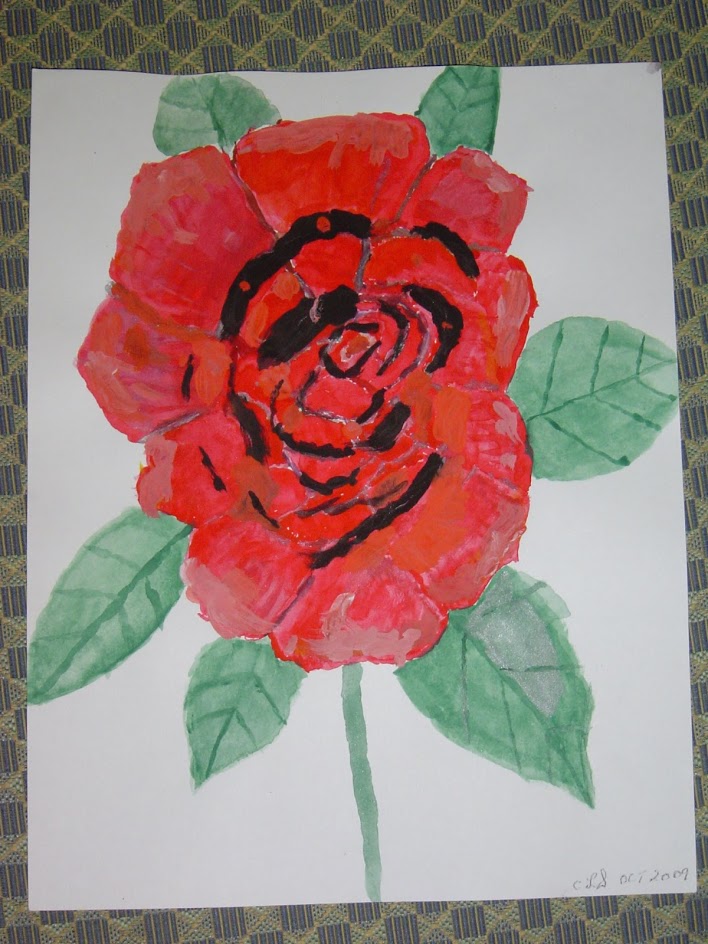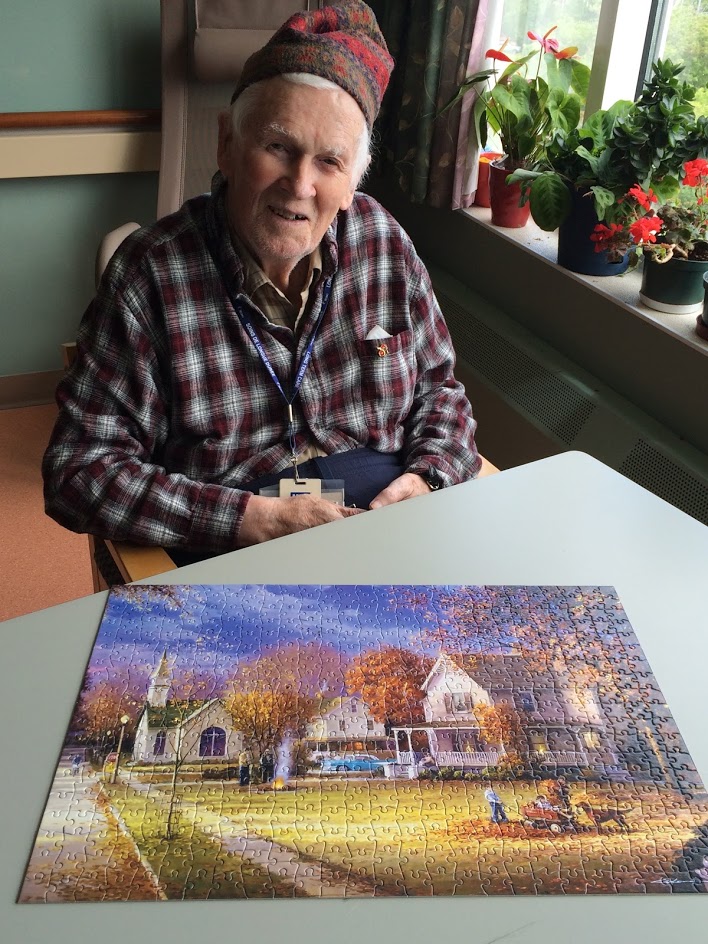 Another late-life passtime, at the Garry Armstrong care facility, was to begin painting in his late 80s. In this endeavour, he focused his eye on rendering colourful images of flowers. (See left.) This reflected one of Roy's great, life-long passions which had begun during his childhood in The County. Roy never lost touch with his farming origins. He always enjoyed growing and then harvesting the products of his labour. He even tried his hand at cottage gardening but the thick forest cover proved an unbeatable adversary, except for the shore-side blackcurrants. At his suburban home, lawn-fixated neighbours were chagrined by the Sanders' front yard which was overgrown with a thrivingly productive jungle of raspberries and other edibles. In his late 80s, Roy devoted much time to nurturing indoor flowers. Roy also used some of his time to complete complex jigsaw puzzles. (See image at right. Note his window garden in the background.)
At the age of 89, Roy put his mind to trying to solve one of the greatest puzzles in the universe! This was a grand enigma which had long intrigued him: the origins of the cosmos! Using his mastery of theories that explain optics, stellar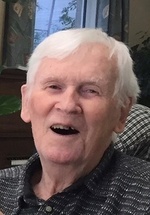 physics, solar radiation and the movement of light through infinite space, he came up with a hypothesis that he was confident could debunk the prevailing cosmological model known as the "Big Bang." Roy's controversial astrophysical idea challenging this official scientific narrative coincided with his longstanding opposition to creationism, and his strong commitment to atheism. Seeing the universe as infinite in both space and time, he argued that the idea of a supposed "Big Bang" is a chimera caused by false scientific assumptions based on an optical illusion. This Doppler-like illusion, he argued, was caused by the journey of light through dark matter and dark energy. Read about his antiBig-Bang ideas here.
Throughout his own bright journey through life, Roy always thrived on learning. While always trying to expand his knowledge and understanding of how the physical universe works, he also enjoyed exploring the natural world and finding his unique place within it. He strove to apply his thorough grasp of the theories of physics to master many practical techniques, technologies and tools which he used in his daily life, both at work and at play. His tool kit was huge and he made his mark on the world using everything from household hammers to spectroradiometers, and from tennis racquets to protest signs. Roy and Sylvia were both generous with their knowledge and skills. They taught us much about many things and they will continue to do so.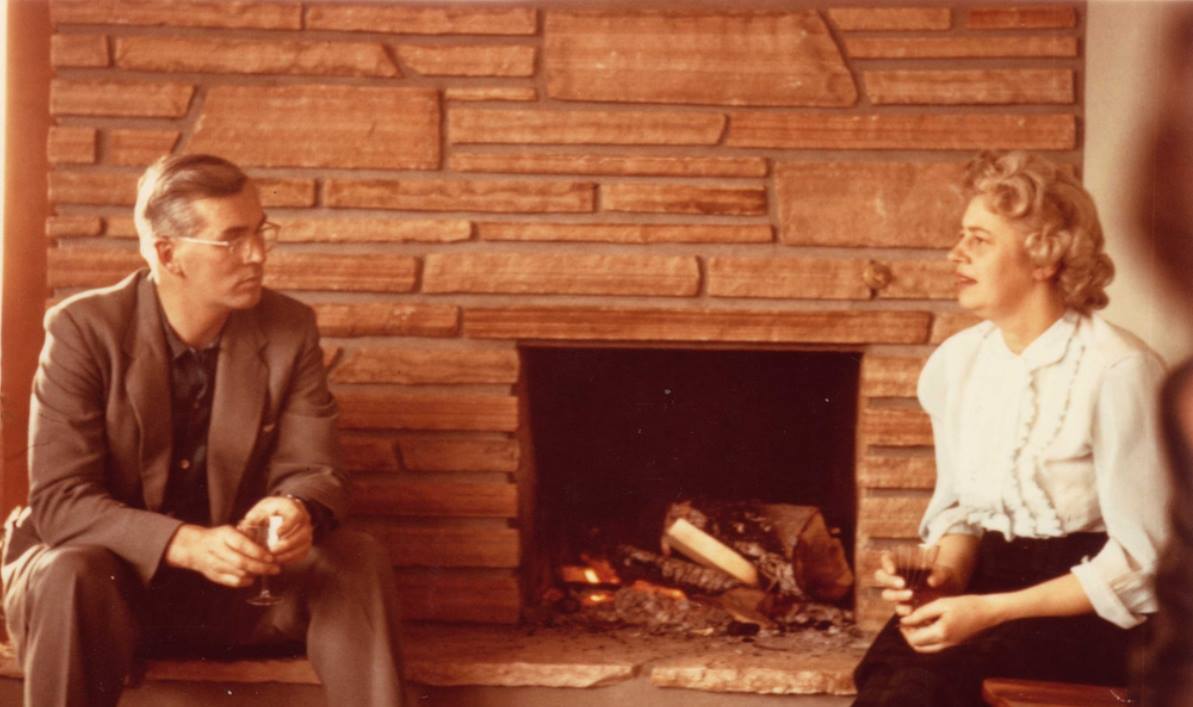 Roy and Sylvia Sanders were married for 61 years. They are seen here, in about 1960,
in their new, passive solar home in Ottawa, which they designed and helped build together.
While Roy was an ever practical scientist, Sylvia was an artist and had an eye for the aesthetic.
Together they made an amazing team and they will never be forgotten.
---
Have something to add?
If you have any further information or photos that you could share for this page of the Roy Sanders memorial website, please let me know. Many thanks!
Richard Sanders <overcoat@rogers.com>