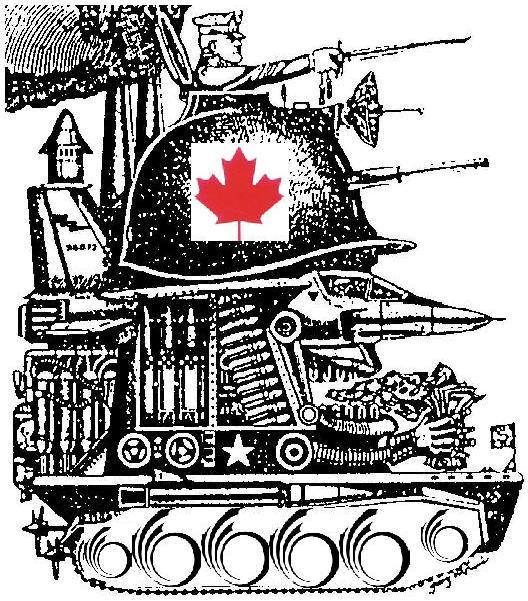 This is the CANSEC 2009 Campaign
Visit the Coalition to Oppose the Arms Trade website for up-to-date campaign details.
---
Contact City Council BEFORE June 24, 2009!
Please help us Save Ottawa's 20-year Ban on Arms Shows!
---> Please Join our "Surge for Peace" NOW! <---

Contact Councillors NOW
Here's How! Click here for info. on how to contact City Councillors, and Ottawa's Mayor (a military industry executive who is now on trial for -- allegedly -- rigging the last municipal election!)

Phone them! Send an email! BCC them all! Send a fax!
Even if you've contacted them before, PLEASE CONTACT THEM AGAIN! This is especially important if you live in a suburban or rural riding! Encourage as many other citizens as possible to join this lobbying effort.
Be sure to tell Councillors that you'll be watching how they vote and that during the next election, you'll work to hold them accountable if they support the return of arms shows!
---> New Online Resources You Can Use when Contacting Councillors
UPCOMING EVENTS

Wednesday, June 24, (2009) 10 am

Join with Ottawa Peace Activists to pack City Hall for the historic VOTE
If you are in this neck of the woods, please join us in the Council Chamber of Ottawa City Hall (111 Lisgar St.) on June 24, at 10 am. Be a part of this historic vote. Together let's show Councillors -- and all fellow citizens watching the TV news at home -- that we strongly support Ottawa's 20-year ban on international arms bazaars.
CANSEC 2009, Canada's Biggest War Industry Bazaar,
was hosted by the City of Ottawa on May 27-28
Despite a 1989 City of Ottawa BAN barring all arms trade shows from being held on publicly-funded municipal property, CANSEC was held at Lansdowne Park, the City's prime facility and exhibition grounds. We are now working hard to ensure that this never happens again. We need your help, NOW.
We still need PETITIONS signed, online and off!
Sign it now ONLINE (and PLEASE encourage others to sign on and leave a message.)
View 1000s of signers and read their comments
Print the petition and collect some signatures
CANSEC-related Articles:
Articles in the Ottawa Citizen articles
CANSEC: Making a Killing on War (Peace and Environment News)
Banning Art, Blaming the Victim and Rewarding Canadian War Exporters (Canadian Dimension)
Canadian Military Exports, War Crimes in Gaza and Ottawa's Arms Bazaar
Banning Anti-War Posters and Un-banning War Shows (The Leveller)
CANSEC and Weapons Galore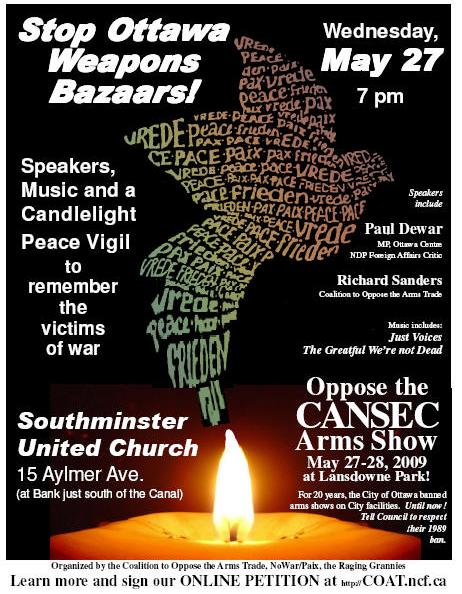 CANSEC-related COAT Reports:
Canadian Military Exports to Countries at War, 2003-2005
90% of the total value of Canada's military exports went to 39 countries at war, with the largest recipient -- by far -- being the US.

Canada's Top War Exporters at the CANSEC 2009 Weapons Bazaar
and their links to Nuclear Weapons, Depleted Uranium, Landmines, Cluster Bombs, BMD, Machine Guns & much more

Profiting from the Slaughter of Innocents in Iraq:
An Exposé of Canadian War Industries aiding & abetting production of major US Weapons Systems in the Iraq War

Canadian Military Exports to Israel:
Aiding and Abetting War Crimes in Gaza (2008-2009)
antiCANSEC Communications (for activists and organizers):
Email List Serve
Click here and then send the resulting email. (Don't write anything, just send.) This subscribes you to the list so you can receive and post messages related to planning peaceful opposition to CANSEC.
Collaborative Website
Click here to visit a new collaborative website created for activists engaged in the antiCANSEC-campaign planning process. Those who join can post material to the website and engage in online discussions.
Facebook groups
Stop the CANSEC Arms Show, Ottawa, May 27-28 (2009)
Coalition to Oppose the Arms Trade (COAT)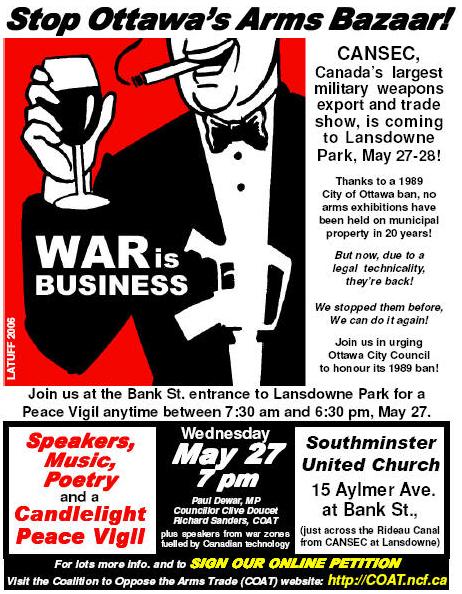 Past EVENTS (2009)
Mon. May 18 and Tues. May 19, 12:30 to 1pm Radio Programs
Two half hour radio programs about opposition to CANSEC 2009 on CHIN radio

Mon., May 25, 7 pm Next Planning Meeting
Southminster United Church
15 Aylmer Ave (at Bank St. just south of the Rideau Canal)
See more details here

Wed., May 27,
7:30 am to 6:30 pm Stand for Peace
Drop in anytime at the Bank Street entrance to Lansdowne Park, where CANSEC is being held. Groups are encouraged to take a hour hour shift to display signs, banners, and to distribute literature to passers by. Drop in at the Grannies' Peace Garden (see below) to pick up materials. Contact Brenda
Wed., May 27,
7 pm Peace Rally/Candlelight Vigil
Southminster United Church
15 Aylmer Ave (at Bank St. just south of the Rideau Canal)
After speakers and music at Southminster, we will walk over to the site of CANSEC for a candlelight peace vigil/procession to remember the victims of war. (The CANSEC arms show will be held at Lansdowne, May 27-28, just across the Bank St. bridge from Southminster.)
See more details here
Wed. and Thurs., May 27-28
all day Peace Garden
Ottawa's Raging Grannies are organizing a Peace Garden at the the Bank Street entrance to Lansdowne Park, where CANSEC is being held. Drop in anytime.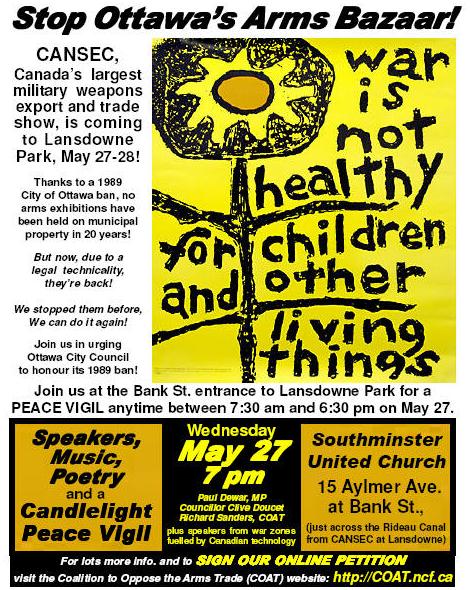 Tues., June 2 Make a Presentation to the City of Ottawa
Can you make a presentation? We are looking for individuals (and especially representatives of different organizations) to make five-minute presentations to the City of Ottawa's Corporate Services Committee on June 2. These presentations can focus on any number of issues related to CANSEC, including ethics and morals, human rights, peace, the environment, health, the economics of war, Canada's role in the international arms trade and how it fuels wars in Iraq, Afghanistan and elsewhere. Councillors on this Committee will then vote on a Motion to have the City recognize that the its ban on arms shows (passed in 1989) still includes its top facility, namely, Lansdowne Park.

Stop Ottawa's Arms Bazaars: Information & Strategy Session, March 24
D O N A T I O N S
Your financial support to help cover expenses for this campaign would be appreciated! Donations for this work can be made to Coalition to Oppose the Arms Trade (COAT). Here's a coupon you can print and mail with a cheque to COAT. There's also a link on this form for transferring funds using PayPal.
http://coat.ncf.ca/support_us/donation.html
Or, just mail a cheque to
COAT, 541 McLeod St., Ottawa ON K1R 5R2.
Background

Canada's largest international arms bazaar -- is coming to Ottawa, May 27 and 28, 2009. This highly-lucrative weapons trade show is organised by the an Ottawa-based business association called the Canadian Association of Defence and Security Industries (CADSI).
Browsing the bazaar this spring in Ottawa will be thousands of potential, government buyers and military users from Canada and attachés representing Ottawa's foreign embassies.
Now booked for the City of Ottawa's Lansdowne Park (May 27-28), CANSEC will include over 200 corporate exhibitors. (Click here for the list of CANSEC 2009 exhibitors.)
CANSEC is the most blatant manifestation of Canada's largely-hidden participation in the global arms trade. As such, CANSEC stands as a clear symbol of this country's special brand of hypocrisy -- preaching peace while promoting and profiting from war.
CANSEC, It's about EXPORTS: Between 2006 and 2008, Canada's Department of Foreign Affairs and International Trade (DFAIT) donated grants of $192,000 to CADSI to reward its promotion of military exports. In the words of DFAIT the contributions to CADSI are for "international trade," "export marketing" and "international business development activities." (Click here for details)
"It was 20 years ago this May..."
Although CANSEC has been an annual showcase for war-related products at the Ontario Government's Ottawa Congress Centre since the early 1990s, 2009 will be the first time in 20 years that any such event has been hosted by the City of Ottawa.
In 1989, during a high-profile COAT campaign, Ottawa's City Council passed a near-unanimous Motion banning all future arms exhibitions from municipal property. As a result, no such shows have been held at Lansdowne Park, or any other City facility, since ARMX '89. (ARMX, Canada's biggest ever weapons extravaganza, is now defunct but it has been replaced by CANSEC.) Many veteran peace activists will remember the late-May 1989, COAT rally led by Marion Dewar when thousands took to Ottawa's streets to peaceful protest against ARMX and Canada's role in the international arms trade.
City Staff now maintain that the 1989 ban no longer applies to Lansdowne! They claim that due to a legal technicality arising from the 1999 transfer of Lansdowne to the RMOC, the ban applies to all City facilities except this one.

Please join us in telling City Hall to uphold Council's 1989 decision!
CANSEC provides a focus for much-needed public education around issues of peace, human rights, development and the environment.
Let's Do Something!
(Click here for a more comprehensive list of things that you can do to help)
* Attend our events (see above for details)
* Make a Presentation on June 15 (see above for details)
* Spread the word:
Help in spreading the word about this campaign, both online and off.
Post a link to this page on listserves, blogs and relevant websites.
* Media: Encourage the media to cover Canada's war exports, not cover them up.
* Divest: Promote divestment from military industries
* Endorsements: Get group endorsements for the May 27 Rally against CANSEC 2009
* The Feds: Tell the Canadian government to stop permitting military exports to governments that are at war and/or violating human rights.
* Volunteer some time!
* Make a DONATION (click here)
For more information on this campaign, please visit the website of the Coalition to Oppose the Arms Trade (COAT).

To get involved, contact Richard Sanders,
overcoat@rogers.com
Quick Links (Here are some COAT-produced resources)
Petition
One page factsheet
Half-page flyer (back to back)
Quarter-page flyer (back to back with mini poster)

Three old posters about our May 27 events:
Candle and Dove
War is Business
War is not healthy for children and other living things
Here's a SAMPLE LETTER from the Ottawa Presbytery of the United Church of Canada. Read other sample letters here.
---
This page is from the CANSEC 2009 Campaign
Visit the Coalition to Oppose the Arms Trade website for up-to-date campaign details.