1- Introduction
2 - The Liberal Government's Warm Embrace of Ukraine's Nazi Collaborators
3 - Historical Amnesia and the Blinding Effects of Propaganda
4 - The Nazis as Victims? Sure, just Blame the Russians!
5 - Canada needs Truth and Reconciliation, not Denials and Obfuscation
6 - Historical Denial among Canada's ultranationalist Ukrainians
7 - Michael Chomiak, The Ukrainian Central Committee and its Nazi Newspapers
8 - Aryanisation and the "Mighty Wurlitzer"
9 - The Ukrainian Canadian Congress and its Fascist Roots
10 - Getting them Early: Building the ultraNationalist Cause among Children and Youth
11 - The Freeland-Chomiak Parallels in Advocacy Journalism
12 - Was Freeland an "Accidental Journalist," or Groomed for the Job?
13 - In 1989, Freeland was Declared an "Enemy of the Soviet State"
14 - A Chomiak-Freeland Fixation on Jewish Oligarchs running the Kremlin
15 - Freeland's Kremlin-Oligarch Theory goes Global with Jewish Plutarchetype
16 - Institutionalised Confidence Scams: An Open Conspiracy of Oligarchs, Politicians and Journalists
17 - Escaping the War Racket starts with Seeing the Elephant
18 - Just Following Orders? Which Orders?
19 - Is there a Bear in the Room? Kill it!
20 - The Collective Care and Feeding of Russophobia
21 - The Need for Truth and Reconciliation
---
---
If you appreciate the work that went into this research, please subscribe &/or donate. You can mail this coupon to COAT, or use the Paypal link on our homepage. Subscription prices:
3 issues ($25), 6 issues ($45). Subscribe now and get this 56-page issue for free, or order it for $10.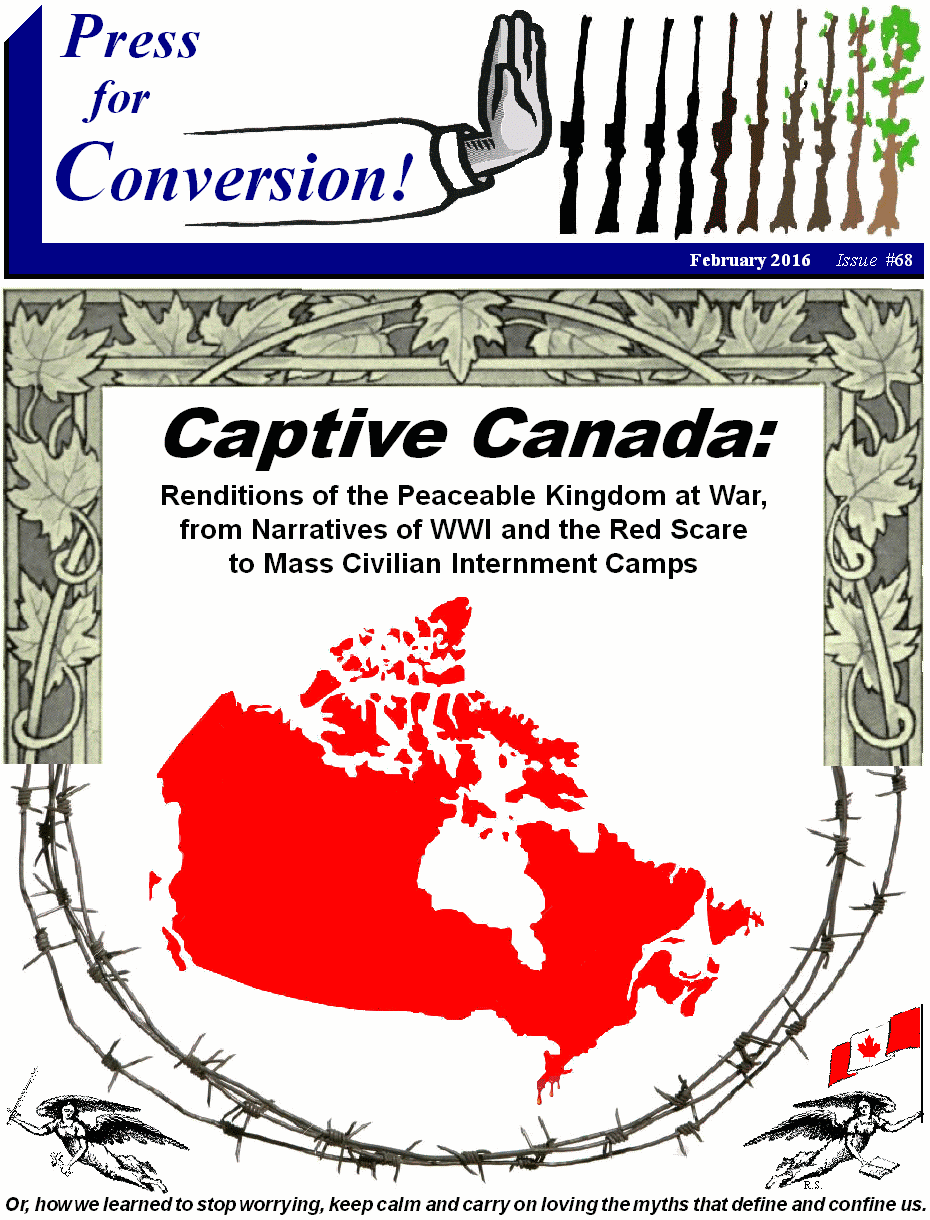 Captive Canada:
Renditions of the Peaceable Kingdom at War, from Narratives of WWI and the Red Scare to the Mass Internment of Civilians
Or, how we learned to stop worrying, keep calm and carry on loving the myths that define and confine us.
This issue (#68) deals with the mass internment of Ukrainian Canadians, this community's left-right split and the mainstream racist, xenophobic anti-communism of progressive "Social Gospellers" (like the CCF's J.S. Woodsworth) who were so captivated by their false beliefs that they carried out the genocide of First Nations and turned a blind eye to government repression during the 20th-century "Red Scare."
The main thesis is captured here:
"The Canada Syndrome,
a Captivating Mass Psychosis"
Part 10
Getting them Early:
Building the ultraNationalist Cause among Children and Youth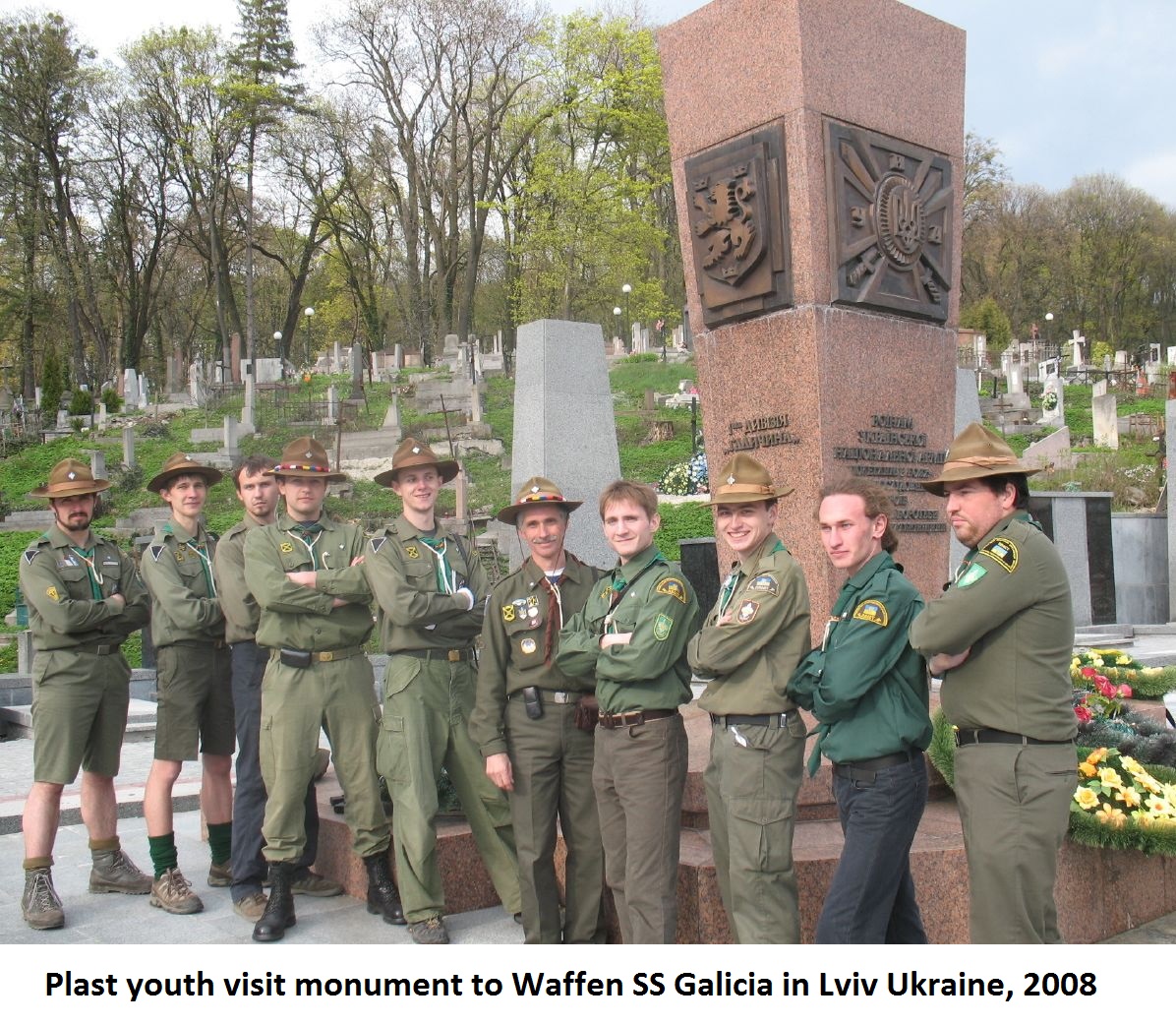 As children, Chrystia Freeland and her friend Paul Grod (president of the Ukrainian Canadian Congress), like so many thousands of other ultranationalist Ukrainians in Canada, were brought up through the tight ranks of either the League of Ukrainian Canadians' Banderite youth organisation or a similar scouting group called the Plast Ukrainian Youth Association.<![if !supportFootnotes]>[i]<![endif]>
In 1977, at the age of nine, Freeland joined the Edmonton branch of the Plast scouting organisation. In 2013, when asked whether Plast had been influential during her childhood, Freeland responded:
"Absolutely. Plast was a very important part of my life growing up and it is a very important part of my daughters' lives. I grew up in a Ukrainian community and was active in Plast. Now my two daughters are active plastunky in New York (my son is only 3 years old). My elder daughter went to Lviv this summer for the 100th anniversary of Plast."<![if !supportFootnotes]>[ii]<![endif]>
Freeland joined Edmonton's Plast group in 1977 because that was the year that her mother, Halyna Chomiak Freeland, another intensely passionate Ukrainian nationalist, separated from her nonUkrainian husband and left Peace River, Alberta. Once in Edmonton, Chrystia was much closer to her mothers' father, Michael Chomiak, his five other children and their extended family. She also came under the influence of the very large Ukrainian community there, which comprises about 14% of that city's population.<![if !supportFootnotes]>[iii]<![endif]>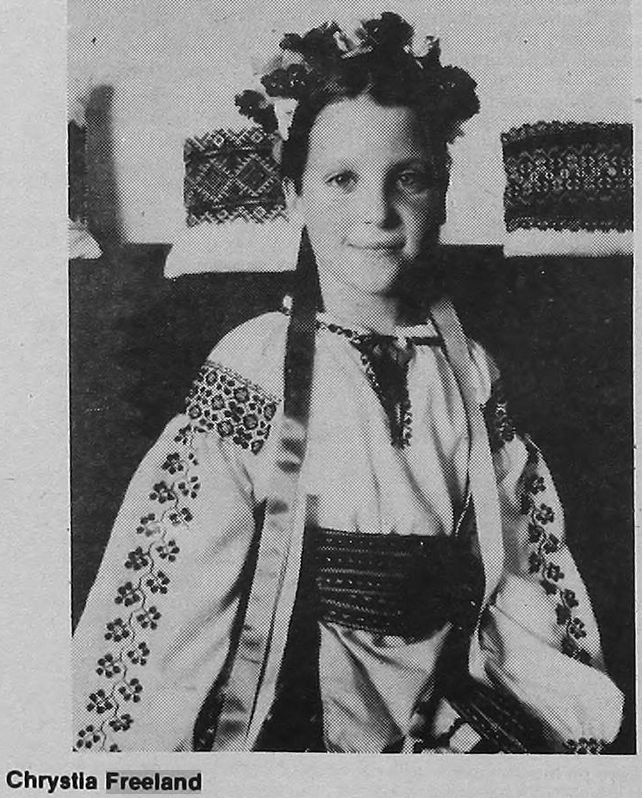 Moving to Edmonton was a major turning point in Chrystia's life, not only due to her parent's separation but also because she became much more deeply immersed in the Ukrainian community's ubiquitous enculturation programs. For example, besides joining Plast, Chrystia started classes in two Ukrainian educational programs: (1) Alberta's government-funded, bilingual Ukrainian-English public school system, and (2) the Ukrainian community's "Saturday schools."
In 1979, when Chrystia was eleven, she was interviewed by her maternal uncle Bohdan Chomiak, Michael Chomiak's son, for a radical Ukrainian nationalist newspaper called Student. In that publication distributed to Ukrainian university students across Canada, Bohdan asked Chrystia to compare the two core Ukrainian training programs in which she was enrolled. She replied that
"historically, geographically and gramatically (sic) speaking ... you learned more in the Saturday school.... One of the biggest differences though is that the Saturday schools are much more patriotic and religious, so that history will have a lot of facts about how brave and gallant the Ukrainian kings were. And it will usually be stressed. Sometimes they'll talk about the negative points, but their perspective will be that of the Ukrainian nation."<![if !supportFootnotes]>[iv]<![endif]> (Emphasis added.)
Chrystia Freeland could not help but be deeply inspired, motivated and indoctrinated by such patriotic Ukrainian belief systems that she adopted through her all-pervasive, ultranationalist cultural programming. The powerful influences from her large Ukrainian family, the government's Ukrainian-language public school, the Ukrainian "Saturday School," the Ukrainian Catholic church in which her grandfather was very active, the Ukrainian scouting activities though Plast, other Ukrainian organisations, festivals and cultural events, as well as her Ukrainian friends, combined to have the desired effect.
All of this cultural conditioning from her social upbringing has fostered Chrystia Freeland's personal commitment to, and utter confidence in, the Ukrainian cause. Through her hard work and unrelenting dedication, aided by her intelligence and extremely confident command of language, Freeland has used her undeniable chutzpah to become the most powerful and outspoken voice for Canada's ultranationalist Ukrainian community.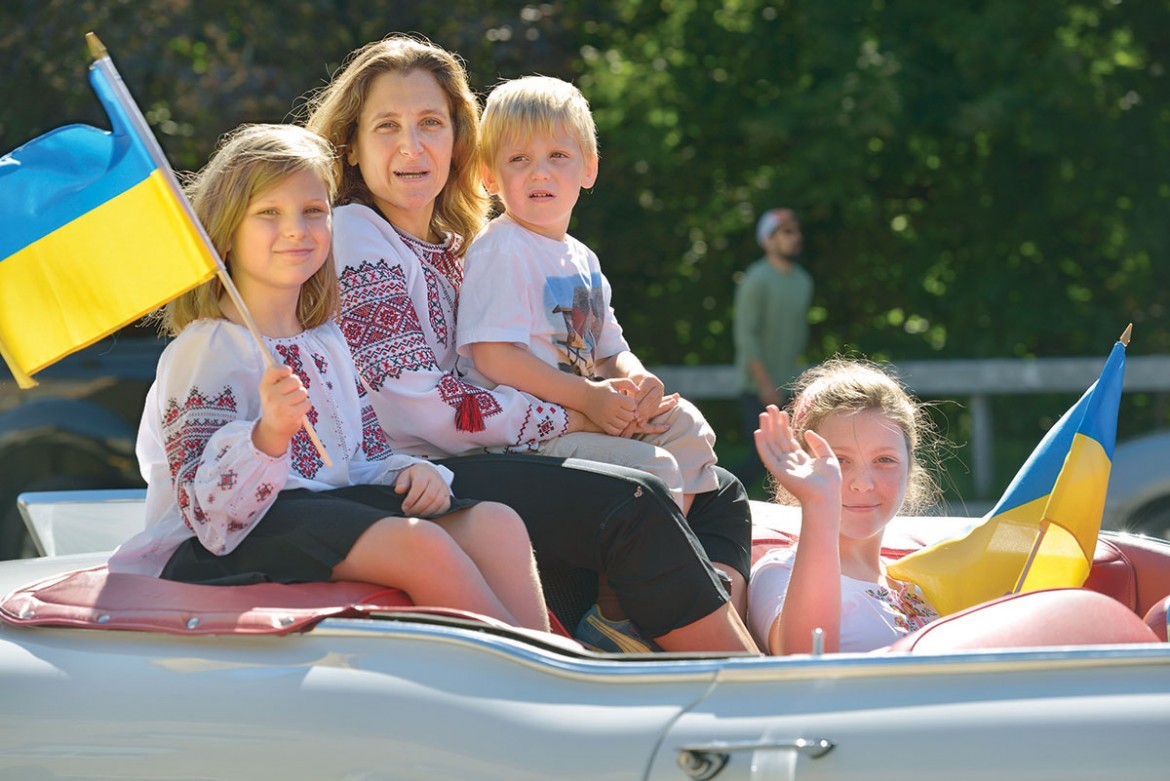 Freeland is also promoting this Ukrainian tradition within her own family. The largest community event in which she has participated with her children is Toronto's Ukrainian Festival. This huge annual event is the biggest outpouring of Ukrainian nationalism in North America, and likely anywhere outside Ukraine. It was established by the Toronto branch of the Ukrainian Canadian Congress.
In 2013, when Freeland was the Liberal Party's "star candidate" running for election to parliament, she was honoured to be named the "Festival Parade Marshal" for Toronto's Ukrainian Festival. Sitting aback a vintage Cadillac convertible with her children, Freeland appeared near the beginning of the parade, right after the official banner (carried by children), a group of Ukrainian veterans and a military-style marching band. (Click the image of Freeland and children, above, to see a video of this parade. Freeland her family appear at 1:30. The Ukrainian Youth Association marching band and about 60 uniformed members of this Bandera youth group can be see at 21:30 in the video. This youth association is an official affiliate of the League of Ukrainian Canadians, which represents the Bandera faction of the Organisation of Ukrainian Nationalists in Canada.)
As an all-ages, family event, Toronto's annual festival fulfills all that we might expect from such a celebration: Ukrainian music, dancing, food, official participation by prominent Canadian politicians from all levels of government representing the country's three largest political parties. It has also included fundraising activities for an ultraright-wing paramilitary organisation known for organising extremely violent political protests in the Ukraine.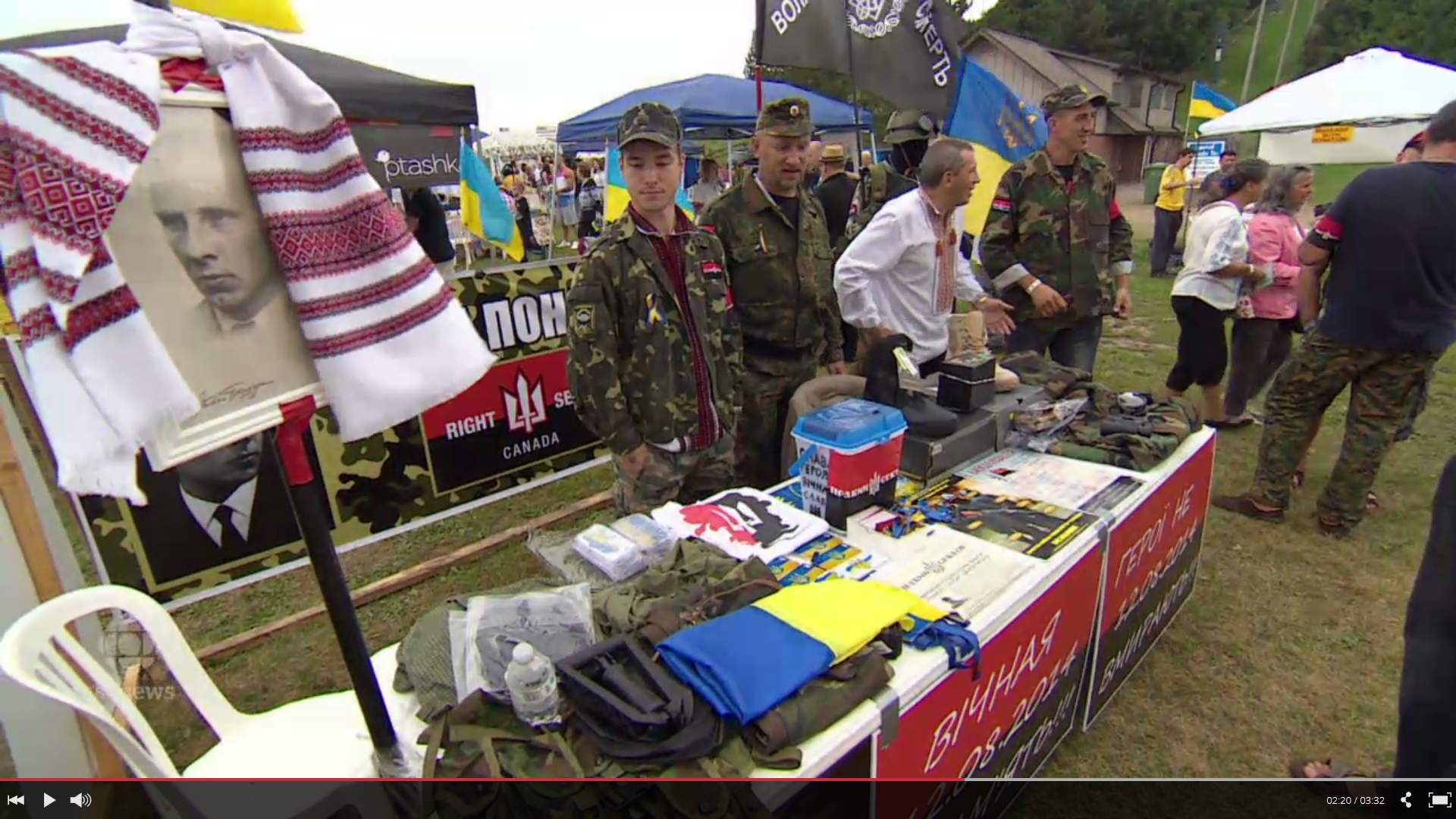 For example in 2014, the Ukrainian Festival included fundraising efforts by Right Sector Canada. Their goal was to purchase military equipment for their fighters in Ukraine. As can seen from these videos, the Right Sector still venerates Stepan Bandera, the fascist political and military leader of the Bandera faction of the Organisation of Ukrainian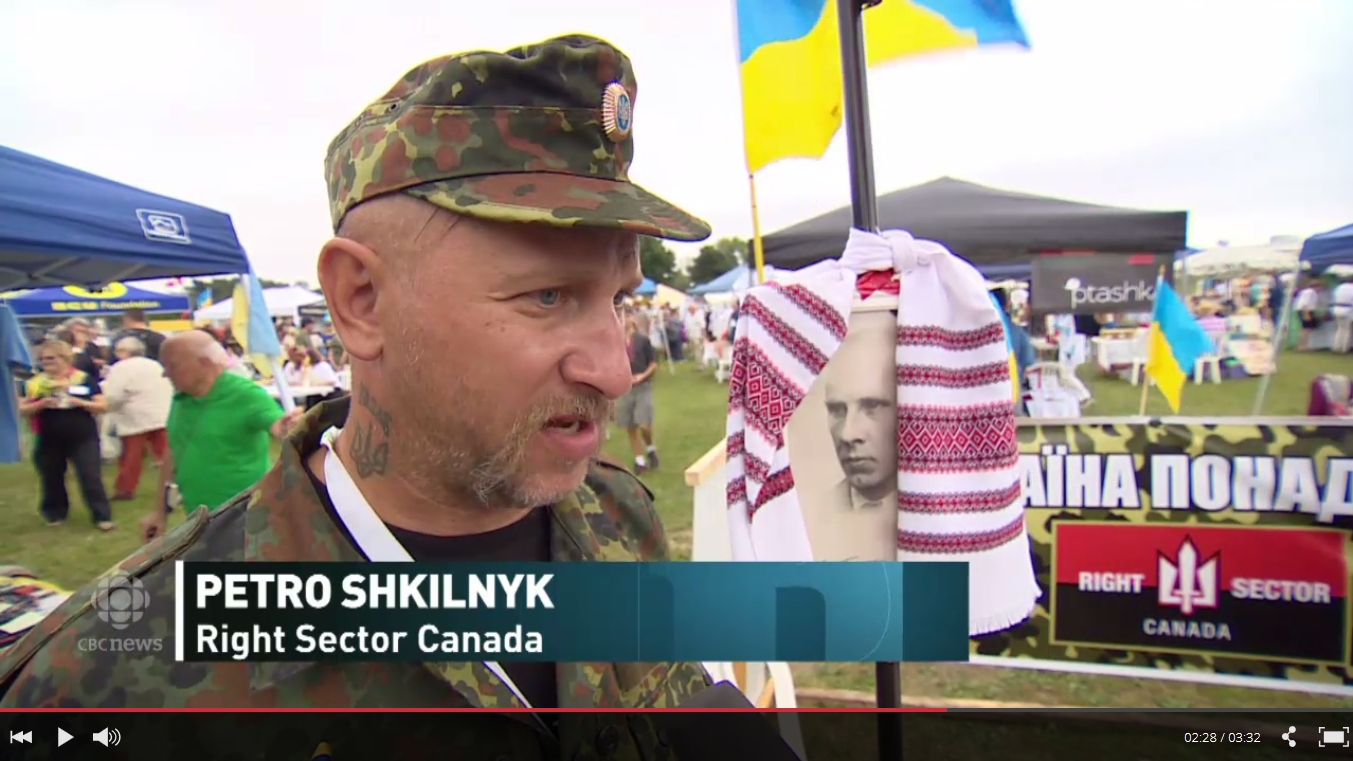 Nationalists, OUN (B).

Click either of the screen-shot images at right to watch CBC TV coverage from the Ukrainian Festival on August 23, 2014.

More recently, in 2016, Chrystia Freeland marched with some children in the parade of this family-oriented Ukrainian Festival. Thirty seconds or so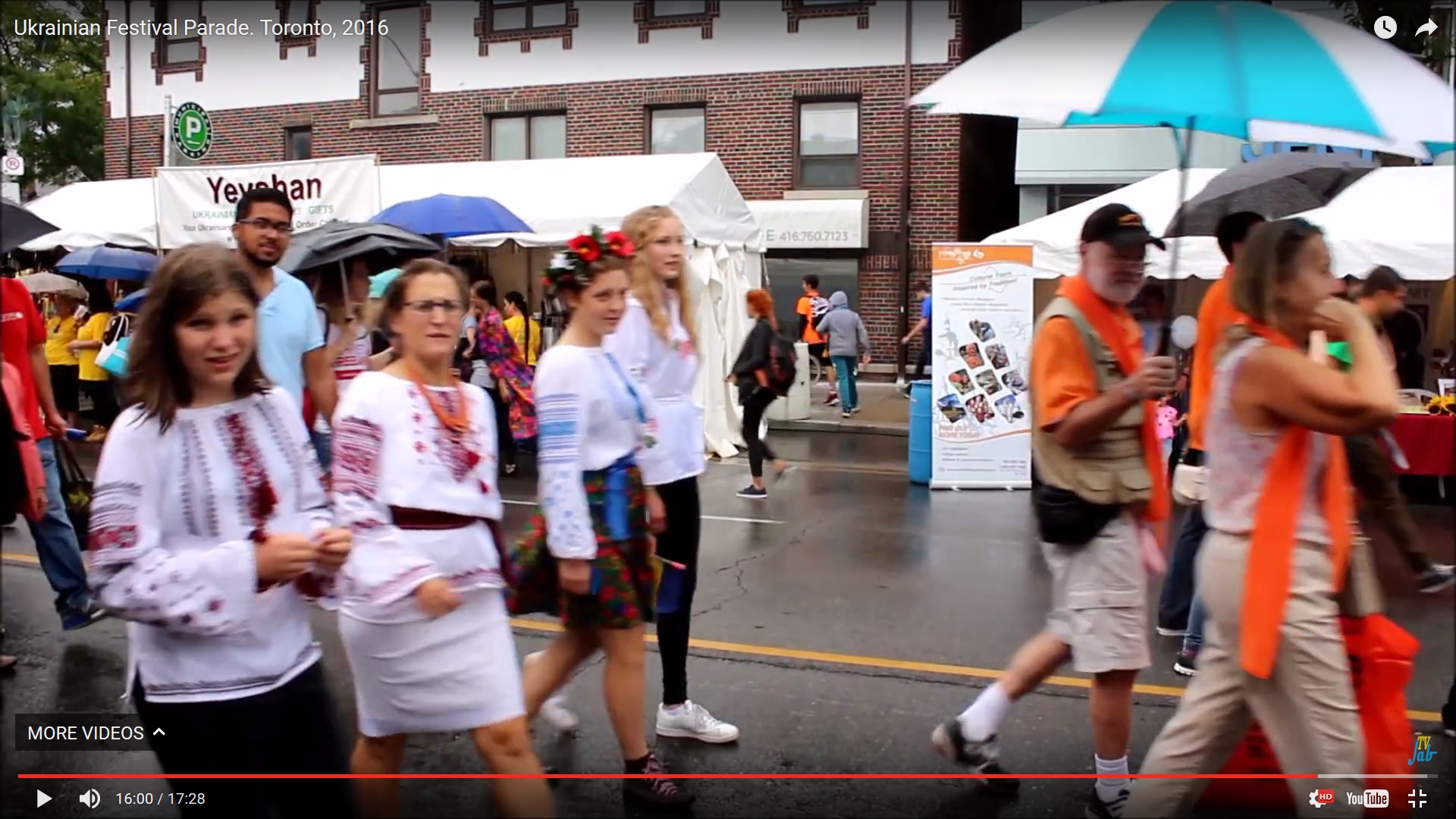 behind her (at 16:30 in the video) was a contingent representing Right Sector Canada. Two Ukrainian youth carried the Right Sector banner displaying the portrait of their hero, Stepan Bandera. The Red and Black flag of the Organisation of Ukrainian Nationalists was also displayed.
The 2016 Ukrainian parade had the official participation of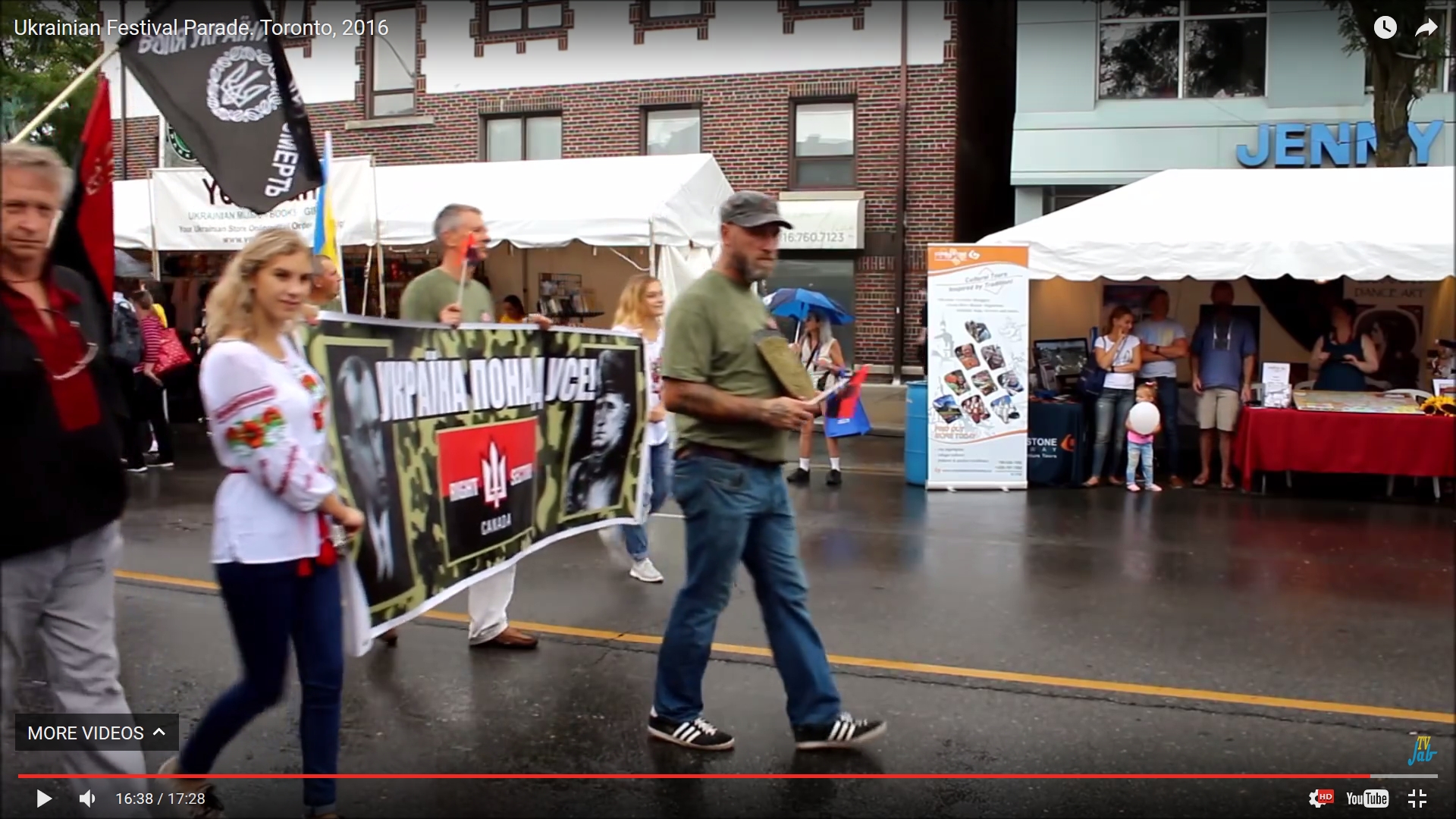 organisations such as the Ukrainian Canadian Congress and the Ukrainian National Federation (founded by members of the OUN in Edmonton in 1932). Both groups include member organisations representing fascist Ukrainian war veterans.

The 2016 parade also included hundreds of children and youth, as well as many mainstream role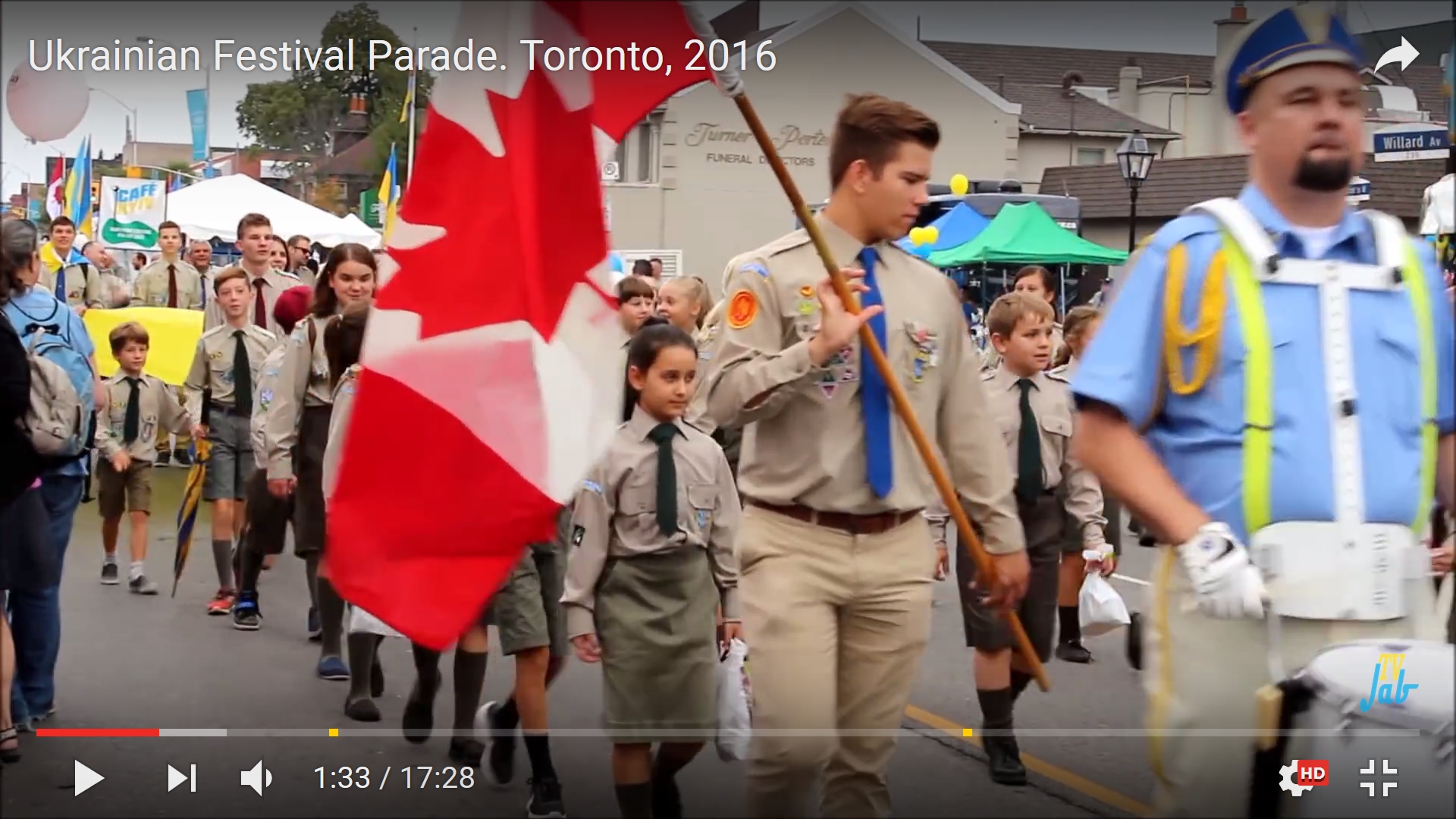 models such as politicians from the Liberals, Conservatives and NDP. Also present were Ukraine's Ambassador to Canada, Ukrainian military veterans and uniformed members of the Ukrainian Youth Association (SUM) marching in-step behind their band (Baturyn). This youth movement and Ukrainian Womens' Association are both affiliates of the League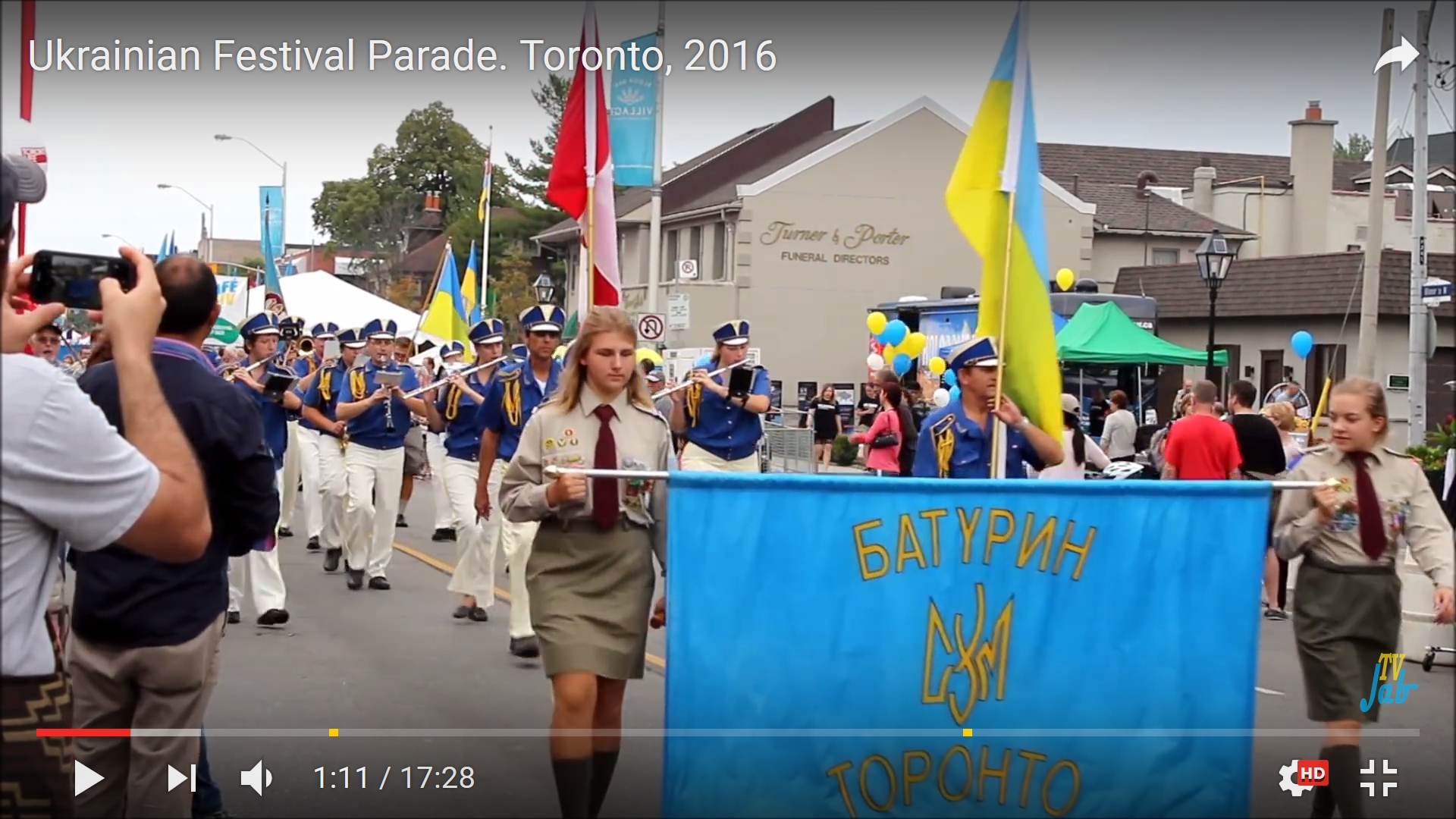 of Ukrainian Canadians which is the official Banderite organisation in Canada, linked to the OUN (B). Also taking part in the parade were Miss Teenage Canada 2016, Miss Ukraine Toronto, groups of children from various Ukrainian religious schools, as well as the children and youth from the Plast Toronto scouting troop.
As Toronto's Ukrainian festival and so many other similar cultural events across Canada ably demonstrate, the ultranationalist Ukrainian diaspora is alive and well in this country. This strong cultural community will no doubt continue to thrive under the protective support of the Canadian government's multiculturalism program and the mainstream media which also provides banal and largely uncritical coverage.
One of the chief methods used to foster the continuance and growth of Ukrainian ultranationalist culture is the early inculcation of children and youth into the community's traditions and beliefs. This includes thinly-veiled institutionalised reverence for such fascist, antiSemitic Ukrainian war heroes as Stepan Bandera and the various organisations which carry the flame of Ukrainian ultranationalism.