1- Introduction
2 - The Liberal Government's Warm Embrace of Ukraine's Nazi Collaborators
3 - Historical Amnesia and the Blinding Effects of Propaganda
4 - The Nazis as Victims? Sure, just Blame the Russians!
5 - Canada needs Truth and Reconciliation, not Denials and Obfuscation
6 - Historical Denial among Canada's ultranationalist Ukrainians
7 - Michael Chomiak, The Ukrainian Central Committee and its Nazi Newspapers
8 - Aryanisation and the "Mighty Wurlitzer"
9 - The Ukrainian Canadian Congress and its Fascist Roots
10 - Getting them Early: Building the ultraNationalist Cause among Children and Youth
11 - The Freeland-Chomiak Parallels in Advocacy Journalism
12 - Was Freeland an "Accidental Journalist," or Groomed for the Job?
13 - In 1989, Freeland was Declared an "Enemy of the Soviet State"
14 - A Chomiak-Freeland Fixation on Jewish Oligarchs running the Kremlin
15 - Freeland's Kremlin-Oligarch Theory goes Global with Jewish Plutarchetype
16 - Institutionalised Confidence Scams: An Open Conspiracy of Oligarchs, Politicians and Journalists
17 - Escaping the War Racket starts with Seeing the Elephant
18 - Just Following Orders? Which Orders?
19 - Is there a Bear in the Room? Kill it!
20 - The Collective Care and Feeding of Russophobia
21 - The Need for Truth and Reconciliation
---
---
If you appreciate the work that went into this research, please subscribe &/or donate. You can mail this coupon to COAT, or use the Paypal link on our homepage. Subscription prices:
3 issues ($25), 6 issues ($45). Subscribe now and get this 56-page issue for free, or order it for $10.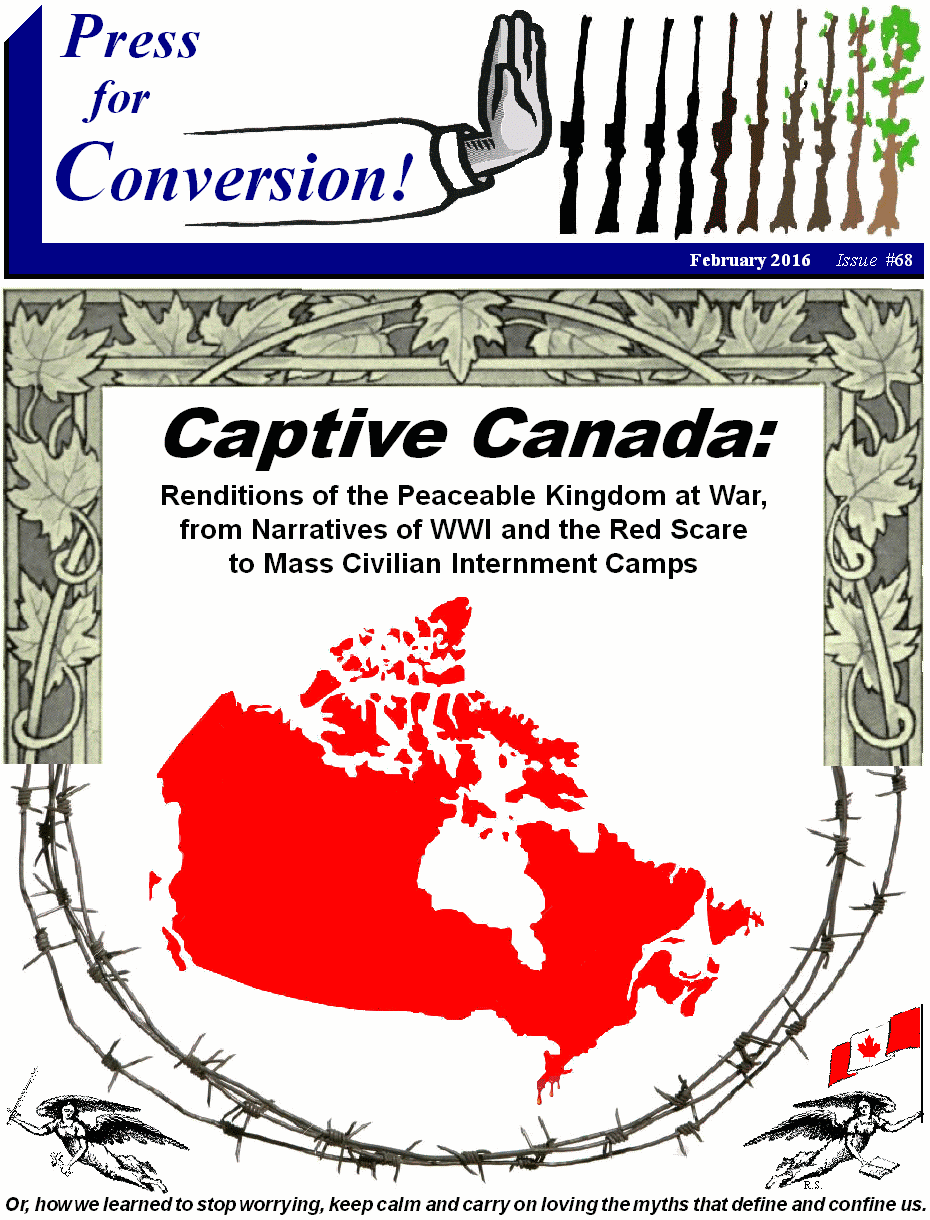 Captive Canada:
Renditions of the Peaceable Kingdom at War, from Narratives of WWI and the Red Scare to the Mass Internment of Civilians
Or, how we learned to stop worrying, keep calm and carry on loving the myths that define and confine us.
This issue (#68) deals with the mass internment of Ukrainian Canadians, this community's left-right split and the mainstream racist, xenophobic anti-communism of progressive "Social Gospellers" (like the CCF's J.S. Woodsworth) who were so captivated by their false beliefs that they carried out the genocide of First Nations and turned a blind eye to government repression during the 20th-century "Red Scare."
The main thesis is captured here:
"The Canada Syndrome,
a Captivating Mass Psychosis"
Part 13
In 1989, Freeland was Declared an "Enemy of the Soviet State"
Ever since those early beginnings, in the heady days before the Soviet Union was finally broken apart, Freeland has always remained a hardcore activist promoting her nationalist community's uncompromising political views. In 1989, at the age of 21, when Freeland was an exchange student in Lviv, she was deeply involved in "Rukh."
In the spring of 1989 Freeland had a full page article called "Popular Movement Radicalizing Ukraine" in Student. This was the paper in which Freeland had appeared ten years earlier, at age 11, when interviewed by Michael Chomiak's son, her uncle Bohdan Chomiak.<![if !supportFootnotes]>[i]<![endif]> Freeland's 1989 article expressed her one-sided view in support of Rukh and explained why it posed a such a serious threat to the Soviet state. Speaking of this dissident movement's potential political impact, Freeland said "this battle promises to have a profound effect on the Soviet Union."<![if !supportFootnotes]>[ii]<![endif]> While Freeland's article compares the Rukh movement to a "battle," she affects an unbiased and objective stance on Ukrainian nationalist aspirations. Freeland's article did not mention her personal involvement as a political activist who was then engaged in the "battle" for Ukrainian independence about which she was reporting. (This parallels her grandfather's conflict of interest as a reporter covering an OUN assassination trial while simultaneously working for a law firm defending the OUN in court.)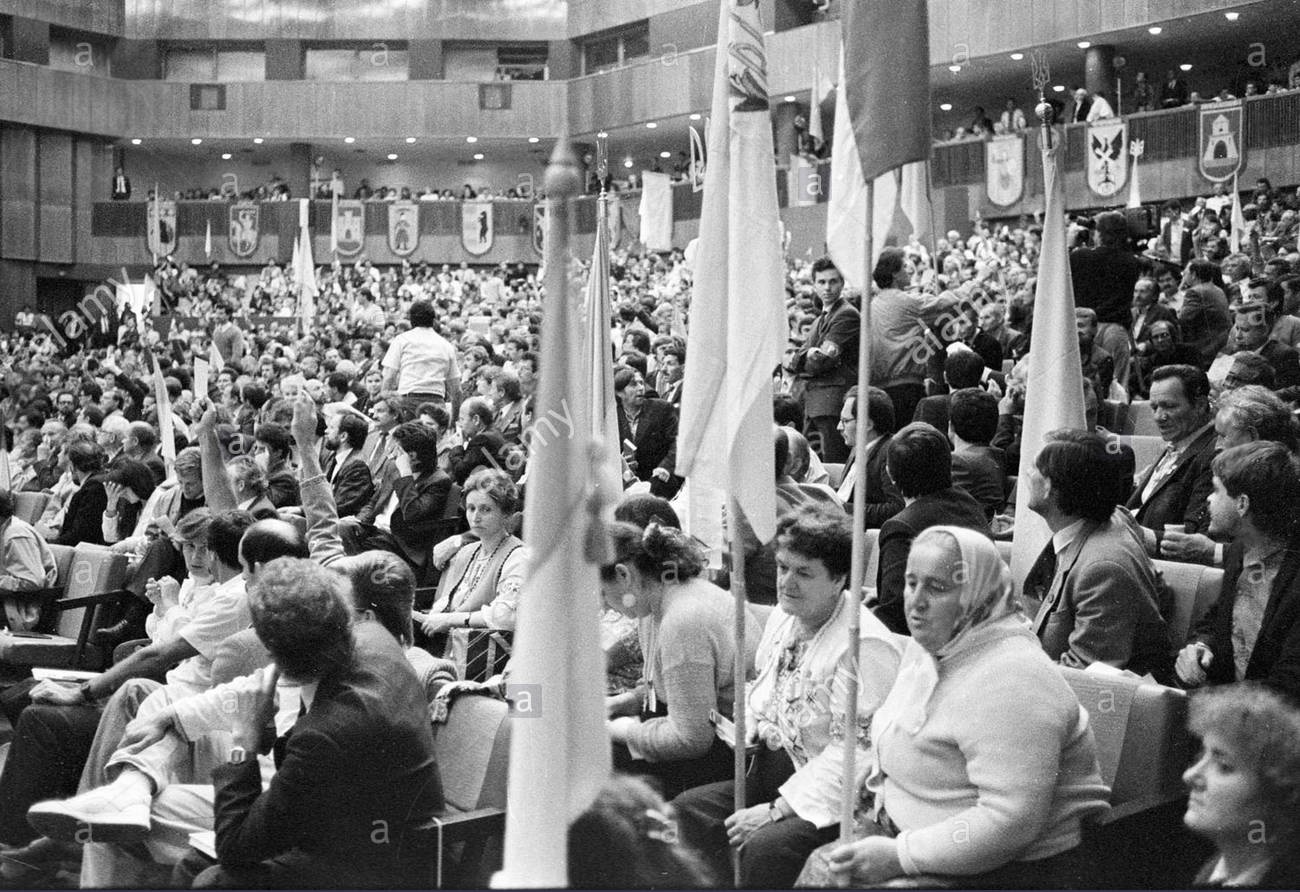 Freeland's activism with Rukh was more than just casual. She was a delegate at the inaugural meeting of the Shevchenko Ukrainian Language Society which played a pivotal role in creating Rukh, "her photograph appeared in Ukrainian newspapers," and she "acted as an editorial assistant to the weekly newspaper News from Ukraine" which promoted Rukh.<![if !supportFootnotes]>[iii]<![endif]> That year in Ukraine, she addressed the 1,000 delegates who attended Rukh's founding congress. (See photo above.) She was one of only two foreign delegates who attended this pivotal Lviv event.
Just before this first Rukh convention, USSR authorities used a state-run newspaper, Pravda Ukrainy, to denounce Chrystia Freeland by name. So incensed were they about her meddling involvement in Ukrainian political groups, and her open efforts to influence upcoming Ukrainian elections, that they actually called her and a Ukrainian-American colleague "enemies of the Soviet state."<![if !supportFootnotes]>[iv]<![endif]> At that time, the Soviet government also lodged a diplomatic complaint against Freeland with the Canadian embassy in Moscow. They apparently complained that Freeland had broken Soviet laws, presumably because as a foreigner she was not supposed to get actively involved in radicalized dissident groups that were working to split the country apart. Go figure.
When the KGB asked Freeland to come down to their office for questioning, she simply said no. They however did not insist and she was never questioned. But despite her defiant refusal to answer any police questions about her strident political activities in their country, Freeland was permitted to stay on in the USSR and to continue her defiant political activities.<![if !supportFootnotes]>[v]<![endif]> This is all rather ironic now considering Freeland's recent aspersions in the Canadian corporate media accusing the Russian government of meddling in Canadian politics and undermining our democracy by working behind the scenes to reveal that her grandfather was a Nazi propagandist.
It is worth comparing this fake news story about Russian meddling in Canadian politics with the very real case of Freeland's meddling in Soviet politics since 1989. In that year there were several articles in the Canadian press about Freeland's involvement in Soviet politics. These articles show that Freeland, her family, the ultranationalist Ukrainian community and the corporate media, all turned from the same page in their response to Soviet concerns about Freeland's very real involvement in their internal political process. Not only did these Canadian communities all rally around Freeland to support her right to be deeply involved as a political activist in the affairs of another country, they all belittled the Soviet government's concerns about this meddling in their political process.
At the time of this 1989 incident, a colleague of Freeland, Ostap Skrypnyk,<![if !supportFootnotes]>[vi]<![endif]> actually was questioned by Soviet police, for about one hour. Like Freeland, he was a Ukrainian student from Alberta who had worked for the CIUS on the Encyclopedia of Ukraine. Both Freeland and Skrypnyk, had permits to be in Lviv to study, but were deeply involved in antiSoviet Ukrainian politics. According to the government's Pravda Ukrainy newspaper, Skrypnyk was detained by police when found putting up posters around midnight on March 23-24, 1989. These posters called for "cells of the Ukrainian National Movement" to be established within the Soviet Army. They also encouraged militia workers to carry out acts of sabotage. The posters, which called on Ukrainians to completely boycott the upcoming elections, said: "Not a single registered candidate ought to win."
Furthermore, the Soviet government said that Skrypnyk had travelled around the country without obtaining the necessary permits. They also said he had met with "suppliers of misinformation to the American Radio Liberty and foreign nationalist publications."<![if !supportFootnotes]>[vii]<![endif]> (Emphasis added.) Soviet authorities suspected that Skrypnyk was not really in Ukraine just to study, but that his primary purpose was to interfere in Soviet electoral politics.<![if !supportFootnotes]> <![endif]>As it turned out, Skrypnyk never did complete the university degree that he was said to be pursuing during his period of political activism in Ukraine in 1989. His c.v. notes that he did complete his BA, between 1979 and 1986, but mentions no further degrees. After returning to Canada from Ukraine, Skrypnyk began a 17-year career as Executive Director of the Ukrainian Canadian Congress (1991-2008). In 2004, he and other executive officers of the Congress met with Prime Minister, and congratulated the Canadian government for funding 500 "election observers" that Canada sent to Ukraine. The UCC was very involved in selection of those "objective" observers. As Skrypnyk states in his curriculum vita:
"As the [UCC] Executive Director, I was responsible for organized the UCC Presidential Election Observer missions to Ukraine in October 2004 and November 2004 with over 500 participants."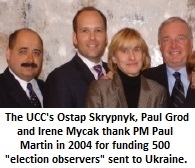 Since then Skrypnyk has himself acted as an "election observer" in Ukraine 2012 and 2014.<![if !supportFootnotes]>[viii]<![endif]>
One of the ultranationalist Ukrainian publications that covered the Skrypnyk incident was Student. It voiced rather strident praise for Skrypnyk's efforts saying:
"It is time to live the rights, and not just demonstrate about them. Anything else is just empty ideology and fucking around. We have to dance as free a dance as our muscles and minds can allow."<![if !supportFootnotes]>[ix]<![endif]>
This was the same issue of Student which contained Freeland's article which equated the Rukh movement with a "battle" and said that it was "Radicalizing Ukraine."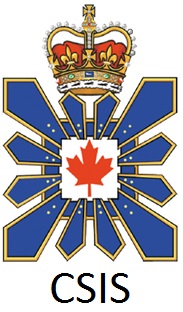 The Soviet government also cited a meeting between Skrypnyk and the Canadian Security Intelligence Service (CSIS) in Edmonton. A CSIS official confirmed that this meeting had taken place but called it a voluntary, ''protective security briefing" which they offered to all Canadians travelling to the USSR for extended visits. If this is the case, then Freeland too must also have been invited to these CSIS meetings. Would she have turned down such opportunities to work with Canadian authorities against their common enemies, the Soviet and later Russian governments? Her goals regarding Ukrainian relations with Moscow have certainly overlapped with those of the Canadian government for almost 30 years. Freeland may then have perceived it to be her civic duty to comply with Canada's secret police, just as she had correspondingly declined to meet their Soviet equivalents.
Now, as Canada's Foreign Affairs minister, Freeland's relationship with CSIS is more advanced than it was in 1989 when she was a 21-year-old student activist fighting in the "battle" for the Ukrainian nation's independence from the USSR. But over the decades, one key issue has remained consistent. The Canadian government and Ukrainian ultranationalists like Freeland are still in agreement that the Kremlin is the enemy. Another recurring theme is the fixation on foreigners, and/or foreign powers, which are said to be meddling in domestic politics. In Freeland's case, Ukrainian nationalist newspapers proudly reported that she was very involved in the Rukh movement, which eventually drove in the wedge that split Ukraine from the USSR.
In the case of exposing Michael Chomiak for the Nazi collaborator that he was, Canadian media have taken Freeland's lead in spinning the story to blame Russia for the scandal that is swirling around her having covered up her grandfather's fascist past. As usual, the ironies and hypocrisies are boundless.
<![if !supportEndnotes]> <![endif]>