1- Introduction
2 - The Liberal Government's Warm Embrace of Ukraine's Nazi Collaborators
3 - Historical Amnesia and the Blinding Effects of Propaganda
4 - The Nazis as Victims? Sure, just Blame the Russians!
5 - Canada needs Truth and Reconciliation, not Denials and Obfuscation
6 - Historical Denial among Canada's ultranationalist Ukrainians
7 - Michael Chomiak, The Ukrainian Central Committee and its Nazi Newspapers
8 - Aryanisation and the "Mighty Wurlitzer"
9 - The Ukrainian Canadian Congress and its Fascist Roots
10 - Getting them Early: Building the Nationalist Cause among Children and Youth
11 - The Freeland-Chomiak Parallels in Advocacy Journalism
12 - Was Freeland an "Accidental Journalist," or Groomed for the Job?
13 - In 1989, Freeland was Declared an "Enemy of the Soviet State"
14 - A Chomiak-Freeland Fixation on Jewish Oligarchs running the Kremlin
15 - Freeland's Kremlin-Oligarch Theory goes Global with Jewish Plutarchetype
16 - Institutionalised Confidence Scams: An Open Conspiracy of Oligarchs, Politicians and Journalists
17 - Escaping the War Racket starts with Seeing the Elephant
18 - Just Following Orders? Which Orders?
19 - Is there a Bear in the Room? Kill it!
20 - The Collective Care and Feeding of Russophobia
21 - The Need for Truth and Reconciliation
---
If you appreciate the work that went into this research, please subscribe &/or donate. You can mail this coupon to COAT, or use the Paypal link on our homepage. Subscription prices:
3 issues ($25), 6 issues ($45). Subscribe now and get this 56-page issue for free, or order it for $10.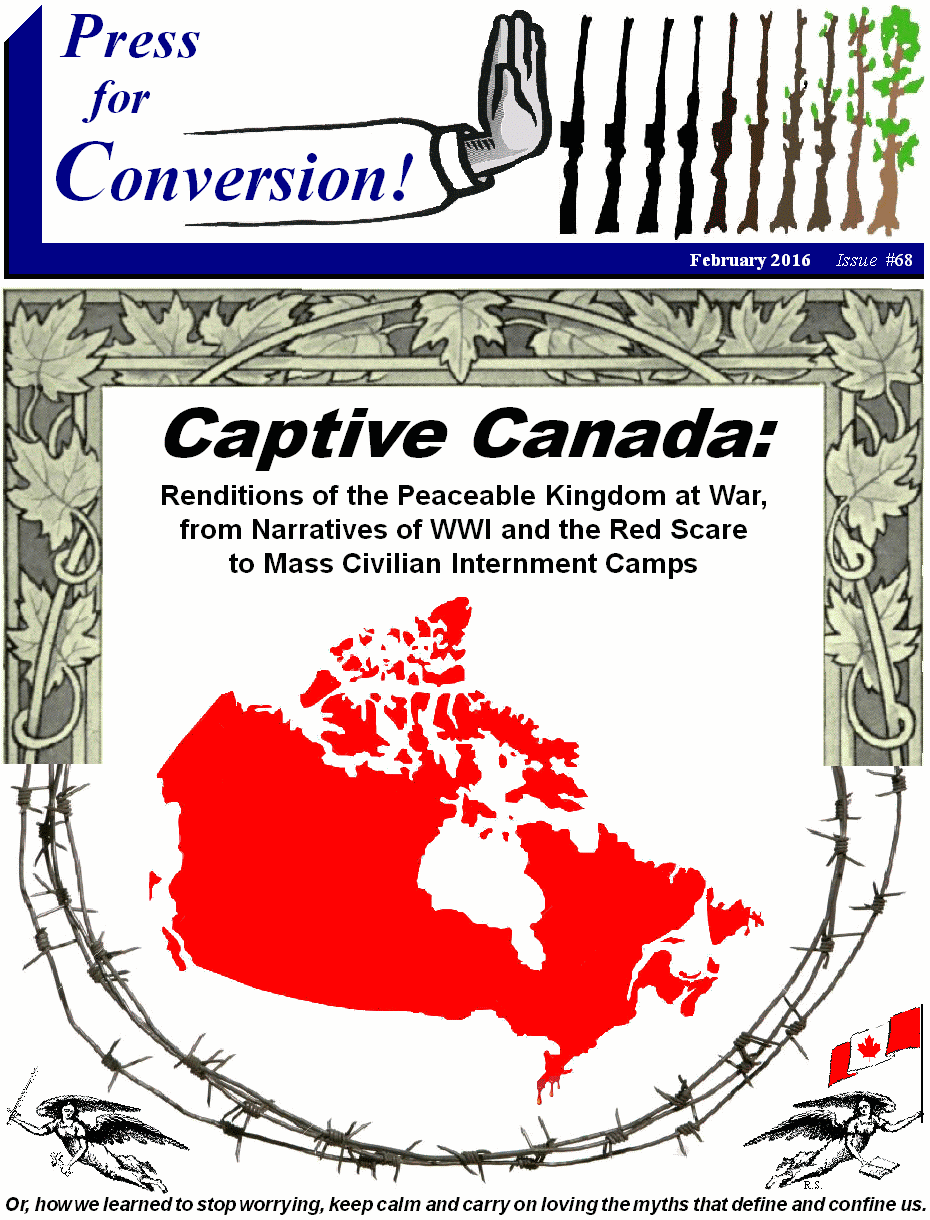 Captive Canada:
Renditions of the Peaceable Kingdom at War, from Narratives of WWI and the Red Scare to the Mass Internment of Civilians
Or, how we learned to stop worrying, keep calm and carry on loving the myths that define and confine us.
This issue (#68) deals with the mass internment of Ukrainian Canadians, this community's left-right split and the mainstream racist, xenophobic anti-communism of progressive "Social Gospellers" (like the CCF's J.S. Woodsworth) who were so captivated by their false beliefs that they carried out the genocide of First Nations and turned a blind eye to government repression during the 20th-century "Red Scare."
The main thesis is captured here:
"The Canada Syndrome,
a Captivating Mass Psychosis"
Part 11
The Freeland-Chomiak Parallels in Advocacy Journalism
Another major cultural factor in grooming Freeland's particular worldview has been her involvement with numerous fervently nationalistic Ukrainian media outlets. This added yet another level of exposure to her already overwhelming submersion in Ukrainian politics. Her Ukrainian-focused journalism was something that she shared with her dido, Michael Chomiak. When Freeland and her dido launched their youthful work as reporters for large daily newspapers, they were both thrown headlong into heavily politicised Ukrainian news events of great importance to the nationalist cause. They both acquired journalistic acclaim by serving Ukrainian nationalism, and they were then both promoted to become media gatekeepers whose work involved the editing of large newspaper enterprises.
In Chomiak's case, he began writing for a nationalist Ukrainian newspaper called Dilo (the Deed) in Lviv Ukraine when he was in his early 20s. After five years, he was elevated to the daily paper's editorial staff (1934-1939).<![if !supportFootnotes]>[i]<![endif]> During that time he was also studying to become a lawyer (1930-1931) at Lviv University. After graduation, while he received a salary from Dilo, he worked ‑ without pay ‑ for a series of Lviv law firms in his efforts to fulfill the remaining requirements necessary for him to become a lawyer. <![if !supportFootnotes]> [ii]<![endif]>
Chomiak's work as a journalist for Dilo involved covering a very famous trial of the OUN. Before WWII, this Ukrainian nationalist organisation had assassinated several Polish politicians as a tactic for gaining Ukrainian independence from Poland. Besides being employed by Dilo, Chomiak also worked for Ukrainian law firms. At least one of these firms was involved in an OUN legal case. It was in fact Chomiak work as a young cub reporter covering an OUN terrorist trial that made him famous among Ukrainians.<![if !supportFootnotes]>[iii]<![endif]>
As a candidate who was then seeking to become a lawyer, Chomiak was dependent on law firms for this process. Chomiak was in a definite conflict of interest because his law firm was involved in defending the OUN. Could Chomiak be expected to present objective, unbiased news as Dilo's "court reporter" covering an assassination trial, if he was simultaneous working for the law firm whose business it was to defend these terrorists? Even without such a glaring conflict of interest, Chomiak's worldview as an advocate of Ukrainian nationalism would also have coloured his coverage of the trials.
The fact that the OUN embraced terrorism and fascism is indisputable. Even the CIA, which supported the OUN after WWII, stated in a now-declassified, secret 1998 document that the "OUN .... participated in terrorist activities against Polish officials before the war, and Ukrainian nationalists allied themselves with their Nazi 'liberators' ... in 1941."<![if !supportFootnotes]>[iv]<![endif]>
Some key elements of Freeland's journalist career closely parallel those of her grandfather. She too became famous in her early 20s in Lviv Ukraine. At that time, she was writing newspaper articles to promote the nationalist cause. The official narrative is that she began her career as an "accidental journalist."<![if !supportFootnotes]>[v]<![endif]> Her version of events is that she started her rise through the media during her foray as a freelance stringer in Lviv in the early 1990s.
But, in reality, by the time she was writing for these newspapers in Lviv, she had already been involved for several years with some of the most subjective ultranationalist Ukrainian propaganda outlets in Canada, the US and Europe. These still-extant enterprises in Ukrainian nationalism, include The Encyclopedia of the Ukraine, The Ukrainian News, The Ukrainian Weekly, The Student, and Radio Free Europe/Radio Liberty. Freeland's experiences, as a writer for these ultranationalist Ukrainian endeavours, provided major stepping stones that aided her entry into the mighty Wurlitzer of the global business news machine.
During her formative journalism years, when she was in her late teens and early twenties, the central theme promoted by all of these Ukrainian enterprises in which she was involved, was the supreme nationalist cause of gaining independence from the Soviet Union.
This, of course, had also been a major political goal of the US and its NATO allies ever since the end of WWII. Shortly after the war, the CIA correctly identified the "nationalities issue" as the prime weakness of the multicultural Soviet Union. Accordingly, the CIA began targeting Ukrainian nationalist dissidents as the most likely force for achieving the US goal of tearing apart that enemy country. As their major strategy for destroying the USSR, the CIA created several top secret, covert action programs to conduct, what is known in intelligence jargon as, "psychological warfare." Their target was the USSR and Ukraine was the leverage point.
We now know that these CIA operations included those called QRDYNAMIC, AERODYNAMIC, QRPLUMB and AECASSOWARY. The CIA's official website currently holds just over 2000 files with formerly "SECRET" and "TOP SECRET" files detailing these and other clandestine operations. These documents were released thanks to the "Nazi War Crimes Disclosure Act." The CIA library states that
"This information sheds important historical light on the Holocaust and other war crimes, as well as the U.S. Government's involvement with war criminals during the Cold War. It further enhances public confidence in government transparency"<![if !supportFootnotes]>[vi]<![endif]> (Emphasis added.)
The files show that the CIA frequently placed their confidence in Nazi sympathizers and supporters from the Ukraine for carrying out their covert operations against the Soviet Union. And, because Canada was such an important place of refuge for fascist-leaning Ukrainian, almost 800 of the CIA's operational files contain some reference to Canada.<![if !supportFootnotes]>[vii]<![endif]>
Upon coming to Canada in 1948, Michael Chomiak continued the hardcore nationalistic struggle for Ukrainian independence which he and his collaborationist community had conducted with Nazi support throughout the war. Becoming active in Edmonton's émigré community, Chomiak became prominent within the Ukrainian Catholic church, the Ukrainian war veterans' movement and a variety of other nationalist groups.
Michael Chomiak also retained his keen enthusiasm for the print media and even temporarily moved to France (1978-1979) to assist his wartime boss, Volodymyr Kubijovych, in his all-consuming post-war project, The Encyclopedia of Ukraine. Chomiak also kept his love for newspapers alive by working as a journalist and then the editor (1981-1982) for a major Edmonton-based, weekly newspaper called Ukrains'ki visti (Ukrainian News). Both of these enterprises stood solidly with the ultranationalist Ukrainian community in the continuation of its decades-old anticommunist war against the USSR.
These were the first two known Ukrainian media projects that aided Chrystia Freeland in her early path towards media stardom.