1- Introduction
2 - The Liberal Government's Warm Embrace of Ukraine's Nazi Collaborators
3 - Historical Amnesia and the Blinding Effects of Propaganda
4 - The Nazis as Victims? Sure, just Blame the Russians!
5 - Canada needs Truth and Reconciliation, not Denials and Obfuscation
6 - Historical Denial among Canada's ultranationalist Ukrainians
7 - Michael Chomiak, The Ukrainian Central Committee and its Nazi Newspapers
8 - Aryanisation and the "Mighty Wurlitzer"
9 - The Ukrainian Canadian Congress and its Fascist Roots
10 - Getting them Early: Building the ultraNationalist Cause among Children and Youth
11 - The Freeland-Chomiak Parallels in Advocacy Journalism
12 - Was Freeland an "Accidental Journalist," or Groomed for the Job?
13 - In 1989, Freeland was Declared an "Enemy of the Soviet State"
14 - A Chomiak-Freeland Fixation on Jewish Oligarchs running the Kremlin
15 - Freeland's Kremlin-Oligarch Theory goes Global with Jewish Plutarchetype
16 - Institutionalised Confidence Scams: An Open Conspiracy of Oligarchs, Politicians and Journalists
17 - Escaping the War Racket starts with Seeing the Elephant
18 - Just Following Orders? Which Orders?
19 - Is there a Bear in the Room? Kill it!
20 - The Collective Care and Feeding of Russophobia
21 - The Need for Truth and Reconciliation
---
If you appreciate the work that went into this research, please subscribe &/or donate. You can mail this coupon to COAT, or use the Paypal link on our homepage. Subscription prices:
3 issues ($25), 6 issues ($45). Subscribe now and get this 56-page issue for free, or order it for $10.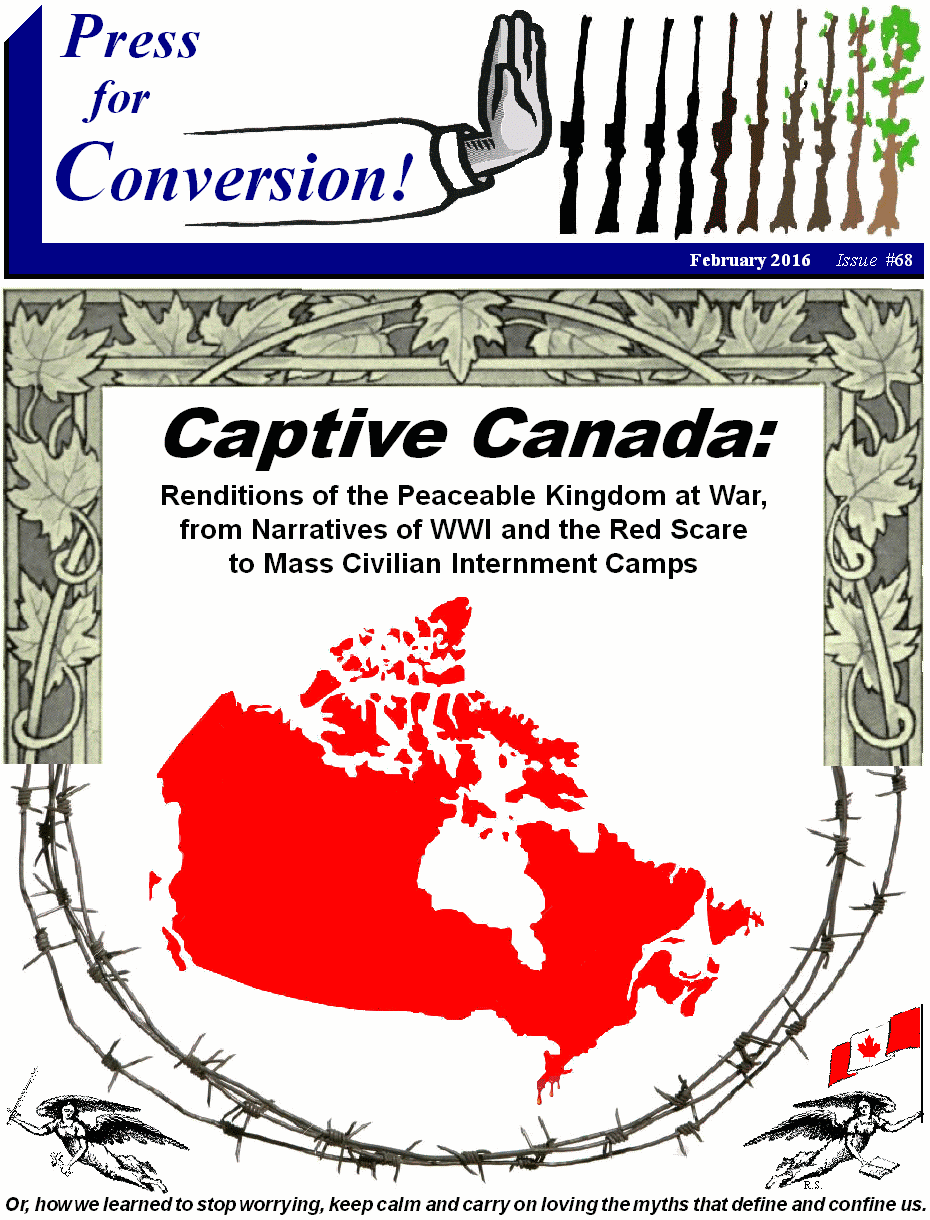 Captive Canada:
Renditions of the Peaceable Kingdom at War, from Narratives of WWI and the Red Scare to the Mass Internment of Civilians
Or, how we learned to stop worrying, keep calm and carry on loving the myths that define and confine us.
This issue (#68) deals with the mass internment of Ukrainian Canadians, this community's left-right split and the mainstream racist, xenophobic anti-communism of progressive "Social Gospellers" (like the CCF's J.S. Woodsworth) who were so captivated by their false beliefs that they carried out the genocide of First Nations and turned a blind eye to government repression during the 20th-century "Red Scare."
The main thesis is captured here:
"The Canada Syndrome,
a Captivating Mass Psychosis"
Part 19
Is there a Bear in the Room? Kill it!
Because of Chrystia Freeland's deeply-engrained cultural programming within the ultranationalist Ukrainian Canadian community, it is extremely difficult if not impossible for her to be objective when it comes to certain important foreign policy issues.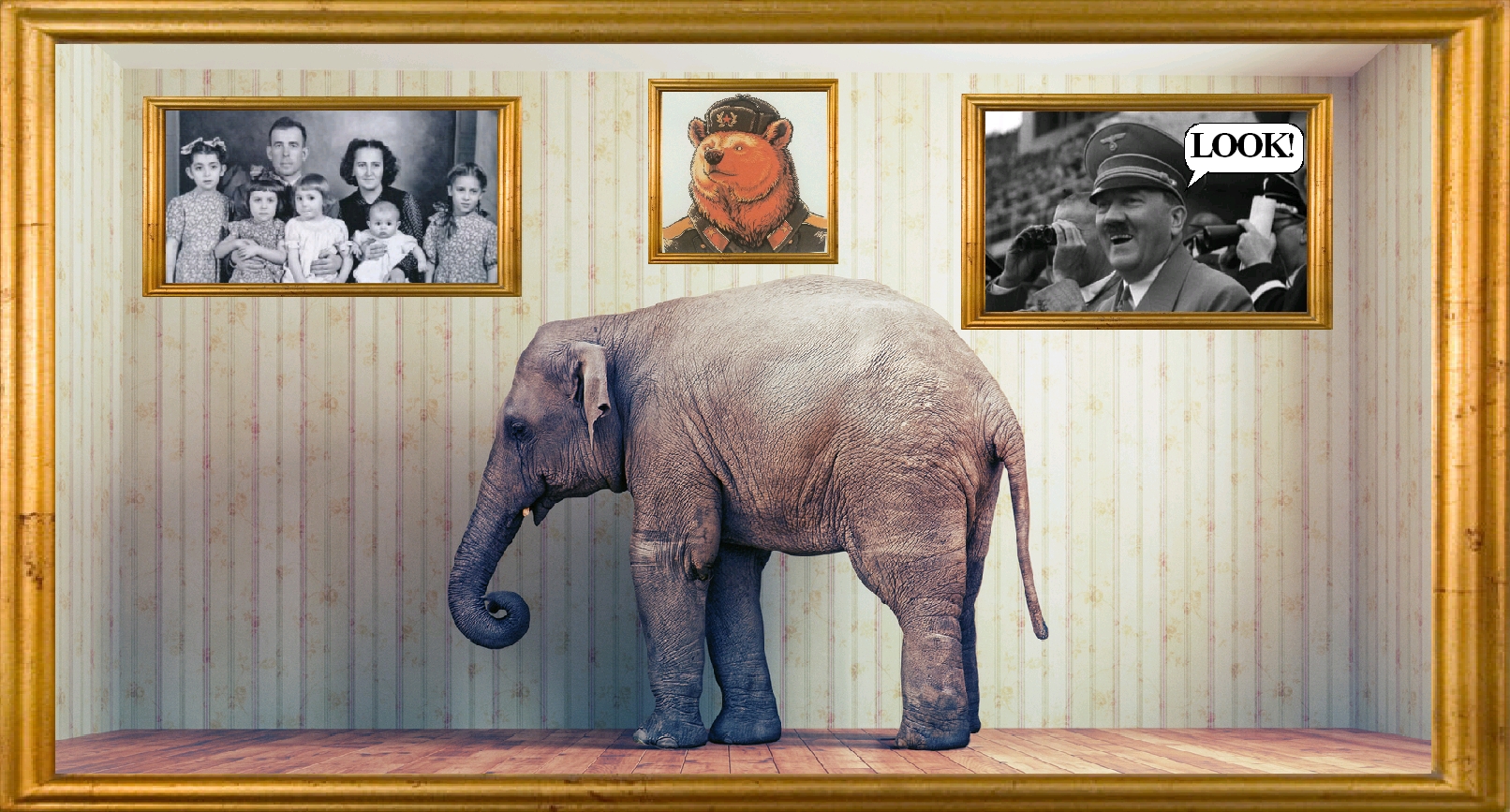 The elephant in the room here is actually a Russia bear. Is Freeland really Russophobic, just a little Russophobic, or not at all? How one answers this may depend not only on one's image of the Russian bear, but one's definition of Russophobia. Is a Russophobe someone whose cultural upbringing prejudices them against Russians and their leaders? If so, was it Russophobic for Chrystia Freeland to say, for example: "Russians have no one to blame but themselves for the brutal dictatorship they built in their own country and imposed on their neighbours."<![if !supportFootnotes]>[i]<![endif]>
But for anyone who believes that Russophobia is simply a fear of Russian words, Russian culture or living in Moscow, then Freeland ‑ apparently ‑ is not Russophobic. In 2014, when she was banned from travelling anywhere within the world's largest country, she seemed almost overjoyed. This is how she tweeted her followers about that news: "Love Russ lang/culture, loved my yrs in Moscow; but it's an honour to be on Putin's sanction list."<![if !supportFootnotes]>[ii]<![endif]>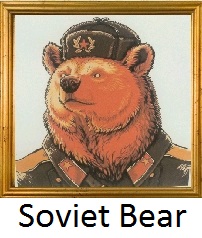 As we've seen, Freeland has been raising the Kremlin's ire since 1989 when at 21 her militant involvement in the Ukrainian separatist movement led the government to declare her an "enemy of the Soviet state." Over the decades since then, Freeland has never stopped her efforts to fixate world attention on the Moscow bear as a global symbol of corruption, authoritarianism, warmongering and kleptocracy.
Freeland's journalism career, like that of her Ukrainian grandfather, never shied away from taking sides in superheated propaganda battles. Her critiques of the Soviet/Russia bear, her overly-confident and incendiary way with words, and her inspired passion for Ukrainian nationalism ‑ which she has credited to her maternal grandfather ‑ were all valuable assets in building her up as a darling of global business press. These same assets also assisted her meteoric rise to Trudeau's Liberal Cabinet. As such, Freeland's service as a mouthpiece for the mighty Russophobic Wurlitzer spans the connected worlds of western governments and their compliant corporate media.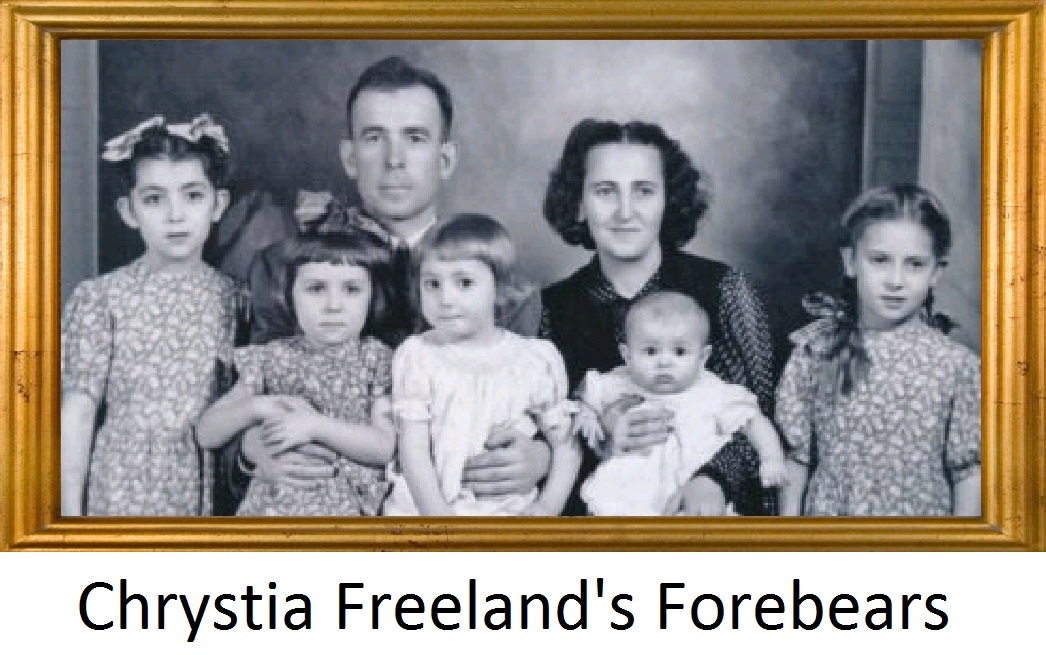 Had he lived to see it, Freeland's maternal grandfather ‑ as a professional propagandist ‑ would surely have been impressed by her entire career. Michael Chomiak would have encouraged her early involvement with a string of ultranationalist Ukrainian media outlets. He would have cheered her activism in Rukh, which having helped split up the USSR, succeeded where the Nazis had failed. Her grandfather would also have been delighted by her being branded an "enemy of the Soviet State," envied her reportage from the newly-independent Ukraine and applauded her rise through the ranks of the global business-news empire. Her fixation on the Kremlin's "fiendishly" "Faustian deal" with a "Frankenstein's monster" of a mostly Jewish oligarchs would surely have made him feel vindicated for his own journalistic fetishes. And, wouldn't he have hailed her broadening of that focus to encompass the "nation of mammon" as a global plutarchetype. His grand daughter's war of words against Putin, her leading role in the imposition of trade sanctions against Russia and the badge of honour she earned upon being declared persona non grata in that enemy country, would all have inspired his dearest admiration. And, the unquestioning confidence with which Freeland has revered the violent 2014 Maidan uprising, its role in empowering a regime riddled with neoNazis and its outright banning of communism in 2015, would all have filled him with great pride.
Freeland's Ukrainian grandfather would surely have been as proud of her, as she is of him.
While she never publicly mentioned his wartime promotion of Nazi propaganda, she did credit her grandparents' political views as a major inspiration in her lifelong commitment to the ultrapatriotic Ukrainian cause.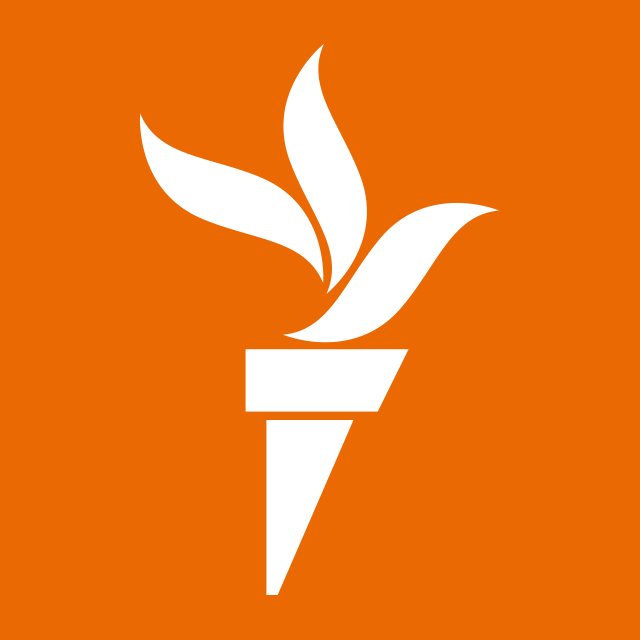 "(Their experience) had a very big effect on me," Freeland told the Toronto Star, "They were also committed to the idea, like most in the (Ukrainian) diaspora, that Ukraine would one day be independent and that the community had a responsibility to the country they had been forced to flee ... to keep that flame alive."<![if !supportFootnotes]>[iii]<![endif]> (Emphasis added.)
"For the rest of my grandparents' lives," she said in My Ukraine, "they saw themselves as political exiles with a responsibility to keep alive the idea of an independent Ukraine"<![if !supportFootnotes]>[iv]<![endif]> (Emphasis added.)
The recurring theme here is the profound sense of an ongoing multigenerational commitment to the Ukrainian cause. This undying "responsibility to keep alive" a "flame" or "idea" of Ukrainian independence, is certainly something that Chrystia Freeland has held utmost throughout her life. Deeply instilled in her from such an early age, Freeland's deep sense of responsibility to carry on the dream of her Ukrainian forebears, her village and her nation, is something that takes precedence over all else in her being.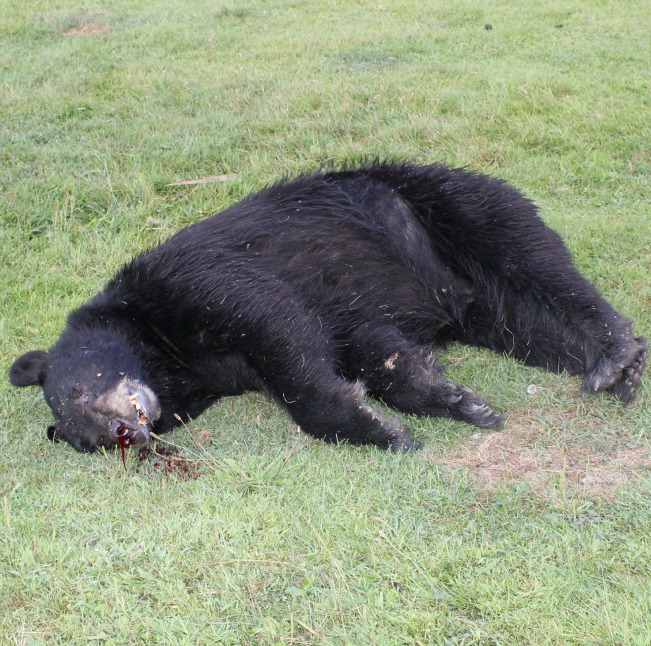 In many ways, throughout her personal and professional life, Freeland must have always felt exceedingly fortunate to have had the opportunity to work together with her Ukrainian community ‑ in close collaboration with some of the world's most powerful corporate media enterprises and the governments of Canada, the US and others ‑ to achieve that goal of Ukrainian independence that her forebears had only dreamed of. Although Michael Chomiak never lived to see the independent Ukraine of his dreams, his grand daughter Chrystia Freeland not only saw it happen, she was there in Ukraine playing an active role in making it happen. This would have been a dream come true for her grandfather and his wartime colleagues who had been so dedicated to this overwhelming cause that they were willing to work with the Nazis, spread false news and commit massive crimes, just to make their dream a reality.
Even after the huge success of creating an independent Ukraine, there were other great goals that Freeland's grandfather ‑ in collaboration with the Nazi's extensive media empire and the government of Germany ‑ could only have dreamed of. Like their Nazi overlords, Ukrainian nationalists also dreamed of the day when the Soviet bear would be vanquished. This goal was quickly realised on the heels of Ukrainian independence.
But by the time this second grand dream was eventually achieved, most of the Nazis and their collaborators had already died. Those who did live to see this dream come true must have rejoiced that their successors had kept their flame of anticommunism alive and worked feverishly to make their fervent dream a reality. While the Nazis killed 25 to 30 million Soviet citizens in their effort to destroy communism, that monumental effort had been turned back by the Soviet bear.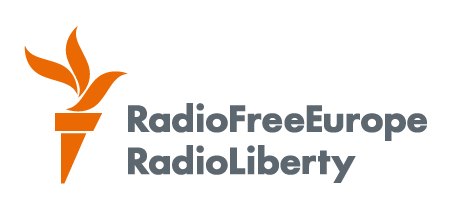 Forty five years later, however another generation succeeded where the Nazis had failed. And, as that propaganda creature of the CIA -- the mighty Wurlitzer -- still confidently brags on its website, "news and information" spread by the Radio Free Europe/Radio Liberty (RFE/RL) "to audiences behind the Iron Curtain" "played a significant role in the collapse of communism...."<![if !supportFootnotes]>[v]<![endif]>