In May 2019, after talks with Canada's then-foreign minister, Chrystia Freeland, Estonia's foreign minister Reinsalu, praised "the Canada-led NATO enhanced Forward Presence Battle Group in Latvia." It purpose is to prepare against Russia's alleged plan to invade the region. This NATO Battle Group is based in the Baltics on the wildly inflamatory, Russophobic claim that Moscow plans to invade the region. "We can face the challenges that surround us," Reinsalu said, "only when we stand united and work together."2

That same year in Estonia, in order to "stand united and work together," then-Prime Minister, Jüri Ratas, created a coalition government. One third of the cabinet ministers that he appointed were from the extreme-right Conservative People's Party of Estonia (EKRE). Its leaders, including former party chair Martin Helme (2015-19), who was Ratas' Finance Minister (2019-21) and his father, Interior Minister Mart Helme (2019-20), smiled when flashing a white-power hand signals when being sworn in as lawmakers in 2019. EKRE proudly calls for a racially-pure, Christian, "white Estonia." Its politicians have said they will decriminalize Holocaust denial, and revoke the citizenship of ethnic Russians or Russian speakers in Estonia (which includes most of Estonia's few remaining Jewish citizens). EKRE's extremely racist, xenophobic and anti-immigrant slogans include:

"If they're black, send them back."

3

EKRE supporters are among those who attend mass torchlight parades in Estonia. These disturbing events promote widely popular, far-right ethnonationalist policies, display fascist symbols and rally the crowds with such Nazi-reminiscent banners and cheers as "Estonia for Estonians."

EKRE supporters are among those who attend mass torchlight parades in Estonia. These disturbing events promote widely popular, far-right ethnonationalist policies, display fascist symbols and rally the crowds with such Nazi-reminiscent banners and cheers as "Estonia for Estonians."

The Canadian government and its friends in the Estonian Central Council in Canada (ECC) and the Estonian World Council (EWC) have continued to praise Estonia's government and have excellent working relations with it. While Canada, the ECC and EWC may have some reservations about the open support for fascist ideologies by EKRE and its ilk, they have not condemned Estonian government recognition of the Estonian Legion or its public glorification of Nazi veterans as the "freedom fighting" heroes of WWII.

Marcus Kolga:
Smearing those exposing Estonia's Nazi collaborators,
as spreaders of a dangerous Kremlin virus

Even Marcus Kolga, former president of the ECC in Canada (2016-20) and vice president of the EWC, expressed some concern in 2019 about EKRE. The problem with EKRE, he said, was that it had sullied Estonia's "positive brand" with what he called "racist, antisemitic and sexist" talk.

4

The Estonian Legion, like other military formations in Eastern Europe were trained, financed, armed and led by Nazi Germany. Their troops wore Nazi uniforms and swore solemn oaths to fight to the death for Adolph Hitler in order to vanquish the "Bolshevik" enemy, the USSR, which was Canada's wartime ally. With the help of Estonia's Legion and other such East European armies, the Nazis executed the Holocaust, killed 27 million Soviet citizens and laid waste to their cities. This appears to be of little or no concern to Kolga and his compatriots.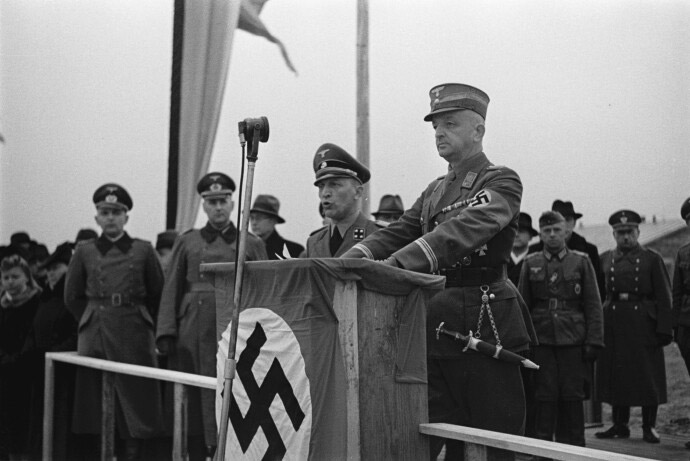 Formation
of the
Estonian Legion

On Aug. 28, 1942, Estonian General Commissar SA-Obergruppenführer Karl Siegmund Litzmann announced that the German higher board had granted permission to
form the Estonian Legion under the control of the Waffen-SS.
Although the Nazi SS "brand" that was practised in Estonia included mass murder, concentration camps for Jews, Red Army soldiers and others, and the commission of countless other international crimes against humanity, crimes against peace and war crimes, Kolga praises the Estonian Legion and other such military units, by refering to them as "freedom fighters." In this way Kolga defends Nazi SS divisions and other fascist military units, by trying to whitewash, memorialize and rehabilitate them into noble, antiSoviet warriors.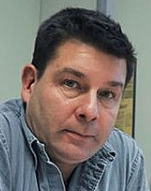 Journalist Scott Taylor, is characterized by Marcus Kolga (ECC pres. & EWC vice pres.), as having "mischaracterized Ukrainian and Baltic freedom fighters who resisted Soviet occupation as Nazis."
In 2019, Kolga wrote a virulently Russophobic report called Stemming the Virus, on "the threat of Russian disinformation."5 In this report, published by Canada's right-wing MacDonald-Laurier Institute,6 Kolga condemned Canadian journalists who dared speak the truth about Estonian collaboration with the Nazis, by denouncing them for spreading the "virus" of "a particularly popular Kremlin narrative." For example, Canadian journalist Scott Taylor was smeared by Kolga for supposedly having "mischaracterized Ukrainian and Baltic freedom fighters who resisted Soviet occupation as Nazis." Taylor who writes columns in Halifax's Chronicle Herald and for Esprit de Corps, a prominent Canadian military magazine which he founded, and now edits and publishes. Much to Kolga's chagrin, Taylor's writings have repeatedly exposed the glorification of fascist WWII military units by Baltic governments.7
Kolga also attempts to discredit the work of Ottawa Citizen reporter, David Pugliese. Kolga takes offence at Pugliese's articles because they reveal ongoing, official Baltic-state support for their wartime collaboration with Nazi Germany. Kolga's spin on these news articles was to try to smear Pugliese by saying that he "essentially parroted the Kremlin's tailored narratives about those nations being neo-fascists." As a forthright apologist for the Estonia's wartime collaboration with Germany against Canada's Soviet ally, Kolga characterizes the present day's SS-revering Baltic governments as victims by calling them "states targeted by Kremlin aggression."8
Kolga's report also slurs my work. He critiqued my research documenting Freeland's career-launching jobs with SS-exalting Ukrainian nationalist media published in Canada, the US and Europe. These jobs included Canadian government-paid writing contracts for a far-right, Edmonton-based publication that her grandfather, Michael Chomiak, had previously worked for. (Freeland also worked for a second Ukrainian nationalist publication in Edmonton that her grandfather, the Nazi's top Ukrainian-language news propagandist, had written for before becoming its chief editor. This research of mine, documented with hundreds of footnotes, was merely written off and slurred by Kolga as being typical of "pro-Kremlin media and trolls."9
Urmas Reinsalu:
Canada stands united with a leading
Estonian apologist for the Nazi's Waffen SS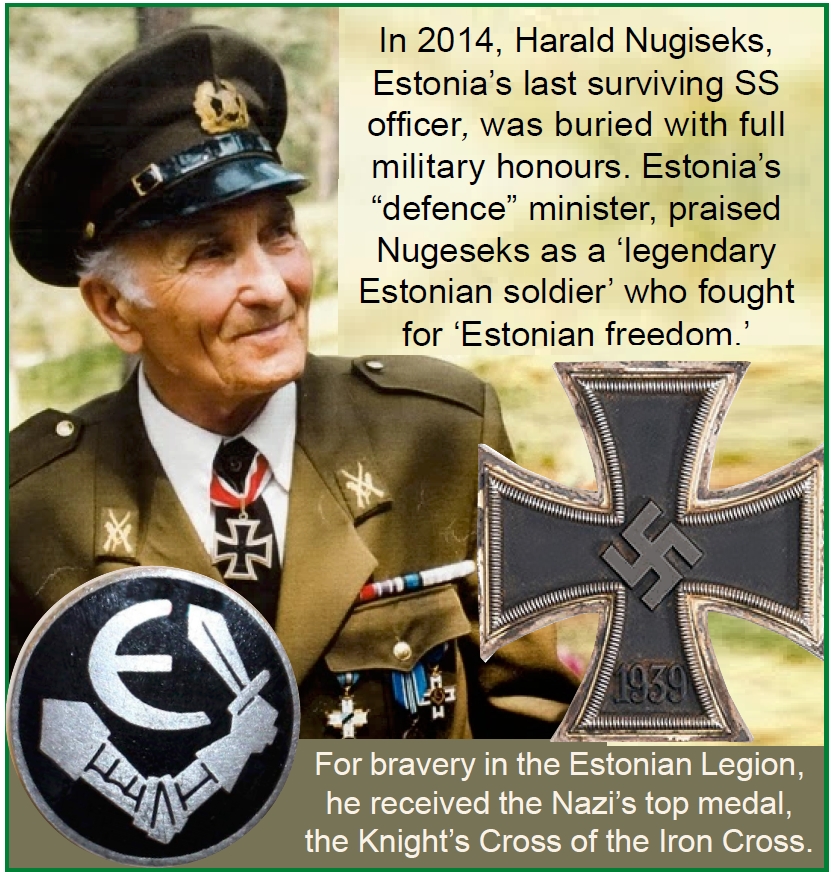 In 2012, when Estonian lawmakers passed "Valentine's Day" legislation to exalt their nation's SS veterans, it was roundly welcomed by Estonia's new defence minister Reinsalu. He even issued "a publicly stated wish to see in [Estonia's capitol city] Tallinn 'one day soon' a new statue erected specifically for the 'freedom fighters' rehabilitated by the act."10 Such monuments erected in Eastern Europe since the USSR was destroyed, have allowed the public and government authorities to lionize these soldiers for their valiant efforts during WWII.
In 2014, Reinsalu celebrated Estonia's best known SS soldier, Harald Nugiseks, who had been awarded the Nazi's top medal, the Iron Cross. When this notorious soldier was buried with full Estonian military honors, Reinsalu eulogised him as "a legendary Estonian soldier" who battled for "freedom."11
As justice minister in 2018, Reinsalu sent warm, official greetings to a public ceremony that included the veneration of Estonia's Waffen SS fighters.12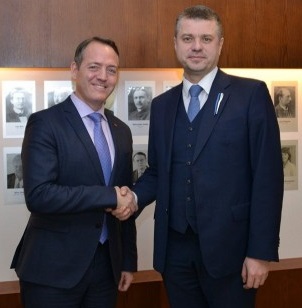 Urmas Reinsalu (right) with
Canadian Ambassador Kevin Rex

"Estonian] Minister of Foreign Affairs Urmas Reinsalu met with Canadian Ambassador to Estonia Kevin Rex on Friday [May 31, 2019], where the two affirmed good relations between Estonia and Canada as well as discussed the security situation.


"'Canada is one of our most valuable allies in terms of ensuring security," Reinsalu said. "We appreciate Canada's contributions to security in our region, particularly through its participation in NATO's enhanced Forward Presence (eFP).'

"The minister and the Canadian ambassador emphasized the two states' mutual commitment to defending a world order based on international law as well as contributing to ensuring peace in the world in general."

Source: "Reinsalu meets with Canadian ambassador, reaffirms good bilateral relations, June 1, 2019.


Before becoming ambassador to the Baltic states, Kevin Rex worked for Canada's Privy Council Office and for CIDA in Afghanistan. At the same time as these two postings, Rex "concurrently served as an officer in the Army Reserves."

Source: Biographical notes - diplomatic appointments, Global Affairs Canada

In 2019, Reinsalu denounced Venezuela's elected leader, Nicolas Maduro. Reinsalu also blasted Russia for aiding those who he called the "communist fanatics" leading Venezuela's government.

13 In taking this right-wing stance against Maduro's democratically-empowered government, Reinsalu joined with Canada's foreign minister Freeland, and the Trump-led US government, in "stand[ing] united" with the ultraright Western-backed coup efforts of Juan Guaido, the self-proclaimed but totally fraudulent "president" of Venezuela, who never ran in the country's presidential election.

While the scandal-ridden Ratas government eventually collapsed in January 2021, it's demise was not due to its tremendous pride in Estonia's Nazi collaborators. This pride has long been established as the accepted mainstream culture in Estonia. Those who dare to question this Estonian mythology are maligned and smeared for spreading a dangerous Kremlin virus.



References and notes
1. Chrystia Freeland, Tweet, May 28, 2018.
http://bit.ly/CFtwtRatas

2. "Reinsalu discusses Ukraine with Canadian counterpart," ERR News, May 24, 2019.
http://bit.ly/Reinsalu-Freeland

3. "Estonian politician vows to legalize Holocaust denial," Jewish Telegraphic Agency, June 2, 2017. http://bit.ly/EKREracism

4. Marcus Kolga, "The new far-right is sinking Estonia's international reputation -- who is responsible?" Estonian World, May 15, 2019.
http://bit.ly/Kolgate
5. Marcus Kolgas, Stemming the Virus, 2019.
http://bit.ly/Kolgavirus

6. Marcus Kolga is a "senior fellow" of the MacDonald-Laurier Institute.
https://www.macdonaldlaurier.ca/experts/marcus-kolga/

This right-wing think tank is named after Canada's long-glorified heroes: Sir John A. MacDonald and Sir Wilfrid Laurier. These two prime ministers were the prime political architects of the Dominion of Canada. As such they are responsible for laying the strong foundations upon which the Government of Canada's extremely racist, xenophobic and genocidal policies were built.

Here is some background on these two criminals whose "brand" is still glorified and revered by the MacDonald-Laurier Institute:

[Sir] Wilfrid Laurier (1841-1919):
"In 1900, Laurier increased the head tax on Chinese immigrants to $100 per person, and then again to $500 per person a few years later. [This $500 (the equivalent of $11,262 in 2020) was far beyond what a Chinese migrant could then afford.]

"On the occasion of the first increase to the head tax under his authority, Laurier said: 'In my opinion, there is not much room for the Chinaman in Canada. He displaces a good Canadian, or a good British subject.'

"Laurier also opposed the immigration of black people into Canada.

"On Aug. 12, 1911, his cabinet approved an order-in-council which stated: 'For a period of one year from and after the date hereof the landing in Canada shall be and the same is prohibited of any immigrants belonging to the Negro race, which race is deemed unsuitable to the climate and requirements of Canada.' Laurier's signature sealed the deal.

"[I]n the House of Commons in 1886 [Laurier spoke] about the nation's right to take land from 'savage nations' because a Canada under Indigenous control would 'forever have remained barren and unproductive, but which under civilized rule would afford homes and happiness to teeming millions.'"

[Sir] John A. Macdonald (1815-1891)
"First and longest serving prime minister of Canada (1867–1873, 1878–1891), longest serving aboriginal affairs minister (1878-1888)....

"In addition to being the PM who signed the first anti-Asian immigration policy into law (the 1885 Chinese Immigration Act, which placed a $50 dollar head tax on any Chinese person emigrating to Canada), Macdonald is considered by many to be the architect of Canada's most genocidal policies concerning Indigenous people.

"As aboriginal affairs minister, he laid the foundations for the Indian Act, the residential school system and the Department of Indian Affairs.

"We know now that each of these caused unthinkable suffering and trauma, which endures to this day, as they worked to destroy and control the culture of Indigenous people.

"Macdonald pushed for the residential schools to be designed the way they ultimately were because, as he said, 'When the school is on the reserve the child lives with its parents, who are savages; he is surrounded by savages, and though he may learn to read and write... he is simply a savage who can read and write... [T]he Indian children should be withdrawn as much as possible from the parental influence.'

"As if that weren't enough, Macdonald starved Indigenous people in the Prairies in order to clear a path for the transcontinental railway by forcing them to move to federal reserves."

Emma Renaerts, "Oh No, My Street's Named after a Racist!" May 23, 2019, The Tyee, https://thetyee.ca/Opinion/2019/05/23/Racist-Street-Names/



7. Ibid.

Note: Kolga's report lists the following articles by Scott Taylor as examples which demonstrate that he "mischaracterized Ukrainian and Baltic freedom fighters who resisted Soviet occupation as Nazis":

"Nazi Monuments Uncomfortable Canadian Truth," Winnipeg Free Press, November 2, 2017

"Nazis, NATO, and Canada's Latvian Love-in," Canadian Dimension, March 19, 2017

"On Target: Latvia deployment unnecessary, wasteful," Chronicle Herald, May 14, 2017.

"On Target: Nazi connections: Minister Freeland deflects and Latvia openly celebrates," Esprit de Corps, March 13, 2017

"Canada Should Denounce Those Who Glorify Latvia's Nazi Past," Hill Times, March 14, 2018

"On Target: Defence dollars spent in Latvia better spent at home in Canada," Esprit de Corps, Feb. 5, 2018

"On Target: 'Glorifying Nazis is bad, period,'" Chronicle Herald, May 6, 2018

"On Target: Missions a massive waste," Chronicle Herald, October 9, 2018

"On Target: No denying Latvia's Nazi past," Esprit de Corps, March 12, 2018.

8. Ibid., p.59 (footnotes 4 and 7) and p.53.

9. Ibid., p.25 and p.55.

Note: In particular, Kolga mentions this article:

Richard Sanders (March 2017) "Part 9: The Ukrainian Canadian Congress and its Fascist Roots," Minister Freeland's Grandfather, Michael Chomiak, the Nazi's Top Ukrainian Propagandist: Fake news, mighty wurlitzers, historical amnesia, and the elephant (or bear) in the room.
http://coat.ncf.ca/research/Chomiak-Freeland/C-F_9.htm
10. Leena Hietanen and Petri Krohn, "Estonia's 2012 'Valentine's Day Law,'" Defending History, May 26, 2012.
http://bit.ly/EstoniaLaw-proSS

11. Leena Hietanen and Petri Krohn, "Estonia's Last 'Knight's Cross' Waffen SS Man Gets Full-Honors Military Funeral," Defending History, January 13, 2014.
http://bit.ly/Reinsalu-Nugiseks
Ria Novost, Estonia: Nazi veteran buried with full honors, Baltic Review, Jan.10, 2014. http://bit.ly/Nugiseks

12. "Netanyahu's Baltic trip ignores rehabilitation of Nazis," Morning Star for Peace and Socialism," August 24, 2018.
http://bit.ly/Reinsalu-SS
13. Urmas Reinslau, "Estonia must immediately recognize the Speaker of the Parliament as the interim President of Venezuela, not the Communist Maduro," Eesti Päevaleht, Jan. 26, 2019. (Translation from Estonian.)
http://bit.ly/Reinsalu-Venezuela