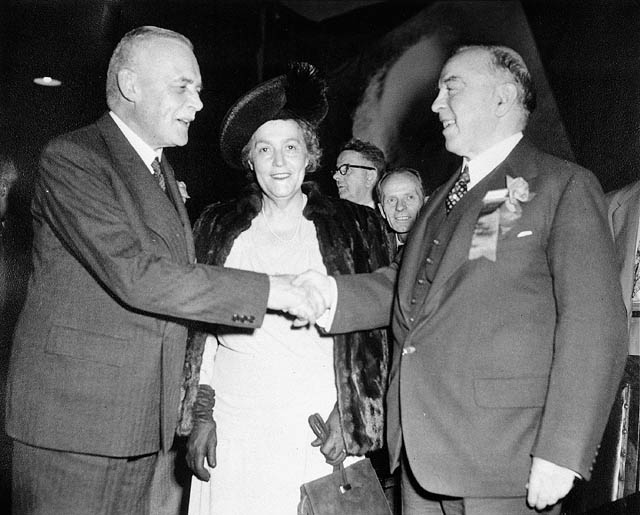 Prime Minister Mackenzie King greets his
handpicked, heir apparent, Louis St. Laurent
(and his wife, Jeanne), at the Liberal Party
leadership convention, August 7, 1948.
St. Laurent too had been selected by his political predecessor to rule the Liberal Party. By the time King retired in late 1948 it was clear that St. Laurent was his choice for prime minister. St. Laurent, who had been a corporate lawyer for some 35 years, was appointed to King's cabinet in 1941. Although he had never been elected to any level of government, St. Laurent became King's justice minister and his powerful Quebec lieutenant. Then, in 1945, King made St. Laurent his external affairs minister. This in effect made him King's designate for prime minister. In 1949, after King retired, his political prodigy, St. Laurent, with the backing of the Liberal-Party machine, won about 75% of the seats in the federal election.

Pearson and St. Laurent shared a
love for Cold-War hatemongering
Besides entering politics as unelected cabinet ministers, and having served their Liberal government mentors as external affairs ministers, St. Laurent and King shared another key political pedigree. As staunch anticommunists they embraced a fearmongering hatred bent on destroying the USSR, and crushing Red sympathizers at home and abroad. This rabid Cold-War mentality was mandatory for receiving support from the US superpower to which Canada is still subordinated. Hand in glove with this worldview was their blind-eye support for US-led wars, coups and invasions. Both St. Laurent and Pearson had also played enthusiastic roles in creating the NATO military alliance which has had first-strike nuclear-weapons policies since its inception 1949. With missionary zeal, these two religious men avidly promoted the idea of a "total-war" crusade against the USSR, despite its pivotal role in the Allies' military defeat of Nazi Germany.
Building NATO to protect 'peace' for the
"civilization of western Christendom"
St. Laurent's Cold War ravings were identical to those of his protegé, Lester Pearson. For example, at the International Trade Fair in Toronto on June 11, 1948, St. Laurent manufactured consent for what would become the NATO military pact. In his speech as external affairs minister, St. Laurent described the Cold War with a passionate, religious fervour:
[T]otalitarian Communist aggression constitutes a direct and immediate threat to every democratic country, including Canada. It endangers our freedom and our peace.It puts in jeopardy the values and virtues of the civilization of western Christendom of which we are heirs and defenders...

This [anticommunist] force must not be only military; it must be economic; it must be moral. Just as in the last war, so also today, we are engaged in a 'struggle for the control of men's minds and men's souls.'1 (Emphasis added.)
Reference
1. Louis St. Laurent, cited by Robert Alexander Mackay, in Canadian Foreign Policy 1945-1954; Selected Speeches and Documents, 1971. p.84.

Louis St. Laurent, "Moral and economic force the answer: Canada's design for peace," Regina Leader Post, June 25, 1948, p.13.
https://www.newspapers.com/clip/71847465/the-leader-post/