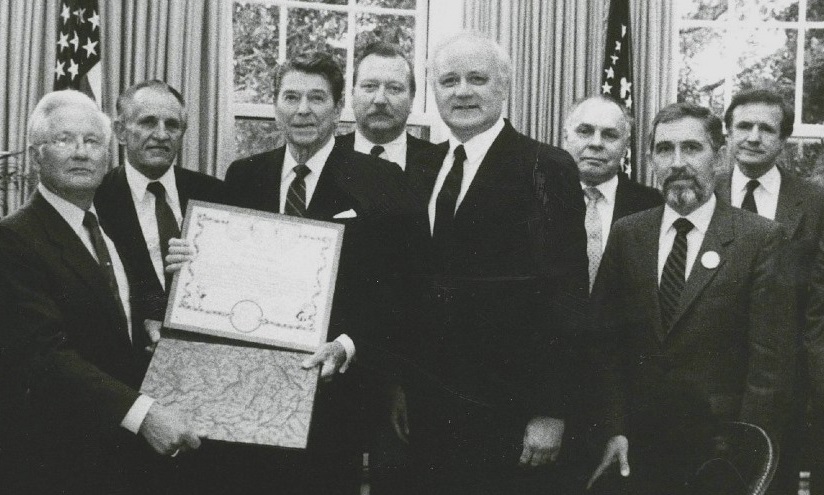 On June 12, 1986, President Ronald Reagan accepted the Baltic Freedom Award in the Oval Office.

The delegation included leaders of the Baltic American Freedom League, the Lithuanian American Council, the American Latvian Association, the Estonian American National Council.

The World Federation of Free Latvians was represented by its chair, Olgerts Pavlovskis (second from right).
In another ABN issue, celebrating its 1943 origins (when it was initiated by the Nazis as a Banderite-led network of antiSoviet armies), then-WFFL president Olgerts Pavlovskis greeted ABN delegates by saying: "On behalf of Latvians around the world, I would like to extend ... my sincere greetings and wishes for success."4
The WFFL also belonged to the American Security Council's Coalition for Peace Through Strength (CPTS).5 Its members included Ronald Reagan and Jesse Helms. Retired US Army General John Singlaub, who was on the CPTS staff,6 founded the US chapter of the World AntiCommunist League in 1981 and led it globally (1984-86).

References
1. LNAK, Jan.2000 http://bit.ly/LNAKniedra

2. For example, see ABN Correspondence: Sept-Jan.-Feb.1979, p.36; Mar.-Apr. 1981, p.6; May-June 1983, p.42; Sept.-Dec. 1983, p.72; Mar.-Apr. 1986, p.25; Mar.-Apr. 1987, p.23, 27; Mar.-Apr. 1988, p.45. http://bit.ly/ABNmagazine

3. Ibid., Jan.-Feb. 1981. http://bit.ly/ABN-1-81

4. Ibid, May-June 1983, p.42. http://bit.ly/ABN-2-83

5. Russ Bellant, Old Nazis, the New Right, and the Republican Party, 1991, p.74.

6. John Singlaub, Peace through Strength, ABN Correspondence, Jan-Feb 1979, pp.7-11. http://bit.ly/ABN-1-79