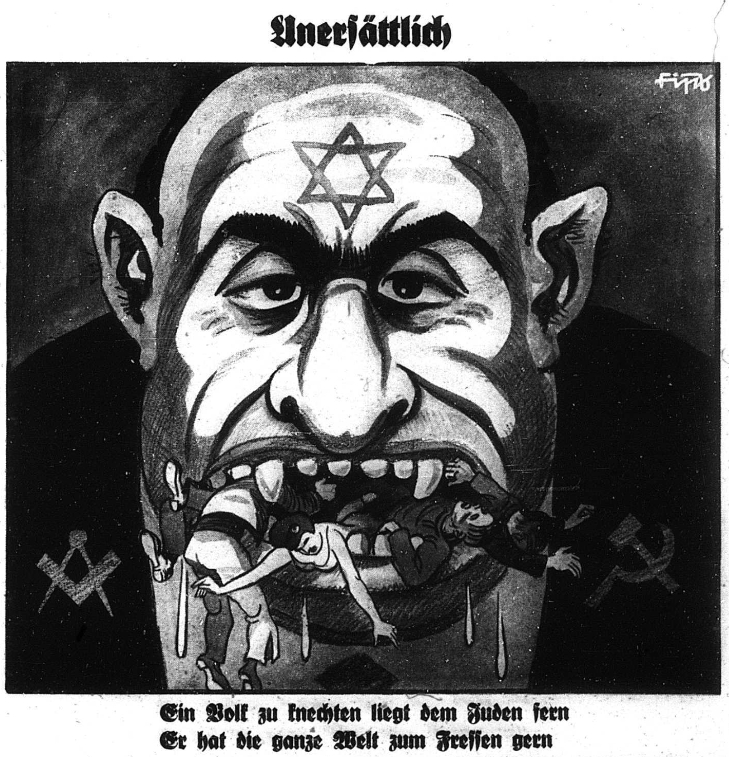 "Far be it from the Jews to enslave a single people.
Their goal is to devour
the entire world."
Julius Streicher, Nazi propagandist,
in Der Stürmer, October 1936.

(Note the Masonic and Communist
symbols in the bottom corners)
Julius Streicher, a Nazi propagandist executed at Nuremberg, used similar tropes to describe "revolutions incited by the Jews" and "the Jewish drive for world domination ... when Germany was betrayed and enslaved." Jews, he said, desired the "final enslavement" of all Nazi and "Fascist-led peoples ... under the yoke of the world criminal Pan-Jewry."4 The idea that Jews were trying to enslave all nations was shown on the cover of Streicher's magazine. Its vile cartoon of a fanged Jewish monster with a hammer and sickle, was captioned: "Far be it from the Jews to enslave a single people. Their goal is to devour the entire world."5
Hitler too promoted this Big Lie. He equated "plutocracy and Bolshevism" with "the common ambition of all Jews to exploit nations and make them the slaves of their international guild of criminals."6 The "plan," he said, of "Jewish-eastern Bolshevism" and "Jewish-western capitalism .... is to enslave all free nations."7 The Nazis used this "enslaved nations" motif to explain the need for WWII:
It is a matter of who shall live in Europe in the future: the white race with its cultural values and creativity, with its industry and joy in life, or Jewish subhumanity ruling over the stupid, joyless enslaved masses doomed to death.8
Shackled to this fascist idea that "Jewish World Domination would mean Tyranny and Slavery," was the Nazi hate for Soviets. As a Nazi booklet for soldiers and Hitler Youth noted: "[T]he Jews have their greatest hope in Russia" because it was "the springboard to reach [their] goals."9 The Jews, claimed Hitler, had taken over Russia and imposed "the most miserable type of slavery ... that the world has ever seen." Ruling this captive Soviet nation, said Hitler, was "the regime of commissars, ninety percent of whom are of Jewish descent, who control this whole slave state."10
In September 1943 when the Red Army was forcing the Nazi military to retreat after the Battle of Stalingrad, Hitler warned that Germany might become a captive nation:
"A defeated Germany would forever be the servant of the International Jews, whether under the club of a Bolshevist commissar or held captive by the chains of international economic slavery."11
Two months later, on November 21-22, 1943, with Nazi-Germany's support, Stepan Bandera's Organization of Ukrainian Nationalists build an alliance of fascist East European armies. These collaborators, calling themselves the Committee of Subjugated Nations, were later rebranded the Anti-Bolshevik Bloc of Nations. As a driving force of the "Captive Nations" movement, it aided many far-right Cold War propaganda campaigns, including the "Black Ribbon Day" crusade.

References
1. Dr. E.H. Schulz and Dr. R. Frercks, "Why the Aryan Law?" 1934. http://bit.ly/Luther1934
2. Werner May, "The German National Catechism," 1934. http://bit.ly/AryanLaw
3. Speech in Schwerin, Feb. 12, 1936, in Adolf Hitler: Collection of Speeches, 1922-1945, p.288. http://bit.ly/AHSpeeches
4. Julius Streicher, "The Way to Slavery," Der Stürmer, Aug. 1939. http://bit.ly/Streich39
5. Der Stürmer, Oct. 1936, cover. http://bit.ly/Sturmer
6. Proclamation at Fuhrer Headquarters, Feb. 24, 1943, in Adolf Hitler..., p.914.
7. Address to the Wehrmacht, Jan. 1, 1945, in Adolf Hitler... op. cit., p.974.
8. Wolfgang Diewerge, "The War Goal of World Plutocracy," 1941. http://bit.ly/Diewerge
9. G.G.Otto, "The Jew as World Parasite," 1943. http://bit.ly/Otto43
10. Speech in Lowenbraukeller, Munich, Nov. 8, 1941, in Adolf Hitler..., op. cit., p.817.
11. "No Rebuilding without Victory," Redner-Schnellinform, Sept. 1943. http://bit.ly/NaziCaptive