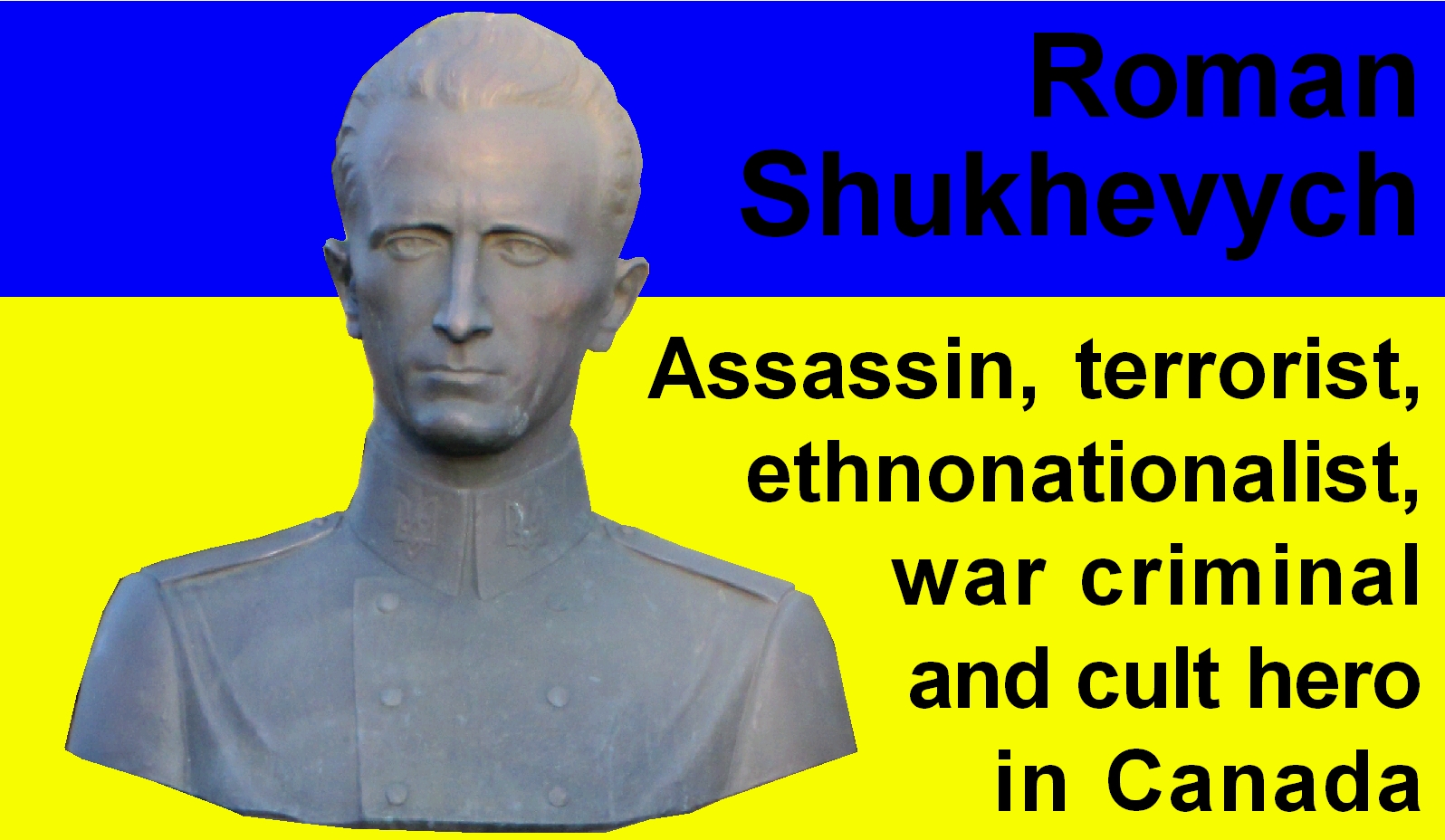 By Richard Sanders

(Click here for a PDF to see this sidebar as it appears in print)
Roman Shukhevych conducted his first political assassination in 1926 at age 19. In 1934, he was jailed for his role in killing Poland's Interior Minister. By 1940, he was attending a Nazi military intelligence (Abwehr) academy in German-occupied Poland.
In 2015, the Government of Canada gave $279,138 to the Ukrainian Youth Unity Complex
in Edmonton
Shukhevych was an organizer of Bandera's faction of the Organization of Ukrainian Nationalists (OUN-B). In 1941, he helped create their founding policy. It called for the ethnic cleansing of "non-Ukrainians" and the liquidation of "Polish, Muscovite and Jewish activists" in a future Ukrainian state.1
Shukhevych was the top-ranking Ukrainian in the Nachtigall Battalion (aka the Konovalets' Legion). Trained, armed, funded and led by the Nazis, and attached to a Germany special-forces regiment, its Ukrainian soldiers wore German uniforms and joined their Operation-Barbarossa invasion of the USSR (June 22, 1941). Eight days later, on his 34th birthday, Shukhevych's Nachtigall marched into Lviv with the Nazis. The OUN(B) then declared Ukraine a state under President Yaroslav Stetsko, with Shukhevych as Deputy Defense Minister.
In 1942-1943, Shukhevych led Schutzmannschaft Battalion 201. Based in Nazi-occupied Belarus, this Ukrainian legion selecting targets using what historian Waitman Beorn called "Jew-Bolshevik-partisan calculus." By this ideology, "all Jews were Bolsheviks, all Bolsheviks were partisans, and thus, all Jews were also partisans or partisan supporters."2
By 1943, Shukhevych was commander of the OUN-B's Ukrainian Insurgent Army (UPA) which carried out ethnic cleansing and genocide in western Ukraine (1943-44). During that time, the UPA massacred several thousand Jews and as many as 130,000 Poles.3